PV sales pick up speed in May but hurdles remain
May brought some visible relief for motorists with the government lowering excise duties on traditional fuels.
India's OEMs recorded good sales numbers for May 2022 on a year-on-year basis on lower than usual base numbers for May 2021 that were impacted by the Covid wave and lockdowns. However, most OEMs' tallies were better than those of April which is cause for cheer. In terms of marketshare, the top three OEMs are inching towards pre-Covid levels.
Most companies continue to cope with the ongoing semiconductor shortage working on strategies including generating alternative sources as well as focusing that models for which chips availability is more manageable. Apart from the chip crisis, cost push inflation will be a key factor and it remains to be seen if OEMs will consider another round of hikes in the course of the year.
A good monsoon, however, as predicted by the Met office, will come as manna from heaven and help assuage the situation as it helps rural demand which translates into better sales. The rural sector took a beating last year as a result of the Covid, and the effects of job losses continued to impact buying sentiments for the rest of the fiscal.
May brought some visible relief for motorists with the government lowering excise duties on traditional fuels. However, higher TP insurance premia rates are bound to dampen buyer sentiments.
With the Ukraine war raging on, and the unpredictability of supply chain snarls, there are some very real headwinds to contend with. As Rajesh Jejurikar, executive director, Auto and Farm, Mahindra & Mahindra perhaps summed it up succinctly when he said at a media interaction last week, "There will be uncertainty in FY 2023."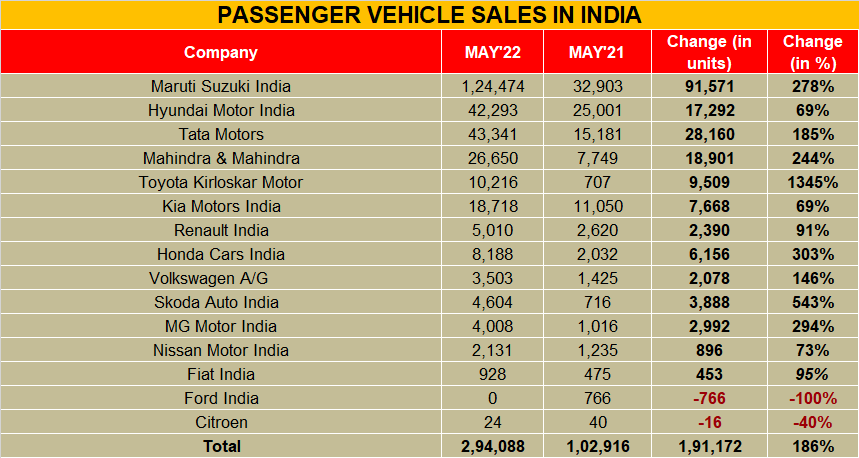 Maruti's May sales inch ahead of April
Maruti Suzuki India sold 124,474 vehicles in the domestic market in May 2022 compared to 121,995 units in April 2022. In comparison to pre-Covid levels, the company's sales were about 10,000-and-odd numbers less than its May 2019 sales level of 134,641 units.
The market leader posted total sales of 161,413 units in May 2022 including sales of 6,222 units to other OEMs (to Toyota's badge-engineered Glanza and Urban Cruiser), and its highest ever monthly exports of 27,191 units.
In a statement, the company said the shortage of electronic components had a minor impact on the production of vehicles, mainly those sold in domestic models. Maruti said it has taken all possible measures to minimise the impact. It also said that the May 2022 tally was not comparable with that of May 2021 as operations were affected by the second Covid wave.
Maruti recently launched the updated XL6 while the other products planned in the near future will include an updated Brezza in the entry-level SUV space, followed by the five-door off-roader Jimny. Also in the works is a mid-size SUV to rival the Kia Seltos and Hyundai Creta, which will have both the Toyota and Suzuki badges.
Hyundai sales cross 50,000
Hyundai Motor India's May sales including exports crossed the 50,000 with domestic numbers accounting for 42,293 units. The Korean carmaker's exports numbers at close to 9,000 units was 57 percent above year-earlier month numbers. Both HMI plants in Chennai observed the scheduled biannual maintenance shut down leading to six no-production in the month 16th May to 21st May. This reduced the vehicle availability in the month affecting May sales numbers (both for domestic as well as exports). The company is gearing up for the price announcement of its refreshed Venue which is slated for June 16, 2022.
Tata's EVs cross 3k mark
Tata Motors continues its steady growth in sales and clocked close to two-fold increase in its May sales. The OEM retailed 43,341 vehicles in May compared to 15,181 units in May 2021, when sales of all OEMs were affected by the Covid. The May numbers were an increase of just over 2,000 units as compared to April numbers of 41,587 units Of the total May sales, 39,887 units are conventional ICE cars while 3,454 cars were the electric ones. The sales of electric cars have seen considerable bump up on a year-on-year basis, jumping 6-times from 476 vehicles sold in May last year.
M&M's UV sales up
Mahindra & Mahindra's overall auto sales for May 2022 stood at 53,726 vehicles. In the UV segment, its sales numbers were 26,632 vehicles in May 2022. Its UV sales in the year-earlier month were 7748 units. In April 2022, M&M sold 22,168 units in April, so this month's tally is 20 percent higher.
In the PV segment inclusive of cars and vans, M&M's tally was 26904 vehicles. Exports for May were at 2028 vehicles. According to Veejay Nakra, President, Automotive Division, M&M, "With sales of 26632 SUVs in May, we continued the growth momentum with all our brands performing well including XUV700 and Thar. We are witnessing strong bookings and have a robust pipeline."
The company is now gearing up for the launch of its all-new Scorpio-N later this month for which it is anticipating a waiting period. In a press interaction last week, the company said it is ramping up capacity for its XUV700 which has a waiting period of between 18 and 24 months. The company is receiving in the region of 9500 bookings per month for this "blockbuster" product, and just 10-12 percent have cancelled their bookings. Mahindra is also launching its electric XUV300 in the first quarter of calendar 2023 which will be a 4.2 metre SUV.
Slavia is a star performer for Skoda
Skoda Auto recorded sales of 4,604 vehicles in May 2022 compared to the 716 cars sold in May 2021. However, the numbers are lesser than its April 2022 sales number of 5,152 units. The made-for-India MQB-A0-IN platform products, Slavia and the Kushaq, continue to be the star performers. The company said new customer touchpoints and inception of new-age tech in showrooms helped sales. Zac Hollis, Brand Director, Skoda Auto India, said, "Our innovative efforts to ensure our customers are not put through long waiting periods and take delivery of cars faster than wait times prevailing in the industry has been a key factor in our consistency."
Toyota's Jan to May sales up 16 percent
Toyota sold 10,216 vehicles in May 2022, inching close to pre-Covid levels, down 34 percent over April 2022 sales. The OEM clocked sales of 13,066 units in the domestic market in May 2019. Its May 2021 tally was a meagre 707 units when sales bore the brunt of the second wave of the pandemic. Even in May 2020 the sales were significant low at 1,639 units due to the impact of lockdowns to contain Covid-19. Cumulative wholesales from January to May this year registered a growth of 16 percent when compared to the year-earlier period.
Atul Sood, Associate Vice President, Sales, and Strategic Marketing, TKM said, "The Glanza has received an overwhelming response from our customers. Segment leading models like the Innova Crysta and the Fortuner continue to perform well and generate healthy booking orders. The Camry Hybrid and the Vellfire, continue to garner strong demand and our focus going forward would be to meet the immediate needs of our customers."
Sonet, Carens shine in Kia's May tally
Kia India, has clocked sales of 18,718 cars in May 2022. The Sonet was the highest contributor to the overall Kia sales with 7,899 units, followed by Seltos with 5,953 units, Carens with 4,612 units and Carnival with 239 units. However, compared to April sales of 19,019 cars, the May 2022 sales performance was slightly lower. The May sales figures also include 15 EV6 cars that have been despatched to dealerships as display cars.
In sync with the gradual recovery in chips availability, Kia sold 97,796 units in the first 5 months of CY2022, with a growth of 19 percent plus, YTD. It also crossed a domestic sales milestone of 450,000 vehicles while the Sonet raced past the 150,000 mark.
MG Motor doubles sales
MG Motor India has retailed 4,008 cars in May 2022 compared to 1016 vehicles sold in May 2021. What's particularly encouraging is the jump in sales compared to April 2022 when the company sold 2008 vehicles. This was triggered by an improvement in chip availability, and the carmaker hopes the situation to improve further in the subsequent months.
Production and sales have been affected in May 2021 and May 2020 due to lockdown across India to contain the spread of Covid-19. MG statement outlined that the demand remains strong as the carmaker maintained a healthy booking pace and experiences growth momentum although the production remains impacted due to the China lockdown. The company's newly launched electric vehicle the ZS EV has been getting good traction in the market, the company had said earlier with monthly bookings of 1000 units. Meanwhile, to further strengthen the EV ecosystem, MG Motor recently partnered with Bharat Petroleum for setting up EV charging infrastructure across the country.
Also read
May sales cause of cheer but still short of pre-Covid levels : FADA

RELATED ARTICLES