PV, 2W sales down 25% in October, 596,000 fewer units sold YoY
Record high fuel prices, chip crisis impacting carmakers and subdued consumer sentiment mean October 2021 was a forgettable month for Indian automakers.
The chips are really down for India Auto Inc. Despite the festive season underway and Diwali in mid-October, last month's wholesales proved to be huge dampener for passenger vehicle and two-wheelermanufacturers. Both segments were down by 25% when sales are compared to year-ago figures (see detailed sales data sheet below). Industry body SIAM did not release the sales data for commercial vehicles sales for October 2021.
Passenger vehicles: 226,353 units / - 27%
A decline in PV sales was to be expected. October was a month which saw petrol and diesel prices soar to record highs – diesel had turned costlier by Rs 8.78 a litre and, petrol by Rs 7.55 – which was enough to put off buyers in the entry level as well as mid-level segments, which are among the big-number providers.
A close look at the overall PV segment reveals that all three sub-segments – cars, utility vehicles and vans – have seen a sales decline last month. Car sales are down by a massive 43% YoY to 103,829 units while sales of UVs which, usually buck the downturn given their popularity, were also down – by 2% to 114,390 units. Van sales took a beating too, at 13,612 units and 24% down YoY.
But that's to be expected when the top two players – Maruti Suzuki and Hyundai Motor India – saw sharp declines. While Maruti Suzuki sold 108,991 units and was down 33% with fewer sales of 54,665 units YoY (October 2020: 163,656), Hyundai was down 35% last month with 37,021 units (October 2020: 56,605). Mahindra & Mahindra with 20,130 units and 8% YoY growth (October 2020: 18,621) and Tata Motors were among the few OEMs to report positive numbers. Tata, however, has not been providing its monthly sales data to SIAM since July 2020. Kia India too is feeling the heat of slow sales – it was down 22% with 16,331 units (October 2020: 21,021).
Blame the poor report card of the PV sector on the semiconductor supply crisis which shows no signs of ebbing. OEMs and their dealers are hard-pressed to meet demand for popular models, particularly SUVs like the Hyundai Creta, Mahindra Thar, MG Hector and Mahindra XUV700 which currently have a waiting period between 4-6 months.
Two-wheelers: 15,41,621 units / -25%
If you think 49,729 units being sold every day in India in a month is a good number think again. At 15,41,621 units sold in October 2021, sales were down by a fourth on year-ago sales which had crossed the 2-million mark (October 2020: 20,53,814).
Mirroring the ground reality of the PV segment, here too all three sub-segments are down and badly at that. Motorcycles, which constitute the foundation of the two-wheeler industry, saw 10,17,874 units being sold last month, down 26% YoY (October 2020: 13,82,749). This means as many as 11,770 fewer motorcycles were sold each day in October 2021 as compared to October 2020.
The lack-of-growth story is similar in the scooter market. With total sales of 467,161 units, October 2021 numbers are down 21% (October 2020: 590,507), indicating that scooter OEMs in India sold 3,978 fewer scooters each day last month versus year-ago sales.
The red ink is spattered in the company-wise sales. Sales are down YoY for every OEM worth its two wheels. Market leader Hero MotoCorp with 527,779 units is down 33% (October 2020: 791,137); Honda Motorcycle & Scooter India with 394,645 units is down 20% (October 2020: 494,459); TVS Motor Co with 258,777 units is down 14% YoY (October 2020: 301,380); Bajaj Auto is down 26% with 198,738 units (October 2020: 268,631) and Royal Enfield down 35% with sales of 40,611 units (October 2020: 62,858).
Three-wheelers: 31,774 units / 19%
Three-wheelers is the sole sub-segment to be in positive territory albeit compared to PVs and two-wheelers, overall numbers are far lower and understandably so. At 31,774 units, three-wheelers saw 19% YoY growth last month (October 2020: 26,684). With the country opening up and demand for transport increasing, three-wheeler passenger carriers saw 37% YoY growth at 22,692 units but cargo carriers were down 10% at 9,082 units.
Growth outlook
​With two months for CY2021 to end, and five for the fiscal year to close, OEMs will be strategising ways and measures to draw buyers amid challenging times. Rising input and commodity costs, consumers delaying purchase decisions, the slower rebound from rural India and a few other factors are growth inhibitors.
The November 4 excise duty reduction on petrol and diesel by the Central governmment and VAT cut by a number of State governments will act as a catalyst to better sales in the coming months.
While October 2021 sales for the two- and three-wheeler segments are a month-on-month increase on September 2021 numbers, worryingly for the PV sector, October 2021's sales of 226,353 units are down 3% on September 2021's 232,224 units. That could be put down to the supply-demand mismatch caused by the chip crisis which has crippled production schedules for many carmakers.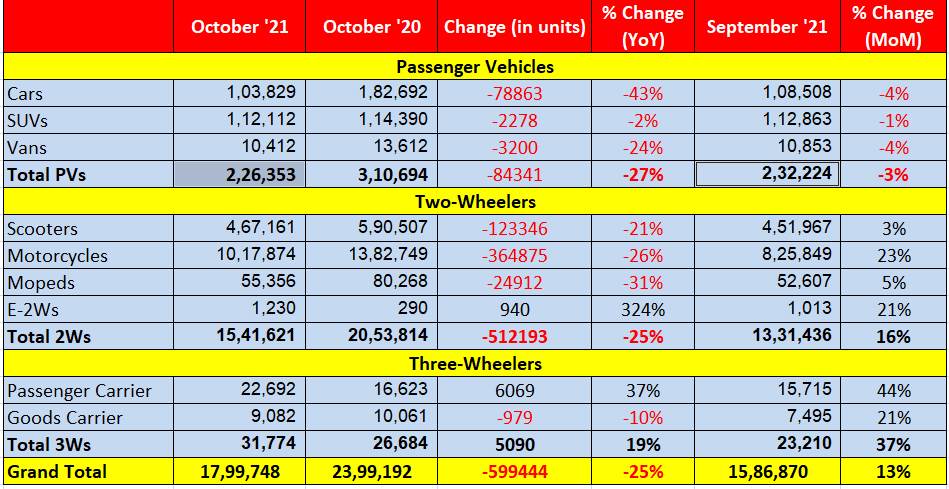 RELATED ARTICLES