Passenger car, UV and M&HCV sales up in Feb, motorcycles skid
The domestic automobile sales numbers for February 2015 are out. As per the figures released by apex industry body SIAM today,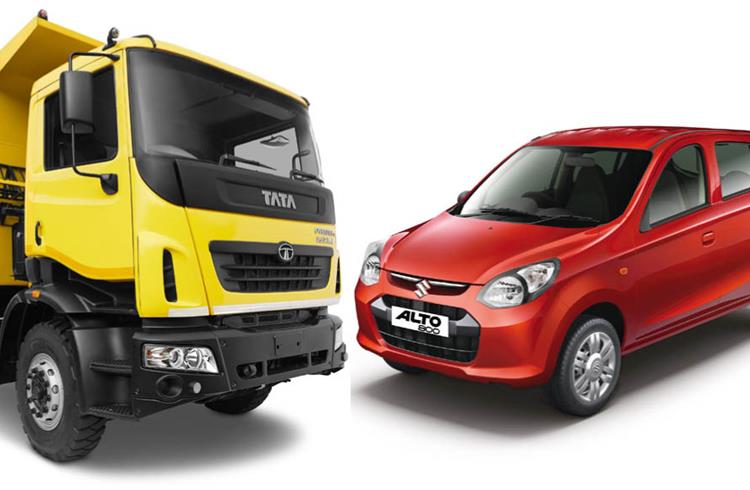 The domestic automobile sales numbers for February 2015 are out. As per the figures released by apex industry body SIAM today, while overall industry growth is flat at 0.15 percent (15,26,125), sales of passenger vehicles (231,165/+6.16%) and M&HCVs (22,533/+37.63%) are up sizeably. However, LCV sales continue to be down (30,310/-4.11%) although the rate of decline is slowing. Three-wheeler sales, which have been in positive territory for the past six months and more, have fallen (34,033/-10.32%) and worryingly two-wheeler sales are sharply slowing (1,208,084/-0.99%).
Passenger car OEMs will heave a sigh of relief at the gradual growth in passenger car sales. Improved market sentiment, a gaggle of new car launches in recent months and the RBI rate cut are all driving consumers into showrooms. February 2015 saw 171,727 cars being sold (+6.85%) and importantly utility vehicles sales were also up – 45,545 units (+4.68%). Vans too notched growth of 2.73 percent with 13,893 units sold.
SIAM is bullish of the same momentum being carried forward in March 2015 as well with overall passenger vehicle sales closing the fiscal with over 4 percent growth in domestic sales.
During the 11-month April 2014-February 2015 period, cumulative passenger vehicles sales have seen 4.03 percent growth (2,356,716) with cars up by 5.24 percent (1,700,006) year on year. UV sales are also up by 5.46 percent at 500,488 units. Van sales though are down 11 percent to 156,222 units.
CV sales a cause for cheer
The beleaguered commercial vehicle sector, which has borne the brunt of poor sales for over 2 years, is finally seeing green shoots of recovery particularly medium and heavy commercial vehicles (M&HCVs). In February 2015, overall M&HCV sales totaled 22,533 units (+37.63%) with both buses (3,766/+34.45%) and trucks (18,767/+38.29%) notching considerably improved numbers. Cumulative April-February 2014-2015 numbers also point to a growth story – 203,926 units sold to record a 15.09 percent year on year growth.
Light commercial vehicles (LCVs) though continue to be in negative territory, selling 30,310 units in February 2015, down 4.11 percent YoY. This is mainly due to a poor showing in the rural markets. Sugato Sen, deputy director general, SIAM, is of the opinion that the LCV segment will revive once rural sales pick up and that's expected in 2015-16. Combined M&HCV and LCV sales though were up 10.13 percent to 52,843 units last month.
Two-wheeler sales slowing, bikes hit a speedbreaker
Two-wheeler sales, which were not so long ago the bulwark of the Indian automobile industry, have been slowing down. From high double-digit growth in August and September 2015, the sector's sales have now skid to poor single-digit growth.
In February 2015, overall two-wheeler sales were flat at 1,208,084 units, down 0.99 percent. While scooters remained popular with buyers, selling 370,527 units (+18.78%), motorcycles continue to take a beating, for the fifth month in a row. Bike sales at 774,122 units last month were down 8.22 percent YoY.
Falling motorcycle retail sales are now a genuine concern for OEMs. Flagging rural market sales are a key contributor and it is learnt that most rural regions have not seen a wage hike for some time now and farm production and harvesting are also down, both of which have dragged down market sentiment. The 100cc-125cc commuter bike segment is bearing the brunt of this movement; riders in urban areas prefer a mixed bag of higher-end bikes and scooters.
"In the last 12 months, restrictions on funding for the National Rural Employment Guarantee Act have led to an uncertainty in employment and money in the hands of people. But with the Centre now looking at different funding options for the rural regions, these funding programmes should take off sooner or later," said Sugato Sen.
RELATED ARTICLES