Motorcycles see revival in Q1, rural India buys commuters, midsize market zooms
Bikes that stretch every ounce of costly petrol to the max are back in demand and help power sales in April-June. Midsize motorcycles also witness surge of demand in a wave that can only get bigger.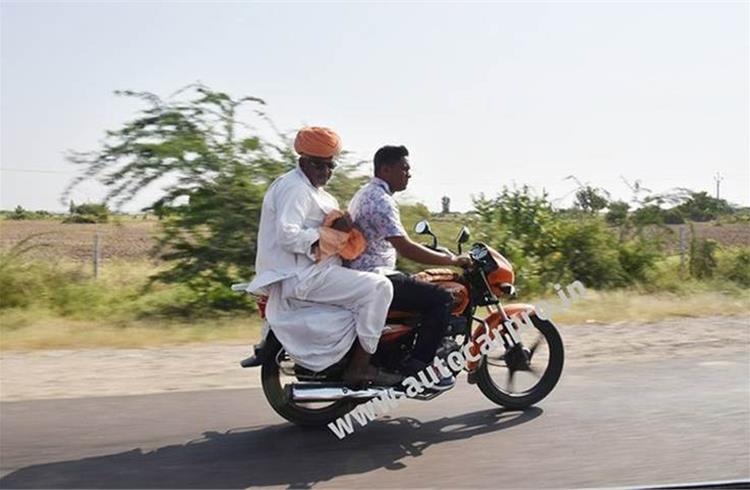 Entry-level, 100cc frugal commuter bike segment saw sales of 1.2 million units in April-June 2022, up 35% YoY.
In FY2022, the two-wheeler market was down 11% (1,34,66,412 units) with motorcycles sales – down 10.34% (89,84,186 units). Barely 3 months later, in Q1 FY2023, bikes are back in growth mode with a 38% increase to 2.4 million units.
The first three months of FY2023 have given India Auto Inc a reason to smile. With cumulative wholesales of 4,935,870 units across the passenger vehicle, commercial vehicle, three- and two-wheeler segments, the 55% year-on-year growth lays the foundation for a much-improved fiscal, after the Covid-impacted FY2020 and FY2021.
The biggest contributor in term of volume, of course, is the two-wheeler segment with 3,724,533 units or 75% of total industry sales in April-June 2022. Motorcycles is the biggest sub-segment within two-wheelers and accounted for 2,405,228 units or 64% of total two-wheelers. Scooters comprised exactly half that number – 32% or 1,207,903 units and mopeds made up the remainder with 111,402 units.
In Q1 FY2023, the two-wheeler segment saw YoY growth of 54% with scooters recording 100% growth on a lower base than motorcycles, which registered a YoY increase of 38%. Remember, barely three months before FY2023 kicked, the overall two-wheeler market was down 11% at 1,34,66,412 units in FY2022 (FY2021: 1,51,20,783) – motorcycles were down 10.34% to 89,84,186 units (FY2021: 1,00,21,231) and scooters similarly down by 10.55% to 40,09,076 units (FY2021: 44,82,305). Clearly, the improved numbers in Q1 FY2023 mean the green shoots of revival are being seen and, in the motorcycle market, that translates into commuter bikes which are the ones that beef up the numbers.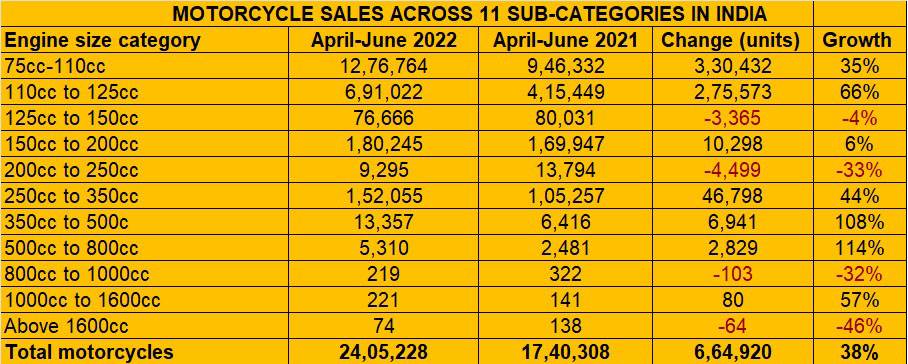 Green shoots of revival at rural India, frugal commuters in demand
A close look at SIAM-released Q1 wholesales numbers for the 11-sub-segment motorcycle engine categories reveals that the bulk of the buying in Q1 has happened in the frugal bike category – mainly 100 to 110cc bikes which excel in the art of stretching every ounce of costly petrol to the max. Over 1.2 million (1,276,764 units) of them were sold, recording strong 35% YoY growth and accounting for 53% of total motorcycle sales in Q1.
No surprise then as to which OEM is the big winner here – Hero MotoCorp with 1,049,687 units comprise the HF Deluxe, Passion and Splendor, has 82% of this entry-level bike market share, followed by Bajaj Auto with 93,552 units (7.3% share), TVS Motor Co with 85,094 units (6.6% share) and HMSI with 48,431 units (3.79% share).
These entry level 100-100cc bikes are the machines favoured by the populace in rural India, people who go about their daily chores – be it milk or other food deliveries, ferrying children to school or a myriad of other activities on two wheels. Demand also comes from the bottom of the pyramid in urban India, where frugal commuters are back on 'hybrid' duty as work-from-office makes a comeback.
Speedy growth in the 110-125cc segment
When a segment which sells vehicles in excess of six figures records 66% YoY growth, it's not something to be scoffed at. With young riders gradually making a shift from the humble 100cc commuter to peppier and also frugal 125cc bikes, this go-segment recorded sales of 691,022 units, up
Urban India can be said to be also responsible for the growth in the 110 to 125cc category, one whch sees a growing number of youngsters upgrade from the entry point 100cc bikes. This segment saw sales of 691,022 units, up 66% YoY on the 415,449 units in Q1 FY2022. Here Honda Motorcycle & Scooter India turns the tables on Hero MotoCorp with sales of 351,125 units or 51%; Hero did half of that – 173,711 units or 25% share, followed by Bajaj with 150,732 units with 22% share and TVS with 15,454 and 2% segment share.
125-150cc market declines by 6%
This segment, wherein Bajaj and India Yamaha Motor are the two major players, has seen sales dip 6% to 76,666 units (Q1 FY2022: 80,031) but that's because Bajaj's sales here are down by 52% to 25,785 (Q1 FY2022: 53,639) while Yamaha sold 50,881 units of the FZ and SZ, clocking smart 92% YoY growth.
150-200cc: Six percent growth in Q1
This category, which has six players in Bajaj Auto, Hero MotoCorp, HMSI, India Yamaha, Suzuki and TVS Motor, saw wholesales of 180,245 units, just 6% up from Q1 FY2022's 169,947, indicating that demand is yet to see sustained levels here. While three players saw sales increase YoY, three registered declines.
Though TVS sold the maximum here – 51,123 Apaches – it saw a YoY decline of 36% (Q! FY2022: 79,576). HMSI with 24,708 units was down 31% and Suzuki also down with 2,139 units (-36%).
The top performer was Yamaha with 47,995 units (101%) sold, the combination of the MT 15 and R15 proving quite a hit with bike aficionados. Bajaj Auto, with 30,935 units from its Avenger, Husqvarna, KTM and Pulsar range, clocked 64% growth in Q1. Hero MotoCorp sold 23,345 units, up 176% albeit on a low year-ago base of 8,455 units.
200-250cc: Why not taking off?
It is difficult to reason why this segment is not taking off. Just 9,295 units sold and that too is a 33% decline on year-ago sales of 13,794 units. Is a lack of exciting and value-for-money products the reason for the slowdown in the 200-250cc segment? It could be that bikers are preferring to spend a little extra and go all out to the next level.
One of the reasons for the relative non-performance of this segment is the pricing of the bikes. The 200s are nearly as good as the 250s in most aspects. Furthermore, the 250s' pricing tempts people to look at higher capacity options. And fuel economy is not their avowed goal either.
250-350cc: Midsize magic underway
If there is one segment which has the potential to notch huge success, then it is the mid-capacity motorcycle category, broadly split into two sub-categories – 250cc to 500cc engines which power the smaller, affordable models, and the 500cc to 800cc motors that straddle the premium end of the midsize bike market.
The fast reducing price gap between these bikes and feature-rich premium 150-200cc commuter bikes is driving buyers to the 250-350cc category. Many first-time bike buyers, who cannot afford a big, muscular superbike, are keen on a smaller, style, performance-oriented machine with value for money written all over it.
There is also the global trend of OEMs the world over offering lighter models with easy to ride dynamics and ergonomically comfortable seat height, which makes them practical for city commuting as well as wind-in-the-hair highway excursions.
Royal Enfield and its Bullets have taken full charge of this segment with 141,844 units, up 44%, and accounting for an overwhelming 93% of this market. The No. 2 players, HMSI sold 8,744 units of the CB300 while TVS Motor with 1,052 units of the RR 310 was in third place, followed by Kawasaki with 367 units of the Ninja 300.
350-500cc: Bullet 500 the big winner
With a total of 13,357 units sold, up 108% YoY (Q1 FY2022: 6,416), this category replicates the demand growth of the 300cc market. Royal Enfield's Bullet 500 with 10,857 units commanded an 81% share with Bajaj and its Dominar-Husqvarna-KTM combine selling 2,496 units, up 2.6%.
500-800cc: Royal Enfield swamps this one too
With 5,310 bikes sold under this category, YoY growth was a smart 114%. No guesses here knowing who's on top here – the 650cc twins from Royal Enfield. Next best is India Kawasaki with 180 units split between its Ninja 650 and Versys. It is followed by Triumph Motorcycles India with 124 units of the Street Triple.
GROWTH OUTLOOK: Cautiously optimistic
From the looks of it, the poor market sentiment which had bogged down mass-market motorcycle sales in rural India seems to be ebbing. While high petrol prices, inflationary pressures and cost of ownership continue to be challenges in the commuter bike segment, sustained demand from rural India will help drive momentum in the motorcycle market in the months ahead.
No such inflationary pressures for the midsized or luxury bike market, where sales are racing along at a rapid pace. For instance, BMW Motorrad India is headed for record sales this year. In the first six months of 2022, it has sold a total of 3,114 units – 60% of the company's total CY2021 sales – have been retailed enabling smart growth of 56.7%.
With three months of the fiscal over and nine still to go, it's still early days for India Auto Inc and for the two-wheeler industry to confirm whether sustained growth is here to stay. But the ample monsoon across the country augurs well for the agrarian-led economy, along with the benefits that percolate first to the two-wheeler and tractor segments, followed by the rest of the automobile industry, and that's already happening.
RELATED ARTICLES