Maruti Ertiga best-selling UV in July but Hyundai Creta tops FY2022's first four months
The Maruti Ertiga has driven ahead of the Hyundai Cretain July 2021 by 434 units but the Korean SUV remains the lord of the SUV game in the April-July 2021 period.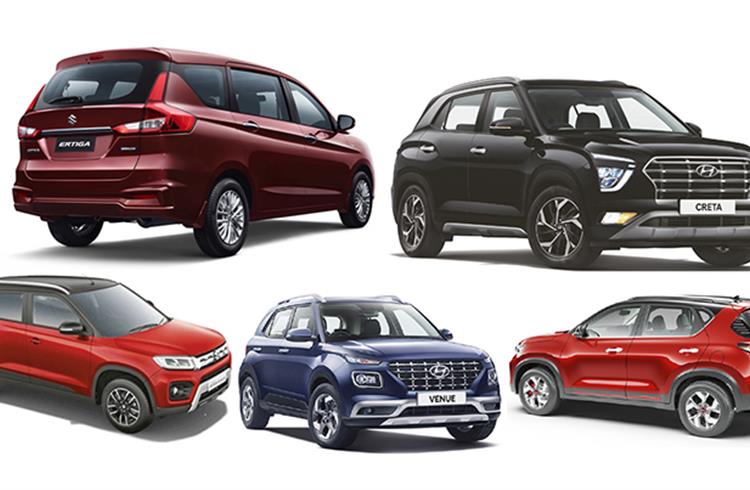 There's plenty of action underway in the hottest vehicle segment in India, one which is seeing a flurry of new product launches, stiff competition and plenty of tech-driven creature comforts, all with a view to draw the value-conscious buyer. Here's a quick look at the Top 5 UVs in July and also the Top 10 UVs in the first four months of FY2022 (April-July 2021).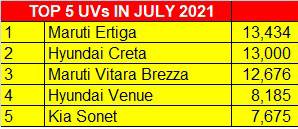 No. 1 – Maruti Ertiga: 13,434 units
Maruti Suzuki's popular people-mover, the Ertiga MPV has notched a new monthly high in FY2022 with total sales of 13,434 units. In terms of fuel split, the Ertiga sold 5,765 CNG variants and 7,669 petrol which makes for a 43:57 CNG/petrol split.
For the first four months of FY2022 (April-July 2021), total Ertiga sales are 34,692 units, comprising 13,218 CNG and 21,474 petrol units, which makes for a 38:62 fuel-wise split. Maruti Suzuki is seeing growing demand for its CNG models, particularly in view of the steep and rising price of petrol, and the Ertiga is one of its models benefiting from this trend.
No. 2 – Hyundai Creta: 13,000 units
Unseated for the month from the UV throne, the Hyundai Creta sold all of 13,000 units, comprising 6,956 petrol and 6,044 diesel variants, constituting a fuel-wise split of 53:47. For the first four months of FY2022, a total of 42,431 Cretas have been sold, 21,388 petrol and 21,543 diesel which makes for a balanced 50.33:50.77 percent split.
The Korean carmaker's strategy to remain bullish on diesel is paying off. The Creta's pack of powertrains comprises 1.5-litre petrol, 1.5-litre diesel and a 1.4-litre turbocharged petrol engine options. Clearly, the new BS VI-compliant diesel motor is keeping pace with the other two when it comes to market pull.
No. 3 – Maruti Vitara Brezza: 12,676 units
Maruti Suzuki India's compact SUV, sold only in petrol, continues to post strong numbers. In July 2021, it went home to 408 buyers on each day of the month or a total of 12,676 units. For the April-July 2021 period, it has clocked total sales of 39,377 units.
No. 4 – Hyundai Venue: 8,185 units
With 8,175 units to its credit in July, the Hyundai Venue takes fourth position in the Top 5 UVs chart. This sale comprises 2,476 diesel variants and 5,709 petrol, which makes for a 30:70 split in favour of petrol.
Between April-July 2021, a total of 29,135 Venues were sold in India, comprising 6,089 diesel and 23,046 petrol variants – or an overwhelming 21:79 split in favour of petrol power.
No. 5 – Kia Sonet: 7,675 units
Kia India's Sonet compact SUV wraps up the Top 5 UV list with 7,675 units – its best performance in the fiscal to date. The Sonet is maintaining the sales consistency it has shown in the first four months of FY2022 – 7,724 units in April, 6,627 units in May and 5,963 units in June.
Over four months it has sold a cumulative 27,989 units comprising 10,417 diesel and 17,572 petrol units. This is a 37:63 fuel-wise model split in favour of petrol.
Hyundai Creta leads the Top 10 in April-July 2021
The new Creta, which was India's best-selling SUV in FY2021 with total sale of 120,035 units, is currently maintaining its lead in terms of cumulative sales for the first four months of FY2022. At 42,931 units, it is 3,554 units ahead of the hard-charging Maruti Vitara Brezza and 8,239 units ahead of the Maruti Ertiga (see sales table below). Interestingly, Mahindra & Mahindra has three of its models in the Top 10 UV chart.
Growth outlook
The near-term as well as long-term future looks good for the UV segment, which is firing on all cylinders. In July, with 124,057 units, UVs contributed 47 percent to overall PV sales of 264,442 units in India and registered a significant 74 percent YoY uptick (July 2020: 71,384). A good indicator is the month-on-month increase and July numbers were a good 23% growth on June 2021's 100,760 units.
What's more with a clutch of new SUVs being launched in the past month –Mahindra Bolero Neo and the likes of the Mahindra XUV700 and Volkswagen Taigun ready to come along the way, this is one vehicle segment which will continue to keep OEMs and dealers smiling.
ALSO READ:
Top 10 UVs in Q1 FY2022: Creta, Brezza and Nexon lead the charge
RELATED ARTICLES