Indian two-wheeler OEMs record strong H1 exports, Bajaj and TVS on a roll
Total shipments of 2.2 million units between April and September 2021 constitute doubling of demand; all players benefit from improving conditions in global markets.
Even though demand is yet pick up in a smart way for the two-wheeler industry in the domestic market, the sector is firing on all cylinders on the export front. In the first half of FY2022, total shipments from India have doubled to 22,45,221 units, up 101% year on year.
In terms of sub-segments, a total of 185,461 scooters were exported in H1 FY2022, which constitutes 179% YoY growth. On the motorcycle front, export demand chalked up sales of 20,52,898 units, up 96% YoY. And, 6,862 mopeds were sent overseas, up 176% YoY. Leading the export charge are the Pune-based Bajaj Auto and Chennai-based TVS Motor Co.
While Bajaj Auto, the country's No. 1 two-wheeler exporter, has shipped a little over a million units – 1,098,520 – and notched 74% YoY growth. While this strong growth comes on a lower base of year-ago pandemic-impacted export numbers, the fact of the matter is that Bajaj Auto is well placed at half-way stage in the fiscal and is set for record exports by end-March 2022.
Meanwhile, TVS despatched 560,118 units to overseas markets in the first six months of the ongoing fiscal, clocking 120% YoY growth (H1 FY2021: 254,143). Like they had in FY2021, expect the trio comprising the 110cc Radeon, Jive and Sport motorcycles to be the largest contributor, along with the Star City and Victor, Apache series, the Jupiter, NTorq, Wego and Zest scooters. TVS has a presence in over 60 countries across Africa, South East Asia, the Indian sub-continent, Central and Latin America and is seeking to enter more markets in Europe and North America as well.
In H1 FY2022, Bajaj Auto (49%) and TVS (25%) together account for 74 % of total two-wheeler exports – 1,658,638 units.
What's heartening is that the export growth story is benefiting all the key players. While Honda Motorcycle & Scooter India (HMSI), which exported 175,233 units, posted 167% YoY growth, Hero MotoCorp despatched 156,615 units, notching 134% YoY growth.
Look at the export sales table below and you will see that all players are seeing strong export sales.
All this is good news for India Two-Wheeler Inc. Judicious management of both domestic and export market sales helps inventory management as well as capacity utilisation. India Yamaha, Suzuki, Royal Enfield and Piaggio have all recorded smart export growth, and with export markets opening up in right earnest, things can only become better for the Indian two-wheeler industry.
Riding into the second half of FY2022, expect Bajaj Auto and TVS Motor Co along with the other OEMs to further up the ante on the export front. Not only are the profit margins better on the made-in-India products but importantly overseas sales act as a buffer to iffy demand in the domestic market.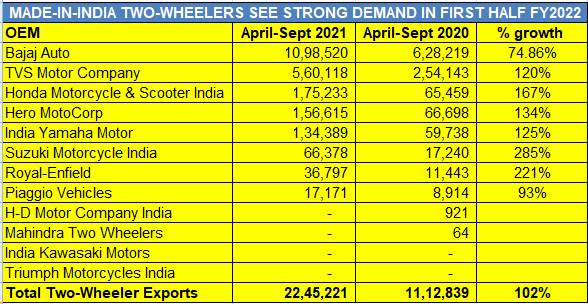 RELATED ARTICLES