INDIA SALES ANALYSIS: NOVEMBER 2015
It is amply clear that while most have clocked double-digit growth year on year, the sharp momentum seen in October 2015 as a result of Diwali and Dhanteras has not continued.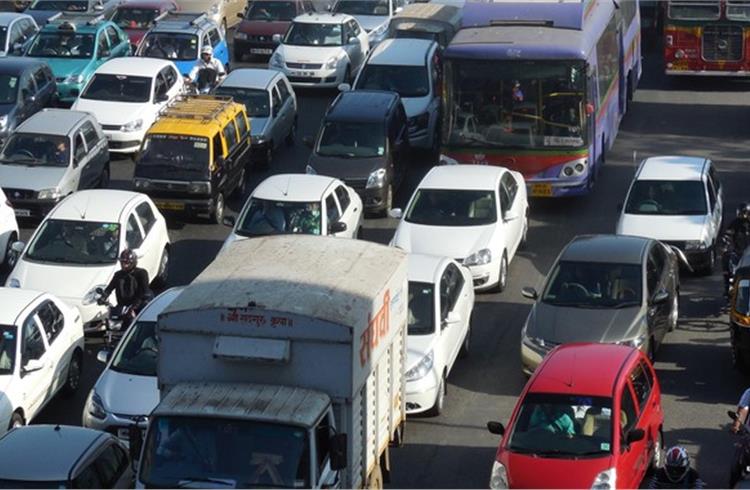 As automakers announced their sales numbers for the month of November 2015, it is amply clear that while most have clocked double-digit growth year on year, the sharp momentum seen in October 2015 as a result of Diwali and Dhanteras has not continued. Nevertheless, the mood is good and that augurs well for the months to come.
Maruti Suzuki India announced its November 2015 domestic sales which, at 110,599 units, are a 10.6 percent rise over the year ago figures (November 2014: 100,024). However, compared to the company's handsome 24.7 percent year-on-year growth in October 2015 with sales of 121,063 units, November sales seem slightly muted albeit Diwali sales had much to contribute to that high number.
While demand for the entry level Alto and Wagon R hatchback dipped last month to 35,981 units, down 4.7 percent year on year (November 2014: 37,746), Maruti's compact cars (Swift, Celerio, Baleno, Dzire and Ritz) saw sales of 44,626 units, a good 19.5 percent increase (November 2014: 37,339). The Dzire Tour cab also saw good numbers of 3,363 units, up 69 percent (November 2014: 1,989). The carmaker also saw sales of its UVs (Ertiga, S-Cross and Gypsy) rise – 8,688 units in November 2015, up 57.5 percent. Sales of the Omni and Eeco vans however seem to have slowed last month, with sales of 12,432 units, 1.8 percent (November 2014: 12,203).
On the export front, Maruti Suzuki shipped 10,225 cars, up a marginal 1 percent (November 2014: 10,123).
Hyundai Motor India has recorded domestic sales of 43,651 units, up 23 percent year on year (November 2014: 35,511) and exports of 14,010 units with cumulative sales of 57,661 units for the month of November 2015.
Commenting on the month's sales, Rakesh Srivastava, senior VP (Sales and Marketing), Hyundai Motor India, said, "Hyundai achieved a cumulative 4 million domestic sales milestone with strong performance of 43,651 units this month growing by 23% over last year on the strength of strong demand for its product portfolio led by the Creta, i20 and Grand i10."
Mahindra & Mahindra has announced that its passenger vehicles division (which includes UVs, cars and vans) sold 19,662 units in November 2015, up 36 percent November 2014: 14,473). Speaking on the sales performance, Pravin Shah, president & chief executive (Automotive), M&M, said, "The festive season coupled with new product launches as well as moderation in interest rates has seen the auto industry post a positive growth during the last couple of months. I believe speedy implementation of GST will help and have a long term impact on the competitiveness of Indian auto industry. At Mahindra, we have been buoyed by our new product launches such as the TUV300 as well as growth momentum of existing products like the Bolero, Scorpio and XUV500. Our exports have been very encouraging, showing a 28 percent cumulative growth for the current fiscal. We are happy to be in a positive growth phase at the end of November 2015."
Honda Cars India registered monthly domestic sales of 14,712 units in November 2015 against 15,263 units in the corresponding month last year. The City continued to be a popular buy among consumers, with sales of 6,342 units. The Amaze sedan was the next best-seller with 4,106 units. While the new Jazz sold 3,367 units, the Brio sold 461 units, the Mobilio 393 and the CR-V 43.
In the April-November 2015 period, Honda has clocked cumulative domestic sales of 132,095 units compared to 116,705 units for the corresponding period last year, marking a growth of 13%. HCIL also exported a total of 120 units during November 2015.
Toyota Kirloskar Motor (TKM) sold 10,278 units in the domestic market, down 15.6 percent compared to a year ago (November 2014: 12,175). According to TKM, the Etios series has seen a cumulative growth of 9 percent from January to November 2015 when compared to the same period the previous year. New Camry sales have exceeded 1,000 units from January to November 2015 and posted 65% growth in sales for November 2015; the Camry hybrid constitutes 90% of this sale.
In November 2015, Tata Motors' passenger vehicles recorded a year-on-year decline of 13%, with sales of 10,517 units compared to 12,021 units in November 2014. While the overall sales of passenger cars in November 2015 were lower by 11% at 9,172, compared to 10,286 units in November 2014, the compact car segment (without sedan) witnessed a growth of 33% at 5,821 units in November 2015, compared to 4,376 units in November 2014. UV sales declined by 22% at 1,345 units in November 2015. Cumulative sales of all passenger vehicles in the domestic market for the fiscal are 88,321 units, higher by 10% over last year.
Led by the growing demand for the Kwid, Renault India saw growth of 144% with monthly domestic sales of 7,819 units in November 2015 as against 3,201 units in the corresponding month last year.
Speaking on the company's sales performance, Sumit Sawhney, country CEO and managing director, Renault India Operations, said, "When we launched the Kwid in India, we committed to launching a new era and benchmark in the Indian automotive industry. The outstanding feedback and unprecedented response to the car have proved us right. The growing acceptance by first-time buyers indicates that the Kwid is truly an aspirational product, offering an outstanding value proposition."
The carmaker says it has substantially increased its sales and service network reach in India, from 14 sales and service facilities in mid-2011 to 190 currently, and will reach 240 facilities by the end of next year, which includes expanding its presence in existing and new markets in urban, semi-urban and rural India.
SLOWDOWN IN 2-WHEELER SALES GROWTH AFTER DIWALI
Sales reports of 12 prominent two wheeler companies highlight that the domestic two wheeler market lost its steam in November 2015. The total two wheeler sales during November stood at 13,20,561 units, which marked a flat YoY growth of 1.47 percent.
Last month saw total motorcycle sales of 8,66,705 units as against sales of 8,53,257 units in November 2014. This marked a slow YoY growth of 1.57 percent.
While scooters continued to contribute with their increasing sales, the segment saw a slowdown in its sales growth during the last month, thanks to the fall registered in the sales of HMSI and Yamaha. Total scooter sales for November 2015 stood at 3,96,024 units as against 3,86,547 units sold in November last year. This represents a mild growth of 2.45 percent YoY.
The moped segment saw total sales of 57,832 units in November 2015 as against 61,630 units sold in November last year, marking a YoY decline of 6.16 percent.
On the cumulative front, total motorcycle sales between April-November 2015 is recorded at 72,96,952 units over 74,53,346 units sold during the corresponding period in the last fiscal marking a decline of 2.10 percent YoY. Decline in the sales of the motorcycles, which represents a majority share in the total two wheeler market in India, has nullified the growth registered by the scooters in this financial year so far. This reflects in the cumulative two wheeler market performance of the past eight months of FY2015-16. Until November 2015, the 2W market stands at a YoY growth of 1.69 percent.
A total of six companies registered negative growth year-on-year during November 2015. While Hero MotoCorp, Bajaj Auto, TVS Motor Company, Royal Enfield, Mahindra Two Wheelers registered positive numbers, companies such as Honda Motorcycle & Scooter India (HMSI), India Yamaha Motor, India Kawasaki Motors, Suzuki Motorcycle India, Harley-Davidson Motor Company India and Triumph Motorcycles India were among the ones that recorded lower volumes year-on-year.
While the market leader Hero MotoCorp sold 5,38,180 units in November 2015, up by 3.30 percent, its rival and the number two player HMSI sold 3,11,946 units during the last month, down by 11.82 percent YoY. The other two of the big four – Bajaj Auto and TVS Motor Co. registered 1,52,663 units (up by 19.60 percent) and 1,90,490 units (6.15 percent) respectively during the last month.
Yamaha, which was on a consistent growth path for last many months, sold 42,718 units in November 2015, down by 4.39 percent. Royal Enfield, however, continued to register robust sales YoY. It sold 40,312 units during the last month, up by 48.22 percent. Suzuki sold 23,364 units, down by 26.35 percent.
All major big bike companies posted a decline for the last month. Harley-Davidson, Triumph Motorcycles and Kawasaki sold 342 units (down by 10.94 percent), 90 units (down by 33.33 percent) and 90 units (down by 32.33 percent) respectively.
COMMERCIAL VEHICLES SALES UP 8.56%
The mood in the CV industry remains buoyant, particularly medium and heavy commercial vehicles (M&HCVs). The CV segment in India registered overall sales of 51,766 units to clock 8.56 percent growth over November 2014 sales of 47,686 units. M&HCVs continued to be in growth mode with sales of 20,145 units for a 24.75 percent increase. Importantly, LCVs were in positive territory with 8.56 percent growth and sale of 31,621 units.
In its latest report, rating agency ICRA predicts that the M&HCV (Trucks) industry to grow by 19-21 percent in FY2016 due to the improving viability for fleet operators, replacement-led demand (following two years of capacity deferral by fleet operators). Gradual improvements in these factors, including pre-buying ahead of implementation of BS IV emission norms and Anti-Lock Braking Systems (ABS) have reflected in the 35.1% growth in M&HCV (Truck) segment in H1FY2016.
However, structural challenges still persist in the LCV (Truck) segment. Unlike M&HCVs, ICRA expects the LCV (Truck) segment will continue to face challenges (expected to decline by 8-10%) in FY2016 as the segment's prospects continue to be influenced by overcapacity issues and constrained financing environment amidst rising delinquencies. Nevertheless, the segment's growth prospects over the medium-term remain intact.
IFTRT reports that with the recent Rs 0.87/litre hike in diesel price and lower availability of trucks due to short availability of drivers on account of festivals, truck rentals in November remained firm during the ongoing festival season and higher consumer spending.
As regards specific manufacturer sales, Tata Motors' total sales of 24,828 units last month were down 2 percent (November 2014: 25,406 units). M&HCVs saw double-digit growth of 21 percent with sales of 11,524 units (November 2014: 9,452). LCV sales were down 16 percent YoY at 13,304 units (November 2014: 15,954 units).
Ashok Leyland's total sales were up 16 percent at 8,971 units sold (November 2014: 7,732). While M&HCV numbers rose 21 percent to 6,297 units (November 2014: 5,204), LCV numbers were up only 6 percent with sales of 2,674 units (November 2014: 2,528 units).
Mahindra M&HCV's sales maintained a healthy growth of 75 percent selling 454 units. (November 2014: 259 units). Its LCVs did well and the less than 3.5-tonne GVW segment increased by 16 percent, with sales of 14,014 units (November 2014: 12,040 units). Likewise, the above 3.5T GVW segment was up marginally by 3 percent, selling 333 units (November 2014:323 units).
VE Commercial Vehicles sold 2,905 units in the domestic market, registering a growth of 30 percent (November 2014: 2,233).
RELATED ARTICLES