INDIA EXPORTS: Two-Wheelers – April-May 2017
Two-wheeler shipments from India, which were down 5.78 percent in FY2017, are back on the road to recovery as April-May 2017 number reveal. Leading the charge is Bajaj Auto with its Dominar and other motorcycles.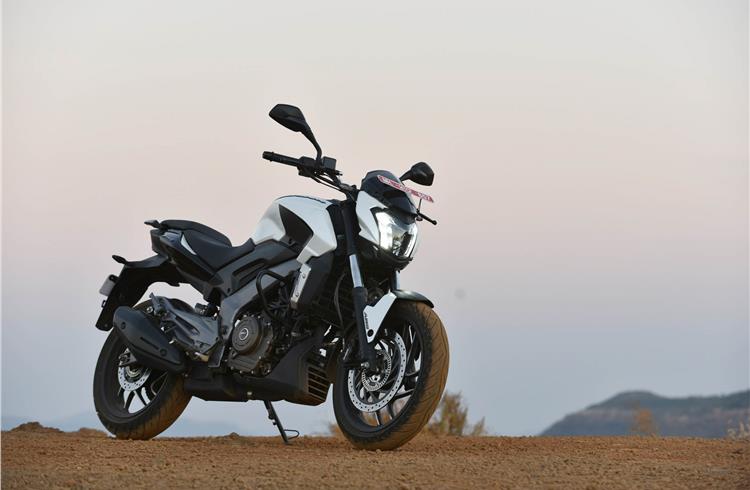 Exports of automobiles and components are a win-win situation for automakers and suppliers. Not only do they act as a boost – or a buffer – to domestic sales but they also make for a great business strategy.
Fiscal year 2016-17 was no short of a roller-coaster ride for domestic sales for the Indian automobile sector. The monsoon was average but the unprecedented demonetisation move took consumers by surprise and acted as a sales speedbreaker for industry. Then, even as automakers were recovering, the incoming BS IV regime saw many OEMs take to heavy discounting to clear their BS III stocks.
The two-wheeler segment, also a driver of overall industry, was not immune to this situation, albeit achieved 6.89 percent year-on-year growth with domestic sales of 17,589,511 units. However, the export business seemed to have been hit due to various factors. Cumulative two-wheeler exports in FY2016-17 stood at 2,339,273 units, down by 5.78 percent YoY. This can be attributed to the numbers reported by Bajaj Auto, which was down by 16.50 percent YoY.
Bajaj Auto, which is the fourth largest two-wheeler player in the domestic market, is the biggest exporter of two-wheelers from India. The company's share in total two-wheeler exports during FY2017 stood at 52.09 percent with despatches of 1,218,541 motorcycles.
Highest impact
Only three two-wheeler players – Bajaj Auto, Harley-Davidson India and Hero MotoCorp – reported YoY declines in their export numbers in FY2017. While Harley-Davidson reported a decline of 23.42 percent YoY, Hero MotoCorp reported a drop of 14.20 percent YoY.
To correct the declining export volumes, Bajaj Auto, on which the overall two-wheeler exports rely heavily, is spearheading its business in new markets. While the company is reducing its dependency on the African markets such as Nigeria and Egypt among others, also known to be unstable economies, it has added Indonesia recently where it is retailing KTM-make models.
The company's senior management is optimistic about correcting the declining export volumes in FY2018. This clearly is good news for India's overall two-wheeler export market.
April-May 2017: restoring 2W exports
Cumulative data for April-May 2017, from apex industry body SIAM, shows that the market may have outrun the impact of the global two-wheeler demand slowdown and is on the road to recovery.
The segment has witnessed an overall uptick of 19.98 percent with exporting 462,096 two-wheelers. Notably, this is driven by Bajaj Auto, which has reported total exports of 252,594 units during the April-May 2017 period. Its exports indicate a YoY growth of 15.35 percent YoY.
All other major players have clocked good results during the two-month period.
TVS Motor Company follows with shipments of 70,384 units, up by 25.48 percent YoY.
Honda Motorcycle & Scooter India (HMSI) stands as the third largest exporter so far with total sales of 53,699 units, up by 43.17 percent YoY. Honda's Dio scooter is the largest exported model for Honda. The company has exported 22,989 units of the Dio in the first two months of this fiscal.
Yamaha is the new number four with total exports surpassing Hero MotoCorp's during April-May 2017. Yamaha has exported 31,541 units, up by 19.78 percent YoY. Its export model, 125cc executive commuter motorcycle YD125 appears to be the largest contributor with volumes of about 13,044 units. The FZ series, on the other hand, is the second largest exported brand with sales of 10,001 units.
Hero MotoCorp, on the other hand, exported 30,828 units (up by 12.20 percent YoY) during the same period.
Suzuki Motorcycle India has exported 12,676 units, up by a marginal 1.55 percent YoY. The Gixxer motorcycle family, with all models currently powered by the single-cylinder, 155cc engine, is the largest contributor to Suzuki's exports from India. The company has exported 8,265 units of the Gixxer motorcycles during the two-month period.
Mahindra Two Wheelers has exported 4,761 units in the said period, up by 85.33 percent YoY.
Royal Enfield's exports stand at 3,627 units (up 43.25 percent YoY) for the first two months of ongoing fiscal.
Harley-Davidson's exports from India have grown by 24.65 percent YoY at sales of 1,077 motorcycles. With total shipments of 903 units, the new V-twin, 749cc Street Rod accounts for the bulk of Harley's exports.
Piaggio Vehicles' scooter exports were up by 211.30 percent YoY. The Italian automaker has exported 909 units of its Aprilia and Vespa scooters from India during the April-May period.
Industry officials expect two-wheeler exports to accelerate later this year as Bajaj Auto, along with other strong exporters, penetrate into many lucrative markets including some emerging economies such as Colombia, ASEAN region, Latin American countries and others.
RELATED ARTICLES