India Auto Inc enters 2021 on an optimistic note, rate of sales decline slows down
New vehicle sales in December 2020 benefit from pent-up demand, register reduced rate of decline in Q3 FY2021 over Q2.
With 2021 bringing a new dawn of hope for humankind with the fight against Covid-19 finally entering mass vaccination of the global population, there also lies hope for pandemic-impacted businesses around the world. It is no different for India Auto Inc which registered much-improved sales in December. Reason enough to drive into 2021 with positivity and cautious optimism.
New model launches drive PV and two-wheeler sales
In December 2020, the passenger vehicle (PV) segment clocked sales of 252,998 units (December 2019: 222,728 / +13.59%) and the two-wheeler segment registered 1,127,917 units (1,050,038 / +7.42%).
Utility vehicles sold 94,787 units (79,153 / +19.75%), scooters went home to 323,696 (306,550 / +5.59%) buyers and motorcycles clocked 744,237 (697,819 / +6.65%).
While the seemingly strong demand in the closing month of calendar year 2020 is attributed to new model launches as well as continuation of the pent-up demand effect from the initial days of lockdown in April-May 2020, the same cannot be considered to be completely sustainable. "There is still a high level of uncertainty in the market and it is difficult to predict the demand scenario going forward," said Kenichi Ayukawa, president, SIAM and Maruti Suzuki India's MD and CEO.
Ayukawa also cautioned that concerns of semiconductor and steel shortage are looming large.
"While we do not expect a strong decline in production in Q4 of FY2021, raw material shortage could cause some disruption," he added.
April-December 2020 numbers
A look at the nine-month consolidated sales tally of India Auto Inc and one can realise that FY2021 will remain a year when industry saw a marked decline in sales. For the period between April and December 2020, total PV sales were 1,777,874 units(April-December 2019: 2,117,920 / -16.06%).
While two-wheelers too were down to 10,765,788 units (13,913,795 / -22.63%), it is the commercial vehicle (CV) segment that determines the actual situation of the economy in general. At 130,601 units, three-wheelers were down 74.25 percent, and CVs recorded a 37 percent drop.
M&HCVs sold 80,154 units (175,888 / -54.43%) and LCVs recorded sales of 278,049 units (394,806 / -29.57%).
"Absolute sales numbers of the nine-month period show that we are at a 7-year low in the two-wheeler segment, 10-year low in PVs and CVs, and behind by 20 years in the three-wheeler segment. This means that the industry has to still work quite hard towards recovery," said Ayukawa, without mincing words.
Q3 vs Q2 FY2021: reason to be optimistic
Not all is gloom and doom though. While the cumulative nine-month numbers do reflect the challenging market situation, there are some visible improvements in the quarterly sales.
Compared to Q2 (July to September) FY2021, the rate of decline in the CV segment has reduced in the subsequent quarter (October to December). From selling 133,524 units in Q2 and recording a 20.13 percent rate of de-growth, CV sales improved to 193,034 units in Q3, drastically reducing the decline rate to 1.12 percent.
Total M&HCV sales in Q3 were almost back to year-ago levels at 51,192 units (October-December 2019: 53,537 / -4.38%). Meanwhile, LCV sales depict a strong recovery too – selling 141,842 units (141,674 / +0.12%) in the three-month period.
Three-wheeler sales, which dropped sharply and as low as 74.63 percent in Q2 FY2021 to 45,902 units from 180,899 units a year ago, were also relatively better with sales of 71,939 units – a 59 percent decline.
"2020 was a challenging year in many ways. But with the rural sector expected to show better recovery, PLI scheme improving localisation and exports, and government's spend on infrastructure despite a tight fiscal situation, are factors that hold potential for revival in 2021," Ayukawa concluded.
While factors such as rising fuel prices and input costs leading to price hike on most vehicles across segments, buyers could be wary of making purchases. Adding to that is the need for social distancing is still a contributory factor towards rising sale of personal vehicles in the near term.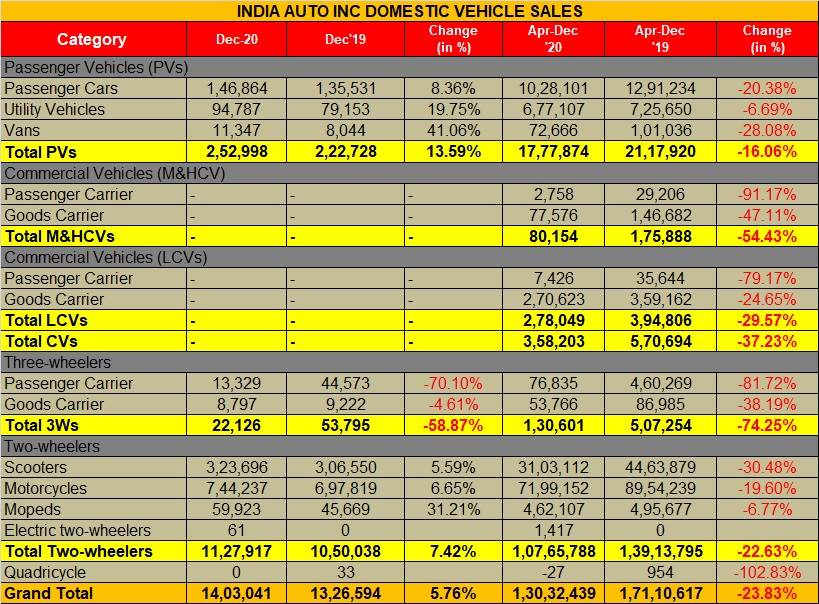 RELATED ARTICLES