Production matters
The much imitated Toyota Production System aims at maximizing effciency and productivity . Darius Lam visits the carmaker's Tsutsumi plant in Japan, to see how it all works.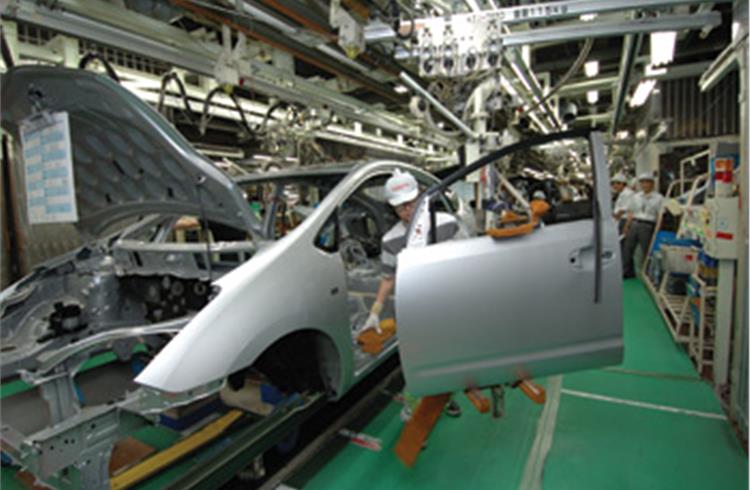 Toyota has built its reputation for making excellent cars on the efficiency and productivity of its manufacturing plants, which use the Toyota Production System (TPS). It is the basis on which Toyota organises its manufacturing activities and logistics, including interaction with outside suppliers and customers. TPS is also part of the 'lean manufacturing' philosophy and was created by company founder Sakichi Toyoda, with inspiration from Edward Deming and Henry Ford.
This production control system is a result of many years of continuous improvements, with the objective of making vehicles in the quickest and most efficient way, in order to deliver them to customers as soon as possible. TPS is based on two concepts: The first is called jidoka (which can be loosely translated as 'automation with a human touch'). This means that when a problem occurs, the equipment stops immediately, preventing defective products from being passed on to the next stage. The second is the concept of 'Just-in-Time' (JIT), in which each process produces only what is needed by the next process in a continuous flow. Using this system, Toyota is able to reduce lead times as well as lower inventory costs while improving quality at the same time. The JIT system of materials management also helps improve efficiency and lower cost by ensuring that only the required amount of materials are stocked at any given time.

TPS at work at Tsutsumi
The Tsutsumi plant which is located in Toyota City, Japan, is one of the prime examples of TPS at work. Set up in December 1970, it has a capacity to make 500,000 cars per annum in two shifts, including the hybrid Prius, Camry, Wish, Premio, Allion and the Scion tC, which is for the US market. To date the plant has produced a total of 14.63 million cars.
The high level of the productivity at this plant can be gauged from the fact that every 63 seconds a Prius or Camry rolls out, while one of the other models is produced every 75 seconds. This is thanks to the efforts of its 6,000 employees of which close to 2,000 work on its two vehicle final assembly lines. Tsutsumi is a fully integrated manufacturing plant, which means it has all the processes required to build a car including stamping, body welding, paint booths, assembly lines, machining and die casting facilities as well as a plastics shop.
In addition to producing vehicles for the Japanese and US markets, the plant also supplies parts and kits for several Toyota factories across the world, like the facilities in Kentucky, USA (which make the Camry, Avalon and Solara models) and Derbyshire, UK (which produces the Avensis and Corolla). Besides, it also supports Corolla production in Adapazari, Turkey and Camry production in Guangzhou, China.
The actual production process starts with the stamping of body parts like doors, hoods and roofs from steel coils. The press shop, which has 30 stamping lines and 63 stamping machines fabricates over a thousand different types of parts and uses 20,000 tonnes of steel every month. These are then sent to the body assembly department, which welds together about 400 different parts to form the actual car body. There is practically no human involvement with a thousand robots doing the job tirelessly and with greater accuracy than is humanly possible.
The welded bodies are then painted with primer and two coats to prevent rusting. After that they move to final assembly where around 9,600 parts from other shops within the plant (like machining and plastics) as well as other Toyota factories and 140 outside suppliers are attached to the car. After assembly is completed, the cars are sent to the inspection line where various tests like the rolling test, brake test, exhaust and final checks are carried out. Plants like Tsutsumi have helped Toyota challenge GM's position as the world's number one carmaker in terms of sales and make it the most profitable in the world. Clearly, TPS with its basic philosophies of jidoka and JIT is helping the Japanese carmaker make a big difference.
RELATED ARTICLES