Nissan has a Go at Maruti with Datsun
With Brand Datsun, Nissan wants to take on Maruti and Hyundai. Can it deliver, given its relative infancy in India and formidable rivals to take on? Shobha Mathur reports.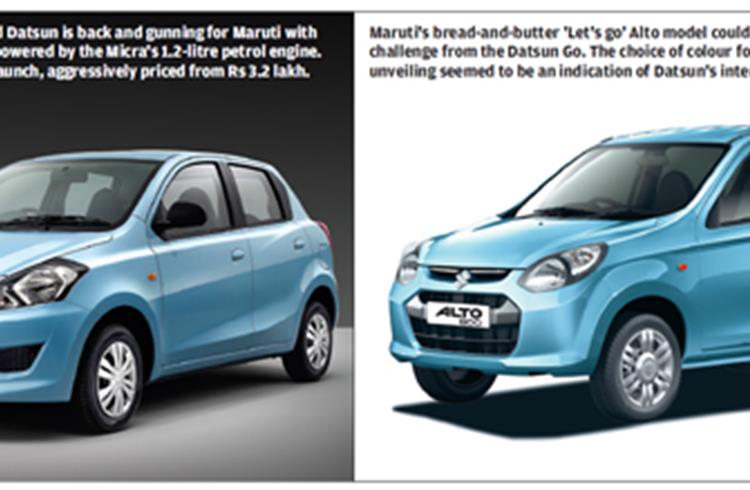 With Brand Datsun, Nissan wants to take on Maruti and Hyundai. Can it deliver, given its relative infancy in India and formidable rivals to take on? Shobha Mathur reports.

Who would have imagined even five years ago that Nissan's Datsun brand, a hit in the '70s, would see its revival in India? Not many would have but that is what a changing global automotive market dynamics can do. India's potential, as well as that of other emerging markets, has caught the fancy of nearly all the global marques and Nissan Motor India, after a slow start in February 2005, is betting big on India with its all-new India-designed Datsun five-door hatchback.

Firing the first salvo from the Datsun portfolio at the Kingdom of Dreams in Gurgaon on July 12, Nissan unveiled the Go, its first India model. The carmaker, a relatively unknown entity when it started out in India, is pitching the Datsun Go at the very heart of India's cut-throat small car market. Indeed, it is treading where no carmaker has gone so far: taking the battle straight into Maruti's own turf with an offering priced under the Rs 400,000 mark. That D-day when the Indian customer will be able to buy the car is January 2014.

Carlos Ghosn, president and CEO of Nissan, who did the global unveiling, said: "This all-new car has been built to meet the needs of customers in high-growth markets who seek better value propositions and are on the move." Datsun will also roll out a couple of more models under the Datsun marque within a year of the 2014 launch targeted at price segments lower than Rs 400,000. Verily, Nissan wants to be the next Maruti and grab the crown that has sat on Maruti's head for many a decade.

Datsun power

Much rides on the success of Datsun. Nissan is looking to increase its market share in India to 10 percent by 2016 from a little above 1.2 percent currently. Datsun powers Nissan's Power 88 mid-term business growth plan that will see as many as 10 new models by 2016. A late entrant into India, Nissan's models were launched under the Renault Nissan Alliance. The Micra was the first and the car has had an uneven innings so far. With the Sunny midsize saloon, Nissan saw a bright future in that segment but even here things have cooled down. Then came the Evalia MPV which has been a non-starter. Now with the Datsun brand and the CMF-A (Common Family Module – Affordable) platform of small cars, all that could change. The Datsun range will play in a market estimated at selling over 200,000 cars annually.

Frugal engineering

The Go is based on an original platform not shared with Renault. It will be a five-door, front-wheel-drive hatchback powered by the 1.2-litre petrol engine that drives the Micra, mated to a five-speed manual transmission. It will be available with a mobile docking station that will allow its owners to connect their smartphones and personal music library within its audio system. Datsun has listened carefully to the demands of India's middle class. According to Koji Nagano, executive design director, Nissan, who headed the design team for the Datsun Go, the length and wheels were stretched, and even the front seat area opened up to create roominess and accommodate the bench seat in the front row. "Considering the load conditions, we lifted the vehicle ground clearance. Keywords of the product design were 'very iconic and memorable' with consistency of the Datsun brand," said Nagano. Nissan took 2-3 years to develop the new car with a team of 15-20 people working on it initially in Japan. Its name is inspired by the first Datsun – the DAT-GO – launched almost a century ago in Japan. While Nissan's global design centre in Japan handled the Go's styling, R&D and engineering development was done by the local engineering team at Chennai. The role of Nissan's Chennai facility is testament to India's frugal engineering skills, a word that caught Ghosn's fancy and with whom it is also most always connected. The Go will be the first of several Datsun models that will be launched later in 2014 in Indonesia, Russia and South Africa. These will be individually developed for different markets. In India, the Datsun will roll out from the Renault-Nissan Alliance factory at Oragadam, near Chennai. "Five years ago, the majority of cars sold took place in Europe, US and Japan. High-growth markets like India, Brazil, Russia, Indonesia, China accounted for 40 percent of all sales but this is shifting quickly and in 2016, we expect 60 percent of all auto sales to be in high growth markets," said Ghosn. That India is a huge opportunity is well known. Car ownership here is 15 per 1,000 residents as against 800 per 1,000 residents in the US, 280 in Russia , 160 in South Africa and 70 in Indonesia. Will India fulfil Nissan's dreams? Only time will tell.
RELATED ARTICLES