Top 10 motorcycles – FY2018 | Honda's 125cc CB Shine outsells Hero's Passion
With YoY growth of 13.69 percent, double-digit growth returns to the bike market after five long years. This recovery comes on the back of growth across many sub-segments, particularly the 100-200cc commuter bike category.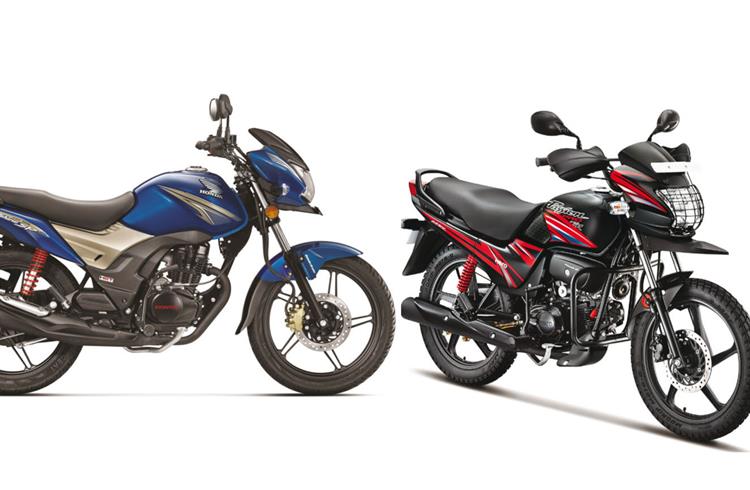 India's motorcycle market is firing on all cylinders. In FY2018, a total of 12,613,241 motorcycles were sold – or 34,556 units for every single day of the fiscal year.
Hero MotoCorp's popular commuter motorcycle brands – Splendor, HF Deluxe, Passion and Glamour – continue to pull customers to its showrooms across the country. While the Hero Splendor remains the largest selling motorcycle brand in India with sales of 27,33,586 units (up 7.16 percent YoY), its 100cc HF Deluxe motorcycles stands at the second rank with sales of 18,83,047 units (up 33.71 percent YoY) during the last fiscal.
Interestingly, Honda's top-selling 125cc executive commuter motorcycle – CB Shine – has outsold the Hero Passion in FY2018. It is understood that the growing demand for the Honda CB Shine has beaten that of the Hero Passion in a fiscal for the first time ever.
It is well known that Hero MotoCorp's trio – Splendor, Passion and HF Deluxe – have had a history of being India's top three selling motorcycle brands year after year. Honda, with its bestselling motorcycle brand – CB Shine – now appears to have broken into this territory for the first time in a financial year.
The Honda CB Shine is now India's third largest selling motorcycle brand with sales of 987,271 units (up 27.06 percent YoY) in the last fiscal. On the other hand, the Hero Passion, which is now the fourth largest-selling motorcycle line up, has secured cumulative domestic sales of 930,996 units (up 6.96 percent YoY) in FY2018. This marks a notable rise for the Honda CB Shine, which continues to be a performer for the company YoY.
Meanwhile, Hero MotoCorp has recently updated the 110cc XPro and Pro models within its Passion portfolio to correct its declining sales. The improvement in its monthly sales for March (2018) can be seen as the company has reportedly dispatched 1,05,214 units (up 23.54 percent YoY) under its Passion line up.
Autocar Professional forecasts that Hero's HF Deluxe and Honda's CB Shine may achieve historic sales milestones respectively in FY2017-18. Given the market growth for both these popular commuter motorcycle brands, Hero's HF Deluxe may breach the two million-unit-mark in FY2019 for the first time. Similarly, Honda's CB Shine may breach the one million-unit-mark for the first time by the end of the ongoing fiscal.
The Hero Passion, in the meanwhile, may recover its yearly million-unit volumes in this financial year, given the new Passion Pro and XPro models generate sales for Hero MotoCorp.
Hero Glamour, India's second best-selling 125cc motorcycle, was No. 5 with sales of 878,303 units (up 18.08 percent YoY) in FY2018.
Bajaj Auto's Pulsar range (657,276 units, up 12.76 percent YoY), along with the CT100 (466,889 units, up 3.13 percent YoY) and the Platina models (435,180 units, up 13.46 percent YoY), grab the sixth, eighth and ninth positions respectively.
Royal Enfield's bestselling model – Classic 350 – ranks seventh with sales of 555,513 units in FY2018. The Classic 350 has reported an impressive YoY growth of 33.31 percent during the said 12-month period.
TVS Motor Company's Apache range stood at the tenth position in the list with cumulative sales of 3,99,035 units in FY2018. The Apache range has reported a dynamic YoY growth of 34.64 percent during the last fiscal, all thanks to the solid product strategy executed by the company over time.
Also read: Top 10 Two-Wheelers – FY2018 | Honda Activa outsells Hero Splendor by over 400,000 units

Top 10 scooters – FY2018 | Honda Activa zips past the 3-million milestone
India's motorcycle market returns to double-digit growth after 5 years
RELATED ARTICLES