Mission Plan sets the cat among the pigeons
The bizarre twist to the small car definition has the automotive industry fretting and fuming yet again, says P Tharyan.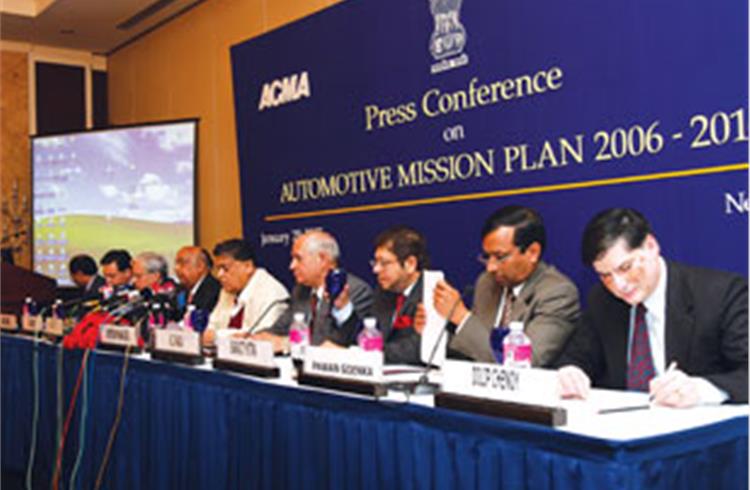 The ten-year (2006-16) Automotive Mission Plan (AMP) put together by the ministry of heavy industries and public enterprises has run into rough weather with several automobile players ruffled by a few 'ambiguities' in the document. Carmakers like Hyundai Motor India, General Motors and Honda Siel Cars seem peeved at the document's mention of a point which suggests that the small car definition in the Auto Policy 2002 (3800 mm in length) be adhered to without any engine capacity specification.

Equally intriguing is a suggestion that says that the "…Government may examine from time to time appropriate fiscal incentives/ concessions for innovation of low cost products that are aimed at consumers at the mass market like cost effective small goods carrier, rugged low cost rural vehicle, small safe car, low cost two wheeler, etc…."

On the face of it, it looks as if these recommendations are meant to provide sops to a few existing car manufacturers. As to what will eventually define a small safe car, a cost effective small goods carrier or a low cost two-wheeler, will need to be feverishly debated amongst vehicle manufacturers. Tata Motors has already announced a plan to manufacture a people's car for Rs 1 lakh. Whether this will qualify as a safe, small car and qualify for fiscal incentives remains to be seen.

These recommendations from the ministry also come at a time when it was assumed that the issue relating to small car definition had more or less been settled in the 2006 Budget. Readers will recall that this will extend to cars up to four metres in length with engine capacities not exceeding 1500cc for diesel and 1200cc for petrol. It now remains to be seen if this year's Budget will go by the AMP or merely extend the 16 percent lower duty to all cars. This clearly is the more pragmatic option though the idea of pampering small cars is to make India a global manufacturing hub.

BACK AND FORTH

Getting back to the main topic, president and CEO of Honda Siel, Masahiro Takedagawa says, "I do not think it is right for the government to change its regulations so often. We manufacturers are following what it has indicated. We have already started our product development going by these regulations made in February last year". Honda Siel is working on a small car that will roll out of its new plant in Rajasthan.

Like his counterparts, Takedagawa is not amused by the mission document's definition of a small car. This has come about despite the company giving its opinion on the issue through SIAM. "This should not become a law. Once the government decides on a regulation, it is better they stick to it otherwise we manufacturers will be very confused," he says.

##### But then again, has the government's plan towards encouraging a 3800 mm long small car, a step in the right direction? No, if one were to take into account the fact that many small car models around the globe are longer than 3800 mm. Besides if India were to become a manufacturing hub for small cars, then restricting its length would definitely be a wrong step. The Fiat Grande Punto, Volkswagen Golf and Polo, Ford Fiesta hatchback and the Renault Clio are all popular small cars that are over 3800 mm.

LACK OF CONSISTENCY

Hyundai Motor India's managing director, HS Lheem who was also present during the release of the document told reporters that he would be meeting heavy industries minister, Santosh Mohan Dev to point out the "lack of a consistent policy on small cars".

His company, he said, was keen that car manufacturers are given at least two years lean time after a policy announcement to be able to accommodate the changes. Lheem reiterated that there should be a single excise duty level for all cars made in India, irrespective of the length and engine capacities. He also met prime minister, Manmohan Singh and sought his support for making India an export hub for small cars.

VITAL DOCUMENT

Mahindra & Mahindra's president, Pawan Goenka was, however, unfazed by the suggestions in the AMP. "Clearly the most important part of the document is execution. We have the Auto Policy 2002 where many things were done and many still left out. It is important to focus on the execution of this document to be able to achieve the 2016 goal we have set for the industry," he said.

Goenka also announced the setting up of monitoring committees which would be put in place by the ministry of heavy industry to monitor the action plan for the 2016 mission plan. "The committee members will be from SIAM, ACMA and inter-ministerial groups. They will meet every quarter and give policy support," says secretary, ministry of heavy industries, Ramesh Chandra Panda.

On issues relating to fiscal benefits, he points out that these can be handled by the finance ministry's standing committees. "Holistic issues will come up before the monitoring committee of the mission plan but not individual ones. The mission plan has several components and different steps will be taken for each of these," Panda says.

##### Refusing to be drawn into the small car definition issue, managing director of Maruti Udyog, Jagdish Khattar says, "It is really at a government level and we will await a decision. I have no view on this. As for tax benefits on small cars, the industry and government have already taken it up with the finance ministry. There are inevitably differences of opinion but a consensus always emerges eventually."

If the 3800 norm were to come in place, it could adversely affect plans of several companies either planning a new small car or making changes in their existing models to meet the existing small car definition. While the small car definition is the controversial part of the AMP, it still manages to incorporate valid suggestions that could see the industry grow to a level of $145 billion by 2016. By then, automobile and component makers will account for 10 percent of GDP. "This plan encourages us to have a long-term view of decisions in investment and manufacturing. It is a step in the right direction," says Takedagawa.

HOLISTIC VIEW

Equally emphatic is Khattar. "The AMP takes a holistic view of the opportunity and potential which the industry can reach in the next decade. It also indicates what is required by the government and industry," he says.

Implementing AMP 2006-16 will need incremental investment of $35-40 billion in the industry over the next ten years. The report clearly points out that unrestricted import of vehicles could hit local manufacturing, GDP and employment. These issues will be a critical part of negotiating free/regional trade agreements.

The report says that the government will also discourage import of used/remanufactured vehicles as well as components and remanufactured automotive products. The 55-page document talks about infrastructure development, especially road, rail, port and power which will contribute to the growth of the automotive industry.
RELATED ARTICLES