Maruti reveals new hi-tech K12M engine
Maruti Suzuki revealed its ultra- modern new K12M all-aluminium motor on April 14 at its engine manufacturing plant in Gurgaon.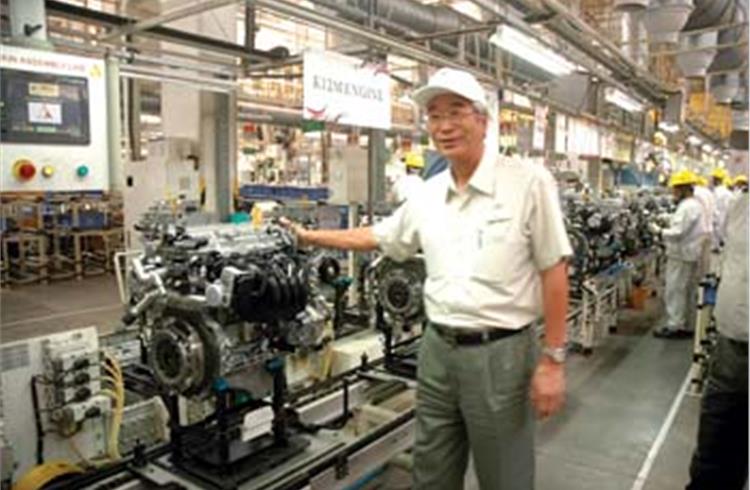 This new power plant will first be fitted into Maruti's Ritz hatchback, which is set to be launched shortly. The K12M already meets tough new BS4 emission norms, 11 months before they come into effect in April next year. While Mahindra & Mahindra already has a BS4 engine powering its new Scorpio sport utility vehicle, the new K12M is the first passenger car engine in India that meets the norms. Suzuki has downsized the engine from its original 1248cc displacement to 1197cc in order to help it meet the small car norms set by the government. These rules have it that any car with a petrol engine below 1200cc and a length of less than four metres is a small car, which in turn attracts a much lower excise duty of just eight percent. This is the second in the new generation of K-series engines that have been developed by Suzuki for the Indian market. The first version is the K10B, which powers the new A-star model, that is also exported to Europe. According to Shinzo Nakanishi, managing director and CEO, Maruti Suzuki, "the K12M engine is another example of our commitment to take engine technology in India to the next level. This is in line with parent company, Suzuki Motor Corporation's focus on maximising the environmental benefits of fully proven technologies. For this, Suzuki is fully exploiting the know-how gained in over 50 years of compact-car production. The K-series engine is the latest innovation coming from this focus. These engines are not just fuel efficient but also low on CO2 emissions and the K12M engine further strengthens Maruti Suzuki's efforts to produce fuel efficient, green engine technology for customers in India." The K12M is being produced at the company's modern engine manufacturing plant at Gurgaon which commenced operations in 2008 with production of the K10B engine. Maruti claims this new engine is part of the company's focus on investing in long term strategic projects, and includes expansion of vehicle manufacturing capacity. The new engine has been specifically designed for Indian applications with Maruti's engineers working with Suzuki's engine design team in Japan during the design, calibration and testing of the engine. This process has also helped enhance the skills of its Indian engineers and Maruti says it is a step forward in enhancing local engine development capability. Due to the advanced design and technology used for this engine, it is expected to have segment-leading levels of fuel efficiency, powerful performance, lower emissions and weight as well as reduced levels of Noise, Vibration and Harshness (NVH). This in turn should help Maruti drive sales of the soon-to-be-launched Ritz.
RELATED ARTICLES