India has over 2.8 million EVs on its roads, Central and South India dominate EV ownership
As India celebrates its 77th Independence Day, over 28 lakh users of electric vehicles are driving change and celebrating their independence from fossil fuels. Find out how EV ownership stacks up across the country.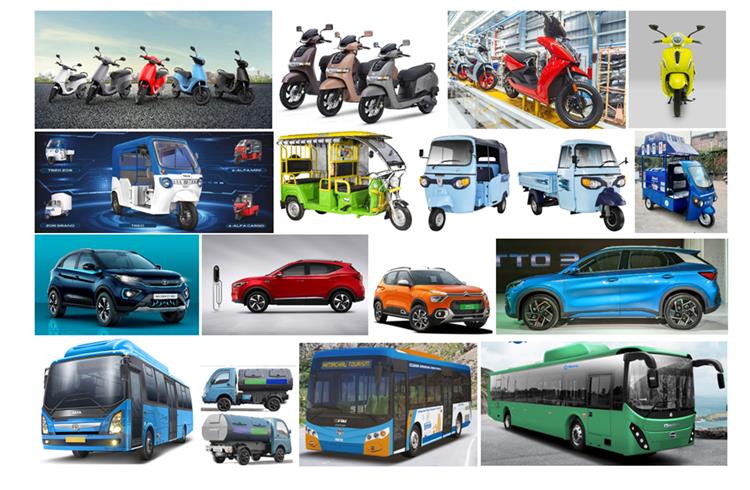 Electric vehicle sales in India are witnessing sustained growth month on month but if additional quantitative proof of the growing consumer shift to electric mobility in India is required, then it came on August 10, 2023 in the form of Union Transport Minister Nitin Gadkari's written reply in the Lok Sabha. As per the data provided by the Union Minister and sourced from the government's Vahan website, there are over 2.8 million registered electric vehicles (EVs) – 28,30,565 units – on Indian roads as of August 8, 2023.
The data, indicative of EV sales over a 10-year period (see decadal EV sales data table below) reflects the cumulative number of registered EVs in 27 states and seven Union Territories in the country. The overall number though will be more, given that the Vahan data does not factor EV sales from Telangana and Lakshadweep.
At 886,959 units sold between January and August 12, 2023, EV sales this year are already 86% of CY2022's record million-plus units across segments.
The comprehensive 10-year retail data from Vahan reveals that India EV Inc has seen sales grow by 42,796% from a very low 2,389 units to 10,24,795 units in CY2022, a year in which the industry charged past a million-unit sales for the first time. And with the January-August 12, 2023 total at 886,959 units, EV sales this year are already 86% of last year's record total, with a little more than four months still to go for CY2023 to come to an end. Suffice it to say that CY2023 should scale a new high of around 1.4 million units.
Uttar Pradesh and Maharashtra top in EV ownership
Given the strong growth trajectory, it also begs the question as to which are the key markets in India when it comes to EV ownership. A deep dive into the numbers provided by the transport minister has some interesting takeaways.
The top nine states, each of which have EVs in excess of 100,000 units, cumulatively account for 21,25,647 units or an overwhelming 75.40% of total EVs in the country. Of these nine states, only Uttar Pradesh and Maharashtra have a double-digit share of EV ownership, indicating the high level of adoption there.
Uttar Pradesh (UP) is the state with the largest number of EVs – 574,967 units and commands one-fifth of the total EV parc in India. This is thanks to UP being the state with the largest number of electric two- and three-wheelers. In fact, as per recent wholesales data provided by industry body SIAM for the April-June 2023 period, Uttar Pradesh, which is the largest state by population, topped overall automobile (ICE and EV) wholesales with 842,601 vehicles and 15.32% of total wholesales in Q1 FY2024.
In similar fashion, Maharashtra is ranked second on the EV ownership scale with 305,006 units, which gives it a 10.77% share of the Indian EV market till early August 2023. Though Maharashtra's EV parc is 50% less than UP's, expect it to be the leader in electric passenger cars and SUVs, and possibly among the top three states in electric commercial vehicles.
In third place is the southern state of Karnataka with 248,747 EVs. This number, which gives it an 8.78% of the total EV ownership, is just 15,535 units ahead of Delhi's 233,212 units with the capital city having an 8.23% share.
In fifth position is the northern state of Rajasthan with 180,670 EVs and a 6.38% share.
As of August 8, 203, there are over 2.8 million registered electric vehicles – 28,30,565 units – in India.
Central India dominates zone-wise EV sales
When it comes to zonal-wise EV market penetration, Central India dominates with a total of 775,457 units and 27% share of the total India EV market, thanks to it having the dominant presence of Uttar Pradesh (574,967 units & 20.31% share). Madhya Pradesh, ranked 11th with 96,151 units, Chattisgarh (No. 16 with 54,848 units) and Uttarakhand (No. 17 with 49,491 units) add heft to this zone. Expect this zone to be dominated by the demand for electric three-wheelers for inter-city people transportation as well as growing ownership of last-mile mobility two- and three-wheelers.
The South-side story
Southern India is increasingly where the EV action is what with Karnataka, Tamil Nadu and Andhra Pradesh housing the manufacturing operations of the leading two-wheeler OEMs ranging from e-three-wheeler market leader Mahindra Last Mile Mobility's plant in Bengaluru to Ather Energy's state-of-the-art 420,000-units-per-annum facility at Hosur, Tamil Madu or Hero MotoCorp's Vida-producing factory at Chittoor in Andhra Pradesh.
Cumulatively, along with Kerala, the four states and two UTs account for 592,914 EVs or 21% share of the Indian EV market. Its tally would have been more if only Telangana EV registration were part of this number-crunching exercise.
Tamil Nadu has already made its intention clear to become the EV capital of the country and given the momentum and the sharpened focus of Southern India, expect this region to continue to provide the fireworks when it comes to increasing EV ownership.
How the North Zone stacks up
The Northern zone accounts for 540,215 EVs and a 19% share of the all-India EV pie. Delhi, which was among the first in the country to come out with a comprehensive EV Policy in December 2019 which targets 500,000 EVs on the city's roads by 2024, is close to its half-way stage in early August with 233,212 EVs. Delhi, which has an 8.23% of the India EV pie, is followed by the state of Rajasthan (180,670 units and 6.38% share), Haryana (69,271 units and 2.44% share) and Punjab (35,727 EVs and 1.26% share).
The north, particularly Delhi, Rajasthan and Haryana, are home to the bulk of the nearly 450 three-wheeler manufacturers in the country as well houses the plants of a host of e-two-wheeler makers including Hero Electric and Okinawa Autotech.
West zone packs a punch
The western zone, comprising of two key markets in Maharashtra and Gujarat, along with Goa and the Union Territory of Dadra and Nagar Naveli, and Diu and Daman, have a total of 456,385 EVs. This gives the region a 16% share in the overall India market, fourth after the central, southern and northern zones. While the EV sub-segment-wise splits are not available, it can be surmised that Maharashtra, which recent SIAM wholesales data for April-June 2023 shows is the market leader in passenger vehicles and commercial vehicles, would also be in the same position when it comes to electric cars and SUVs.
In the state-wise listing of EV ownership, Maharashtra with 305,006 units is the No. 2 states after Uttar Pradesh, while Gujarat with 138,410 EVs is ranked eighth. Goa, which is seeing decent traction in e-two-wheeler sales, is 21st on the all-India EV ownership scale.
Over 300,000 EVs in Eastern Zone
With the biggest contribution from Bihar, the seventh-placed state with 161,060 units, along with West Bengal (63,376 units), Odisha (62,567 units) and Jharkhand, the Eastern zone has a total of 328,762 EVs.
Considerable growth potential in the North-East
This region, which comprises all of eight states, has 136,832 EV users and leading them is Assam with 120,423 units, which is ranked ninth on the all-India list. Guwahati, the gateway to the North East region and the largest metro there, is in Assam. The other states i the region add another 16,409 units to the overall total.

INDIA EV INDUSTRY FIRMLY PLUGGED INTO GROWTH MODE
What is helping accelerate EV ownership in India is a combination of factors. While demand for e-mobility was tepid in the initial years of the past decade, the government's heightened focus towards the EV sector and the overall electric mobility eco-system in the form of the FAME Scheme and PLI (Production-Linked Incentive) Scheme for the automotive sector, along with EV OEMs across vehicle segments expanding their portfolio, and component suppliers either developing in-house or sourcing the latest e-powertrain and parts technologies have all contributed towards the sector's growth.
Furthermore, growing consumer awareness of the need for eco-friendly mobility amidst the damaging effects of climate change which has also impacted India is helping the cause of EVs. Also, given the high prices of fossil fuels like petrol and diesel, as also CNG, the wallet-friendly nature of EV cost of ownership over the long run is a big catalyst for consumers planning to transition from IC engine motoring to EVs.
Another contributor to the EV industry's growth is the EV-friendly policies. Most of the states and UTs including Andhra Pradesh, Assam, Chandigarh, Chhattisgarh, Delhi, Goa, Gujarat, Haryana, Himachal Pradesh, Jharkhand, Karnataka, Kerala, Ladakh, Madhya Pradesh, Maharashtra, Manipur, Meghalaya, Odisha, Rajasthan, Tamil Nadu, Telangana, Uttar Pradesh, Uttarakhand and West Bengal have notified EV policies which deliver plentiful benefits to EV uses and help accelerate the pace of EV adoption across the country.
Given the rapid pace of growth, the Indian EV industry can be expected to notch consistent progress. Some challenges remain in the form of inadequate charging infrastructure and high initial EV prices, which is directly related to the battery cost. Nevertheless, with both the private and public sector aggressively investing heavily in expanding the charging network across India, OEMs' sharpened focus on localisation with a view to reduce costs and enhance affordability, and battery prices expected to reduce gradually, industry is optimistic about growth for this eco-friendly form of mobility, both in the near-term and long-term.
On the numbers front, India EV Inc is headed for another record year of sales. Having surpassed sales of 800,000 units in the first seven months of 2023, the remaining months of the this year could bring in an additional 550,000 to 600,000 units, what with the festive season coming up soon. This would translate to an estimate of 1.4-odd million units and 25% YoY growth (CY2022: 10,24,808 EVs). In CY2022, EVs accounted for 5% of total India Auto Inc's sales of 2,07,52,305 units. Will CY2023 raise the bar on the EV front? Keep watching this space . . .
ALSO READ:
Electric two-wheeler sales in July cross 54,000 units, improve on tough June by 18%
RELATED ARTICLES