Hero Honda drafts Uttaranchal script
The two-wheeler major and its suppliers will make huge investments at Haridwar which has targeted 1.5 million units.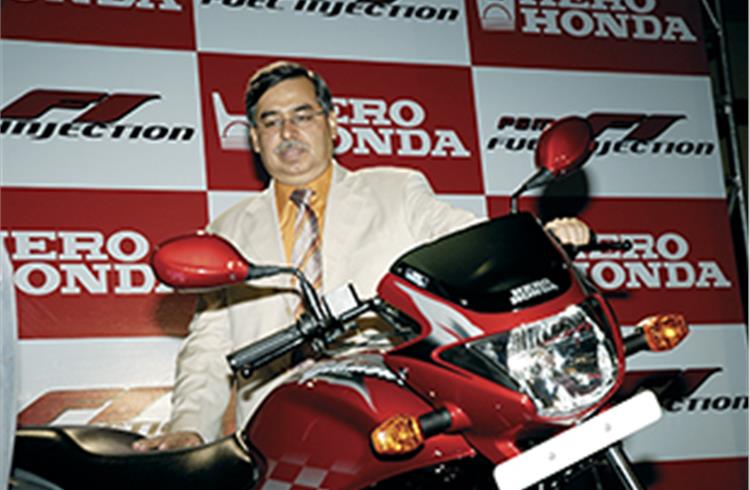 Barely weeks after it had announced its intention to set up a third plant in Jaipur, Hero Honda has now shifted focus to Uttaranchal. The plan will involve commissioning a Rs 2,000 crore facility in Haridwar along with its critical suppliers. Pawan Kant Munjal, managing director, told Autocar Professional that the production ramp-up schedule would involve 500,000 two-wheelers in 2007, the first year of operations, going up to 1.5 million units by 2010.

"We are going in for a flexible plant which will make high-selling models," he said. The first phase will also see Hero Honda invest Rs 300 crore and this could touch nearly Rs 1,000 crore by 2010 by which time it will almost be the same figure or a bit higher for the vendors.

Uttaranchal has emerged as the favourite investment destination for automakers with a clutch of big names making a beeline for the state. The list includes Tata Motors, Mahindra & Mahindra, Bajaj Auto and now Hero Honda. In addition, some important component manufacturers will also set up shop here.

According to Munjal, Uttaranchal offered an attractive financial package in the form of 10-year excise holidays, income-tax waiver for the first five years and so on. He added that the overall infrastructure was good especially when it came to power. Roads were also being readied which would assure good connectivity from the Haridwar plant.

Hero Honda has indicated that it will take "a huge number of suppliers" to Uttaranchal and this could even extend to 50 or more. This is because the volumes planned are large and are meant to ensure that the company retains itstop position in the two-wheeler market.

Munjal also reiterated that it was wrong to assume that the Jaipur proposal would be shelved. This unit may end up being much smaller than Uttaranchal and the company will obviously have the flexibility of looking at various options for the future. What is interesting is that the combined market share of Hero Honda and HMSI (Honda Motorcycle & Scooter India) has been targeted at nearly 60 percent in 2010, the year when annual production of two-wheelers in India is could touch 12 million units.

Hero Honda has already announced that it will look at sales of over three million two-wheelers this fiscal. Current trends show that this is achievable though there have been reports doing the rounds that there has been a stock pileup this month at the plant which could result readjusting production schedules.

##### The biggest challenge continues to come from challenger, Bajaj Auto, which has been going flat out lately and has narrowed the gap with Hero Honda to a large extent. There is a section of the market that believes that it is only a matter of time before Bajaj clinches the top slot given the recent spate of successes it has seen in the form of the Discover and Platina.

TREMENDOUS LOYALTY

Hero Honda still has tremendous market loyalty but is clearly in need of more exciting products to sustain customer interest. The two-wheeler market is now characterised by a growing breed of young enthusiasts who want the best mix of style, design, mileage and, of course, price.

Hero Honda has always had the upper hand in semi-urban India but the price advantage may not last forever because finally it is the product that makes all the difference. It still has huge strengths in the form of remarkable retail support across the length and breadth of the country but needs to deliver an exciting product that can keep Bajaj at bay for much longer.

The company has been doing good business with its debut scooter, Pleasure. It created the concept of all-women dealerships keeping in mind the profile of the end-user. Indications are that the initiative has worked well and women customers feel a greater sense of comfort in the overall buying experience.

By the end of the day, Hero Honda is a seasoned performer and it will be interesting to see how its sibling, HMSI, does in this competitive market. In contrast, it has been a recent entrant and though its Activa gearless scooter ensured a dream debut, the same magic has not been seen in its bikes. The issue could be more to do with the retail end because the products are just fine. Of course, the common complaint is that design is little to write home about and this could have impacted sales to an extent.

For this fiscal, HMSI has targeted production of nearly one million two-wheelers and by the end of 2008, this has been projected at 1.2 million units. By then, capacity at the Manesar plant will have been fully used. The Indian two-wheeler market will eventually see Honda and Bajaj at the top two slots with TVS taking up the third position. Yamaha is still perceived as a serious contender but it needs to get its retail act together first. At one point, Chinese bikes were seen to be a big threat to India and there have been talks of some brands entering the market. However, they are not likely to make too much of an impact, experts say.
RELATED ARTICLES