Finding power solutions
Cummins Power Generation has come up with two new products which are significantly improving plant efficiency and cutting energy costs for its automotive customers, reports Ammar Master.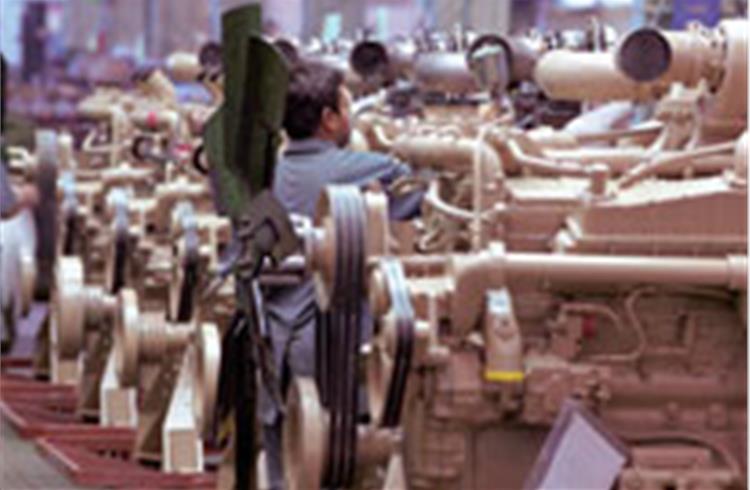 Pune-based Cummins Power Generation, the power generation business unit of Cummins India, is banking big on the automotive sector. The reason: A whole range of new manufacturing facilities is springing up in Maharashtra, and in particular the Pune-Chakan region. According to industries (secretary) of Maharashtra, VK Jairath, this amounts to more than Rs 10,000 crore in new investments for the state.

What this also means is that when these facilities come onstream, the demand for power is going to peak. Already, Maharashtra is facing a shortfall of 5,800 megawatts (MW) and in all likelihood the Maharashtra Electricity Regulatory Commission (Merc) will be pressured to increase load shedding hours.

On the positive side, there is renewed activity in India's power sector to overcome availability constraints. Prime Minister Manmohan Singh has stated the government will address problems in the power sector to find lasting solutions. Moreover, an industry magazine recently pointed out that the private sector (including NTPC, Reliance Energy and Tata Power amongst others) has lined up investments of $100 billion in capacity generation.

Explains vice president, Cummins Power Generation, Rampraveen Swaminathan: "In most markets where power availability and quality is very good, the demand for backup power is actually higher. Our strategy is to give customers better solutions when availability improves. We have to design solutions to help customers use power plants and their overall electrical infrastructure more effectively."

BEYOND GENSETS

More recently, Cummins Power Generation solved a unique problem at Noida-based Honda Siel Cars India. The company has been using 5 X 1250 kVA gensets for the last five years as standby power during load shedding. However, Honda was unable to operate its weld shop, resulting in significant production losses, since gensets cannot take the widely fluctuating welding load.

Cummins then delivered and installed its Unbalanced Real Time Power Factor Correction System (RTPFC). The system is designed to provide phase to phase reactive power compensation on cycle-to-cycle basis for non-linear unbalanced rapid changing (typically in milliseconds) loads. It also demonstrated to Honda that the existing 5 X 1250 kVA gensets running in parallel could easily accept the full weld shop load.

##### "The RTPFC panel (1830 kVAr) supplied to us for running our weld shop load on the gensets has been working satisfactorily and we have been able to recover 90 percent production losses during power failures," says senior manager (utilities), Honda Siel, Prabhat Khare.

A successful installation at Honda also prompted the Japanese carmaker to recommend Cummins Power Generation to its supplier H-One India (formerly Hongo India) which manufactures sheet metal welded assemblies. Here too, the problem was that existing gensets were unable to run the spot welding load of the weld shop during power outages.

Cummins installed its Unbalanced Real Time Reactive Power Compensation cum Harmonic Filtration System (RTPFC) of 1260 kVAr rating with a phase to phase, cycle to cycle compensation with response time of 20 milliseconds capability. The power solution helped H-One save Rs 45,000 per month on account of reduction in kVA demand. Moreover, 45 percent of total energy saving came from the RTPFC project as well as 10.3 percent energy cost reduction.

"Compared to last year, while our production increased, our power consumption reduced. Our plant has experienced 45 percent energy saving as a result of RTPFC," says general manager, H-One India, Lalit Kedia. Similar RTPFC solutions have also been successfully implemented at Mahindra Ugine Steel (a Mahindra & Mahindra group company) as well as Caparo Engineering.

Says Caparo's maintenance manager, PK Tyagi: "For welding type load, RTPFC is a fantastic solution for unbalanced load/variable load. It works with state government power supply as well as on DG sets. One major benefit is it gives constant voltage irrespective of load fluctuation."

##### Such kind of acceptance and success in Cummins Power Generation's solution is only going to increase its automotive business, which today accounts for 15-20 percent of the demand in terms of shipped megawatts. At present, it is executing a project worth $6 million for Hero Honda at its upcoming Haridwar plant. This is in the form of providing rentals initially starting from the second quarter this year, and then supplying gensets in the fourth quarter when the genset power plant comes online.

The power generation unit has also developed a new solution dubbed Break Less Power Vantage. Normally, when grid power goes off, there is a time lapse of 10-15 seconds (and sometimes going up to five to six minutes) before the power from the genset kicks in. What Power Vantage does is it bridges this time lapse to ensure a continuous source of power supply.

"We have designed the architecture in such a way that it hits in ten seconds. Electrical power comes at voltage and frequency, and so Power Vantage also ensures a fixed voltage at 50 hertz," elaborates Cummins' Swaminathan.

These products are really focused on automotive and process industries. Cummins has developed a prototype installation for Finolex and will be installing it in all their plants. The Power Vantage solution is set for release in the second quarter.

##### QUALITY AND RELIABILITY

Swaminathan is upbeat on future growth as well. As he already mentioned, the demand for backup power rises with more power availability. Union power minister, Sushil Kumar Shinde had in a recent press statement said that the capacity of the national grid (which is 11,500 MW today) would be enhanced gradually to about 18,400 MW in 2007 and to over 37,000 MW by 2012. He had added that another 70,000 MW has to be added by 2012 to the country's present capacity of about 128,000 MW.

"Some of our solutions are really designed to help customers use the grid power. It is no longer cheap for customers to run gensets because they want the lowest cost of power. And so we are getting more products, which will be aligned towards a better availability scenario," Swaminathan says.

Running the plants on gensets cost Rs 9 per kilowatt hour, while it's only Rs 4.5 using grid power. The hurdle on getting grid power is good quality and reliability. At the same time, improving transmission and distribution infrastructure will take some time since this entails massive investments.

While private sector players have announced plans in this area with projects coming online in three years, it is not going to be an easy ride. "Transmission companies are generally doing a lot of work on reliability, and the statistics here are improving. The grid is also improving in terms of reliability. All this is very positive but there will still be a quality challenge," Swaminathan reasons.

According to him, a major part of the quality challenge is inside the plant. Most Indian plants were designed in the 1980s when the power situation was much different than today. These were designed with different efficiency matrixes, and so companies have a huge opportunity for improvement. "There is a huge amount of activity on in-plant power quality improvement. The opportunities here are fantastic," he says.

Swaminathan adds that the auto sector is major business vertical. This is largely because the inherent competitive nature of the industry creates pressures of cost reductions and cost efficiency, which are far greater in the auto industry than many other sectors. "In this sense, the openness of our customers and partners to work with us on improvement is far greater than in some other segments," he concludes.
RELATED ARTICLES