Analysis: Why a Jaguar Land Rover and PSA alliance could be good news for both
If the rumoured tie-up – or takeover – happens, it could be good news for both automakers.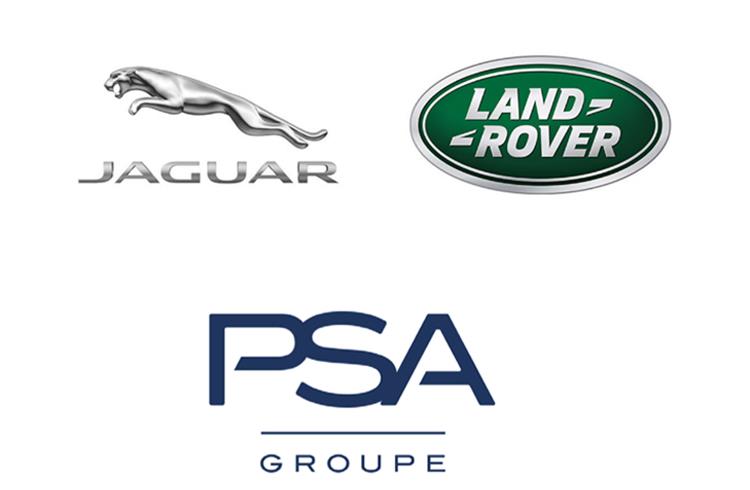 Jaguar Land Rover (JLR) recently revealed a £3.6 billion annual loss, much of which was due to it reducing the value of company assets and a recognition of a reduction in future earnings.
The results came after two weeks of speculation that the PSA Group – owner of Peugeot, Citroën, DS and Vauxhall/Opel – had made a bid to buy JLR from Indian owner Tata Motors.
A 'post-integration' document was reported to have been in circulation at the British car maker. JLR boss Ralf Speth did not rule out discussions between PSA and Tata Motors but suggested he was not party to them. For its part, Tata Motors said there was no truth in the rumours that it was about to "divest its stake in JLR".
What Tata Motors' statement didn't say was that it might divest some of its stake in JLR, entering a co-operation with PSA that could make sense for both companies. This currently looks to be the most likely outcome, according to Autocar UK sources.
One investor said he believed that some kind of PSA-JLR tie-up was "inevitable", a sentiment backed up by former Land Rover chief engineer Charles Tennant, who told the Coventry Telegraph that JLR was in a "death spiral".
So is JLR really in trouble, or is this major bump in the road simply due to the collapse of JLR's sales in China? The hard figures suggest that there is trouble ahead.
According to JLR's accounts for 2018-19, sales in North America were up by 8.1% to 139,800 and up in the UK by 8.7% to 117,900 units. But sales across the EU were down by 4.5% and they crashed in China by 34%. North America is now JLR's biggest market.
Behind those headline figures, there were big drops in the 2018-19 sales of the Evoque and Discovery Sport (both down by around 30%) as buyers waited for the new models, but this should spring back over the next 12 months. A 20% fall in F-Pace sales is not helpful for a comparatively young model, though.
However, sales of the E-Pace grew strongly, as did sales of the Velar. The Range Rover Sport was up to a profit-enhancing 80,000 sales globally.
Investment in the new MLA multi-fuel platform is weighing on the company, though. JLR spent a significant £3.8 billion in 2018-19 on investment, of which 62% was on new products and 14% on electrification.
Sources also told Autocar UK that the JLR operation in China is in particular difficulty. Rocky relationships with dealer networks need to be repaired after significant sales and marketing mistakes were made.
Sources also claim that JLR's relationship with Chery, its joint-venture partner in China, is also not as settled as it might be. Rocky relationships with dealer networks need to be repaired after significant sales and marketing mistakes were made, with insider concern JLR won't be able to turn that operation around.
Stories of quality problems with Chinese production are also common in the local media. The JLR-Chery combine builds the Evoque, Discovery Sport, E-Pace and long-wheelbase XE and XF for the Chinese market.
If we boil all that down, JLR's predicament looks something like this: sales of less than 600,000 units across 13 model lines is a recipe for trouble down the line. And although the company is merging most of its cars onto the MLA platform, it is an expensive architecture and the investment needed to redesign its current bestsellers and launch three new model lines will be vast.
Even selling more than 700,000 cars by 2021 may not generate the cash needed for the future of the business. Rival firm BMW, for example, sold more than three times that in 2018. Moreover, JLR's financial projections predict profit margins in the 3-4% range for the next three years and 4-6% by 2023. Tricky, when a recession is entirely possible in the medium term.
Take, for example, the current Evoque/Discovery Sport platform, which is due to be phased out in 2025, leaving no replacement architecture for these big-selling cars and, one investor claimed, no money in the bank for a project that needs to start in 18 months or so.
Outline plans for a range of smaller, more affordable and low-CO2 'city Land Rovers' are also dead. Jaguar's future in saloon cars has to be in question, too, despite official protestations.
How could an alliance with PSA help JLR?
Tata Motors, Jaguar Land Rover's owner, is looking for a partner for a new medium-sized platform for its own future models. Chery was in the frame, but PSA could present itself as a better match.
PSA's well-regarded EMP architecture could be upgradable for the next Evoque and Discovery Sport, perhaps fitted with an electrically driven rear axle. It could also underpin a family of Land Rovers priced below £30k, helping JLR build much-needed scale and appease dealers.
An alliance with PSA would also provide significant cover for JLR's fleet CO2 rating, especially if JLR loses its derogation from meeting the 95g/km target in 2021.
PSA's alliance with Dongfeng in China is said to be rocky, so a bespoke PSA-JLR venture in the country could help both partners start with a clean sheet, and JLR would have access to PSA dealers, allowing a neat brand 'ladder' from Citroën to Peugeot, DS and then Land Rover as a flagship.
PSA is also looking to get a foothold in the US, where JLR already has an established dealer network that it describes as "solidly profitable".
As a first step in a PSA-JLR alliance, this all looks like a sound move. Any deal would probably lead to some major changes in JLR's future plans, rather than ensuring business as usual. But major upheaval for JLR looks unavoidable.
Premium car firms – how it was looking last year
Mercedes-Benz (brand)
Earnings/profit – £6.26bn
Profit margin - 7.8%
Research & Development - £6.03bn
Sales - 2.38 million cars
Audi (brand)
Earnings/profit – £4.05bn
Profit margin - 7.8%
R&D - £3.62bn
Sales - 1.88 million cars
BMW Group
Earnings/profit – £8.64bn
Profit margin - 7.2%
R&D - £7.05bn
Sales - 2.12 million cars
Jaguar Land Rover
Earnings/profit – £358m (£1.07bn in 2017)
Profit margin – 0.7% (3.8% in 2017)
R&D - £3.8bn
Sales - 578,900 cars (614,300 in 2017)
Also read
Jaguar Land Rover boss plays down PSA sale report - but doesn't deny it​
Jaguar Land Rover posts £3.4 billion loss in final quarter of 2018​
Why Jaguar Land Rover faces tough times​
Analysis: how Carlos Tavares transformed the PSA Group
Insight: why PSA bought Vauxhall and Opel
RELATED ARTICLES