Analysis: Ford India MD's four-pronged growth strategy for suppliers
Anurag Mehrotra, president and MD, Ford India, underlines how component suppliers can drive growth by enhancing quality, developing the right products, achieving competitive costs and global scale.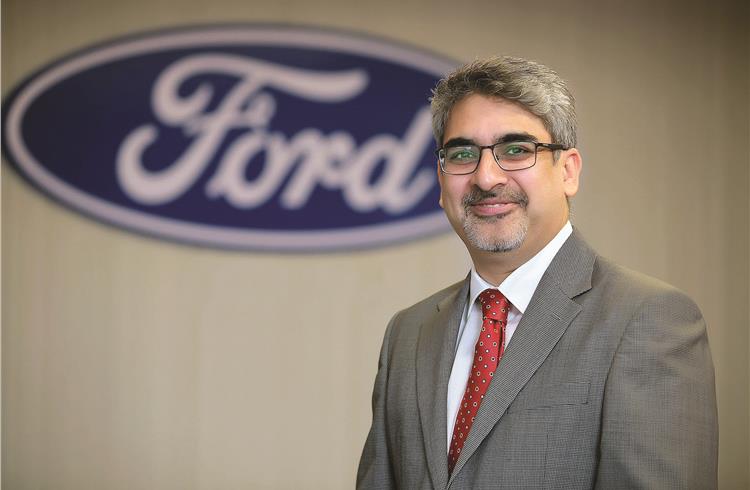 Ford India's vision of becoming the most trusted automotive and mobility solutions company has a four-pronged growth strategy. Here's how Anurag Mehrotra, president and MD, Ford India, underlines the importance of suppliers. Excerpts from his speech at the ACMA Value Chain Summit held last month in Gandhinagar, Gujarat.
Strong brand: Quality is among the top three reasons for purchase by customers. As 40 percent of the value added to the car lies in the Tier 2 and 3 segments, the competitiveness of the auto industry depends upon the ability to improve quality, deliveries and efficiency in these segments.
Often, this lack of quality is a function of the talent in the Tier 2 and 3 segments. If we don't raise the benchmark on quality, the orders based only on the costs won't last long. In that case the suppliers from China will win that game. I need your help in raising the stature of the (made-in-) India brand globally.
Right products: Besides co-creation / development work at the design phase, there should be shared manufacturing strategies. For example, just-in-sequence deliveries and joint testing can also provide great opportunities for OEMs to co-create with their suppliers.
Competitive costs: Today we have over 85 percent localisation at Tier 1 but only 60 percent localisation at Tier 2. This also means that suppliers are importing more components than OEMs are. This drives up our costs and impacts business viability. We intend to be well over 90 percent localised in our next-generation products.
We strongly encourage you (Tier 1 suppliers) to push your supplier base (Tier 2 and 3) to increase their local content. ACMA data suggests that Indian OEMs will continue to import auto components worth US$ 35 billion against exports of US$ 30 billion by 2021. I don't accept that as part of this industry. This needs to change as this will hurt India's competitiveness as a global source of manufacturing. I urge you to push the envelope on Tier 2 and 3 suppliers to localise and continue to reduce costs. This will also build capability.
Effective scale: This is about driving economies of scale. I would encourage our suppliers to invest in embracing technology more aggressively. One of the reasons why we as OEMs source from global suppliers is because of the availability of technology. If Indian suppliers can invest in technology and scales, it will be a win-win for all of us. For example, invest in the electronics domain. With significant increase in the electronic content in vehicles, building supplier capabilities in electronics is a phenomenal opportunity. Indian suppliers do need to move away from build-to-print models by acquiring R&D and design capabilities. The average expenditure on R&D and capabilities in Indian auto firms range from 0 to 2 percent annually versus five percent for the global players.
Trends that will shape our future and your business model:
Electrification: Global move towards EVs will generate new opportunities for suppliers. It's a huge ocean for you to play in.
Autonomous vehicles and connected cars: These will have a significant impact on component suppliers. How suppliers add software and integration elements to their offerings will be critical. Historically, you have been very good and focused on the innovation and design on mechanical side. Building capabilities to develop software and its integration with hardware will become the backbone of connected car components.
Rising complexity and cost pressures: There will be more platform sharing and more modular systems. With the need for differentiation, gaining ground and growing number of derivatives that we as OEMs will bring to the market will increase complexities for you. Then, we have a dynamic regulatory environment, which is pushing the OEMs to develop alternate powertrains to lower vehicular emissions. All this will add up to complexities and costs, which cannot always be passed on to price- sensitive customers. This is where the pressure is going to be and this pressure is going to come to you.
RELATED ARTICLES