ACMA Automechanika: all parts great and small
The 2013 show has over 250 exhibitors who will occupy more than 9,500 square metres of exhibition space.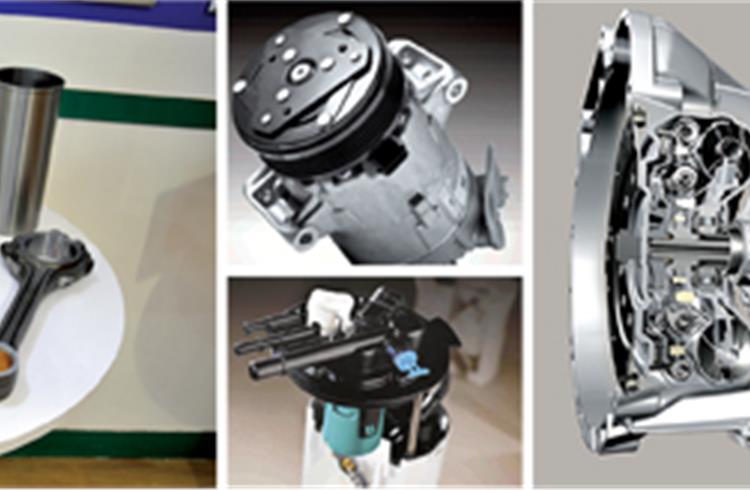 The buzz has begun and it's about ACMA Automechanika, India's first-ever trade exhibition for the auto-component aftermarket, to be held on February 7-10 at Pragati Maidan, New Delhi. Expected to attract industry professionals from India and across the world, it will cover the sectors of Parts and Systems, Accessories and Tuning, Tyres and Batteries, Repair and Maintenance, IT and Management, Service Station and Car Wash and the latest automobile services.
The 2013 show has over 250 exhibitors who will occupy more than 9,500 square metres of exhibition space. They include 115 from India and over 100 exhibitors from overseas including 41 from China, 18 from Germany, 11 from Italy, and others from Russia, UK, Spain, Japan and Turkey. Between 15,000-20,000 business visitors are expected to attend the four-day show.
The prime sponsors for the expo comprise Shriram Pistons & Rings as a Platinum Partner along with ARO Equipments, Anand Automotive and ZF India as Gold Partners, Escorts Auto Products as a Silver Partner, while Elofic Industries is the Bronze Partner.
The event's organisers – ACMA and Messe Frankfurt – will make a strong effort to combat the menace of counterfeiting at the show. ACMA will showcase its longstanding 'Asli-Naqli' campaign while Messe, Frankfurt's global initiative 'Messe Frankfurt Against Copying' will provide global assistance in ensuring the intellectual property of the fair's exhibitors and spread awareness on the benefits of using genuine automotive components.
India shining
Surinder Kanwar, president, ACMA, says: "We at ACMA are delighted to partner with Messe Frankfurt. The Indian aftermarket has significantly grown in size and we hope that ACMA Automechanika India will further boost this market's development. ACMA will also mobilise participation and business delegations to Automechanika's 12 other worldwide fairs held in Asia, Europe, North America, South America and Africa."
Held concurrently with the exhibition, ACMA will also organise an Aftermarket Seminar, on February 8-9. The seminar aims to help attendees understand current and future trends in the aftermarket industry, as well as examine the challenges and opportunities the sector has to offer. At the symposium, prominent speakers from across the industry will offer insights on issues and the latest trends prevalent in both India and the world's aftermarket sector. Autocar Professional, media partner to the trade fair, spoke to a few participants to find out more about their exhibits and what benefits they expect to accrue to them from this key aftermarket event.
Shriram Pistons & Rings is to exhibit pistons, rings, pins and engine valves while its sister concern will be showcasing cylinder heads, cylinder liners, connecting rods and filters. Ashok Taneja, MD and CEO, says that the show has a wide customer reach globally. ACMA along with Messe Frankfurt constitutes a formidable combination. "The exhibition will display the ability of component makers to produce every kind of component for almost every vehicle. Indian component makers have worked with OEMs from India, Europe, Korea and Japan and thus have a wide capability. Therefore, both Indian and global customers can source from India. Foreign companies will showcase products for India as a market. So for sourcing from India and for marketing components for India, the show will be useful," he adds.
Delphi is exhibiting brake pads, compressors, fuel pumps and modules. Compressors maximise fuel economy through less horsepower and lead to a prolonged lifespan for the compressor clutch as well as reduced potential for belt slippage or squeak. Delphi utilises over 20 different friction materials across its range of brake pads that help eliminate vibrations that could lead to brake noise.
Elofic Industries is exhibiting filters and lubricants for all vehicle segments ranging from two-wheelers to earthmoving equipment.K D Sahni, joint managing director, says that ACMA Automechanika will benefit participants in terms of huge promotion to their business and brand. Besides, it will provide a common platform to meet clients and exhibit new products. "We look at it as an excellent opportunity to learn about the latest developments on ideas and technologies of the industry."
According to Sachin Puri, vice-president (Corporate Aftermarket) of Anand Automotive, "By associating with ACMA Automechanika as a gold sponsor, we wish to leverage this platform to exhibit our brands, technology, new product range and reach out to decision makers directly."
For ZF, the show besides expanding customer reach will also create a two-way dialogue for the company. "Trade fairs work well as a medium to achieve this. ZF participates in major shows around the world to network and showcase the latest technological innovations. We hope to achieve the same through ACMA Automechanika," says a company spokesperson.
ZF plans to display its product, technology and service range and leverage the event to network and conduct business discussions within the Indian aftermarket. Visitors can look forward to seeing ZF's EcoLife transmission, the six-speed automatic transmission for city buses with the new TopoDyn Life control software used as a standard. This product will be suitable for meeting the requirements of current and future emission standards for further CO2 reductions due to increasing traffic and pollution levels in megacities. It will also ensue in fuel savings while meeting economic targets through improved service life and lifecycle cost. The Volvo 8400 low-floor CNG city buses are currently equipped with the ZF EcoLife. Also on display will be a car chassis, exhibiting a range of ZF products including clutches, shock absorbers, steering gears and suspension components.
Horn GmbH & Co KG will be launching a new oil management system, Horn Tecalemit for day-to-day operations of a workshop at Hall 11, Stall M39. The system is designed for up to 10 dispensing points (TMS III) and up to 4 dispensing points (TKS IV). It ensures safe and accurate flow of journal data for all types of applications, from discharge monitoring and data transfer, to dispensing specific quantities of oil to the vehicle. The TMS III and TKS IV are available in models which can be calibrated to suit specific individual requirements. While shoring up profitability, it ensures no spillage and no litter disposal, dispensing accountability, real time validated data and increase in productivity.
Benara Udyog (Stall No M22, Hall 11) is set to roll out a new disc brake for the passenger car segment. A form of a wheel brake, it will require less braking effort compared to a drum brake-fitted car. Also, the vehicle is less likely to skid. It is also equipped with a brake pad wear indicator that is not present in the disc brake.
Escorts Auto Products, that has a strong shock absorber product portfolio, will be displaying a complete range cutting across automotive segments. Since the company has entered into the trading of auto components and envisions a long-term gameplan for developing these products indigenously and becoming a kind of a Walmart organisation for these components, it will also exhibit parts like brake shoes, pistons and spark plugs among others.
Tanuj Goyal, head of sales and marketing, affirms that ACMA Automechanika will attract more customers for Escorts Auto and generate sales for its hi-tech products not only in the two- and three-wheeler segments where they are strong but in others as well.
All in all, ACMA Automechanika bids fair to be a truly exciting trade fair, helping drive focussed awareness about the Indian aftermarket and the latest advances in products, services and technology. Autocar Professional will be bringing you daily updates on its website – www.autocarpro.in – and a full-fledged report in its February 15 issue. Stay tuned and do drop in at the 'AP' stall at the show.
RELATED ARTICLES