Why Volkswagen and Hyundai are teaming up with a self-driving start-up firm
A new company set up by the former head of the Google car project has become a key player in autonomous technology.
The Microbus-inspired Volkswagen ID Buzz will go into production in 2022.
Hyundai has been testing autonomous technology in hybrid versions of the Ioniq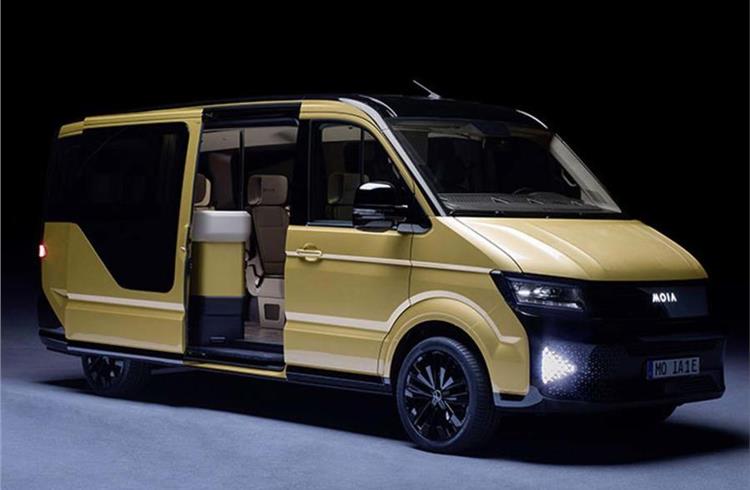 The VW Moia ride-sharing vehicle.
You probably haven't heard of Aurora Innovation. And there's no real reason you should have.
But you'll definitely have heard of two firms that, at this year's CES, have announced partnerships with the tiny company to use its autonomous technology: Volkswagen and Hyundai.
That two major car groups have reached a deal with a relatively unproven company is unprecedented in an industry known for being conservative when you consider Aurora was established just over a year ago with only five staff.
Three of them initially worked out of co-founder Chris Urmson's home in Palo Alto, California, US, with two operating from an old restaurant in Pittsburgh, Pennsylvania.
They key, of course, involves the experience of those three co-founders: Urmson is the former boss of Google's autonomous driving division, Sterling Anderson previously worked for Tesla, and Drew Bagnell was Uber's autonomous vehicle leader.
So while Aurora was only founded last year, it's run by some of the pioneers of self-driving vehicles. Canadian Urmson has been working on autonomous technology since his time as a researcher at Carnegie Mellon University. His work on a NASA robot led to the opportunity to develop an autonomous car for the DARPA Challenge event in 2003. In 2007, CMU's self-driving Chevrolet Tahoe won the DARPA Urban Challenge.
He then spent just over seven years working on the technology for Google, before deciding he needed a new challenge. But his time at CMU and Google helped turn Urmson, now 41, into a key figurehead in the self-driving world.
"When I left Google, it made the national news," he says, adding: "That was bizarre."
And, after a few months out, he helped establish Aurora.
During his time with Google, Urmson met Jurgen 'JJ' Jungwirth, VW's chief digital officer at CES. Jungwirth said: "I took a ride in Google's self-driving Toyota Prius.
"I've seen the progress Chris made with Google's team and systems. When it was clear his decision was to establish Aurora Innovation and make the best self-driving system in the world and work in a friendly way with OEMs, we talked again."
VW and Aurora have been working together for around a year, and in the last six months have begun integrating Aurora's self-driving system – including sensors, hardware and software – into VW Group platforms.Urmson describes Aurora's opportunity to work with VW as "profound".
"Building an affordable ecosystem that enables VW to be as successful as they have been is a difficult business, and it takes a set of processes and a mindset. It's a very different thing to what you see in Silicon Valley, when the most complex product is a smartphone that takes six to nine months to develop."
It's that ability of tech firms to be more agile and responsive that has attracted Volkswagen and Hyundai to Aurora.
Fellow Aurora founder Anderson added: "We felt when we started Aurora that if we pulled together an experienced team that understands every facet of autonomous vehicles, we could combine it was the strengths a company such as Volkswagen has in terms of development and production and move more quickly than we could separately."
Urmson says that the key to Aurora's rapid rise is ensuring everyone is passionate about the goal to make self-driving cars, rather than money – although he noted he's "not opposed" to the latter. With two major car firms on board, Aurora is expanding rapidly – there's a long list of vacancies on its website. But Urmson says expansion plans will never include the firm developing its own car. "Making one car is easy," he said. "Making a million is an incredibly complex thing."
But make no mistake: while you might not see Aurora's name on the front of a car anytime soon, the firm could become a key player in the shape of motoring in the future.
Also read: Hyundai partners Aurora for Level 4 autonomy in its cars
RELATED ARTICLES