The time has come for bicycles to claim their place in the sun
India is at the cusp of a bicycle and electric bicycle revolution, as new-age consumers rediscover the joy of riding the simple bicycle.
India is at the cusp of a bicycle and electric bicycle revolution, as new-age consumers rediscover the joy of riding the simple bicycle.
I K Rohit, Co-Founder & CEO, ChooseMyBicycle.com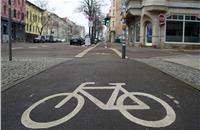 As a race, we are making decisions and changing our lifestyles in ways we never thought we could. It is not very often in one's lifetime that we get a chance to truly reset our way of thinking and living.
India has the opportunity to re-imagine personal mobility in a manner, which leads to varied benefits for all its stakeholders. We now have the freedom to explore options that will reduce pollution, improve traffic movement, have health benefits and also translate to a positive impact on the coffers of the end user, and the exchequer.
Status quo
As a nation, we love our bikes and cars, which has led to India being one of the most successful and largest automobile and motorcycle markets in the world. The collaborative efforts of government, industry and academia, have built a robust eco-system that today contributes to over seven percent of India's GDP. This industry has given us the platform to now define the country's path towards sustainable mobility.
Bicycles/electric bicycles
I have spent the last decade building a company in the bicycle and electric bicycle space and have been fortunate to see this industry evolve.
India is the second largest structured bicycle market in the world, with close to 20-plus million units sold every year. We are at the cusp of a bicycle and electric bicycle revolution, as new age consumers have rediscovered the joy of riding the simple bicycle. The pandemic has brought about a sense of conscious living, where the bicycle plays an integral part in personal mobility.
This time over, the adoption of bicycles and e-bicycles are not driven by government, legacy brands or by regulation. It is being driven by the health/environmentally-conscious consumer. This aspect is going to be the key growth driver in India's choice to re-imagine sustainable personal mobility in urban and semi-urban centres.
Learning from the world
Across the globe, countries have made the bicycle and electric bicycle a core part of their transportation policy, which is aimed at building a more efficient, sustainable, and comprehensive transportation system.
This long-term thinking has led to governments, companies and citizen bodies to spend on infrastructure and schemes, allowing people to incorporate cycling into their daily walks of life. Here is a quick view into the city of Amsterdam's long-term policy towards cycling, along with its 2030 Mobility plan.
The United Nations Economic Commission for Europe (UNECE) sees an opportunity and obligation for the transport sector to restart in a manner that is conducive to a more efficient, greener system. "A 'new normal' needs to be developed to replace 'business as usual', it states.
According to the European Cyclists' Federation (ECF), European cities spent €1 Billion on Covid-related cycling measures in 2020, creating at least 600 miles (1,000km) of cycle lanes, traffic-calming measures, and car-free streets.
Way forward for India
While embarking on a change that is as daunting as personal mobility, the question of where to start is the most common one. Usually, the buck always stops with the government and authorities, as there is some dependency on infrastructure and spending, to act as a true catalyst for a shift like this.
However, I have a contrarian view on how we can start this shift in the simplest way possible.
Step 1: A campaign to promote citizens to commute by cycle or electric cycle for any distance within eight kilometres from their homes. This is as per a recommendation from The Energy and Resources Institute - India (TERI), which was further elucidated in its detailed study and report – Pedalling towards a Greener India.
Step 2: Corporates can encourage their employees and teams to embark on a fitter lifestyle, by promoting cycling and enjoying its benefits. Maybe the days of Sodexo coupons could be replaced by vouchers to buy a bicycle or electric bicycle. This scheme has been successfully implemented in the UK, through the – 'Cycle to work program'.
Step 3: Help your family, peers and neighbours experience the joy of using a cycle, by lending it to them for a day. They could choose to use it for recreation, fitness or for commuting. This idea could potentially be the birth of a new shared industry, a' la Airbnb.
Step 4: Online campaigns and education programs on safety guidelines for riding a bicycle in a city. This will ensure that the new era of cyclists follow traffic rules, to achieve a seamless integration into the current transportation system.
This can be part of an advocacy appeal to urge local bodies to implement cycling friendly measures on our roads. The Global Ministerial Conference on Road safety that was held in Stockholm, has laid the charter and roadmap on the immediate goals in this regard.
Step 5: The most important part is to get outdoors and keep cycling. The benefits of a gradual shift to this new mode of personal mobility will be seen over a period of time. This will directly and indirectly benefit people and the country, as it has been proven with successful models across the world.
At the opportune time, the government needs to allocate resources to introduce the necessary infrastructure to promote this mode of transport.
It should be carried out in the same manner that the automobile boom led to the laying of one the world's largest road networks along with the development of related industries and infrastructure. I hope there will be collective consciousness for reimagining sustainable personal mobility in India.
RELATED ARTICLES