LOOKING BACK, LOOKING AHEAD
The Licence Raj which prevailed for decades effectively ensured that contemporary world class products never reached Indian shore
HM's Amby soldiered along for many years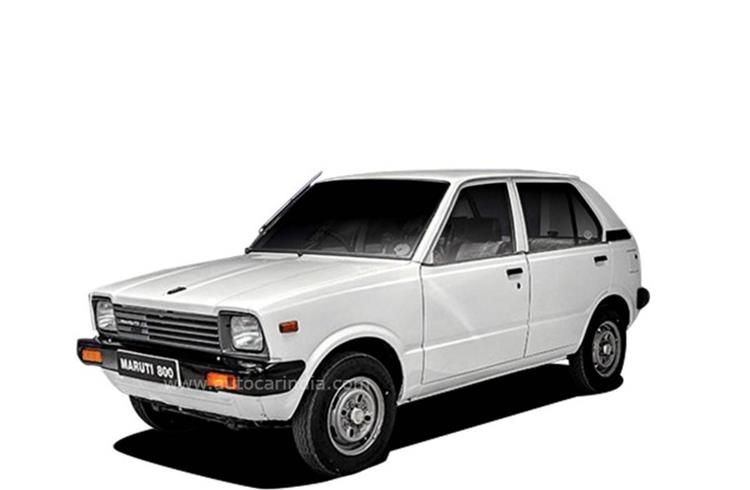 The Maruti 800 that the middle class made a beeline for
M&M's Bornn Electric range unveiled on Independence day promises plenty
It is truly a heady moment to commemorate 75 years of Independence and there are no two ways about the fact that India has come a long way since 1947. More specifically, the economic reforms unleashed by the PV Narasimha-led government in 1991 played a big role in accelerating the growth story.
What can one say about the automotive industry's pace of progress? The Licence Raj which prevailed for decades effectively ensured that contemporary world class products never reached Indian shores. Even if they did, they were directly imported at hefty levies and it was only the high and mighty which could use them.
Businessmen were viewed with suspicion and in this challenging backdrop, a handful of entrepreneurs went the extra mile to set up a solid base for manufacturing in India. Hindustan Motors, Premier Automobiles, Telco, Mahindra & Mahindra, Bajaj Auto, TVS and other big brands played a part in the mobility story. The economy was trundling along and it required a huge boost to get things going.
The first change came with Maruti Udyog in the 1980s, a period which saw many other Japanese automakers enter the market and forge alliances with local partners. They were eyeing growth opportunities in light commercial vehicles and two-wheelers while Maruti would go on to redefine the small car market.
This period saw Telco take on the Japanese quarter in LCVs with its 407 that knocked the winds out of Mazda, Toyota, Mitsubishi and Nissan. It was truly a triumphant moment for the Indian truck maker which drove home an important lesson in cost management. The four Japanese brands had not done their homework on localisation and lost out to the 407.
Things were different on the two-wheeler side where the likes of Honda forged an alliance with the Hero group which would go on to dominate the market for decades. Even after the two called it a day, Hero has not proved to be a pushover while Honda has effectively cemented its place as the challenger.
From the Indian side, Bajaj Auto and TVS Motor chalked out their own growth strategies even after parting ways with their Japanese allies — Kawasaki and Suzuki. Today, the two have spread their wings beyond India with Bajaj the country's largest exporter of two-wheelers. TVS has forged a key partnership with BMW Motorrad and bought out Norton Motorcycles of the UK.
Bajaj's strategic stake in KTM has seen its Chakan plant near Pune become a global manufacturing powerhouse while it now plans to take the midsize motorcycle story to the next level with Triumph of the UK. The two companies also have big plans for electrification where they are up against a host of startups which are flush with cash and keen on proving a point in the scooter space.
The likes of Ather and Hero Electric are already doing brisk numbers thanks in part to generous fiscal incentives from the Centre but, in all fairness, their efforts to push the envelope are praiseworthy. Electric mobility is here to stay and will gain more traction in the two and three-wheeler space during the course of this decade.
The period post-1991 has been a mixed report card for carmakers. As in the two-wheeler segment, there have been winners from the India side in Tata Motors and Mahindra & Mahindra. Maruti Suzuki continues to rule the roost with Hyundai remaining its closest challenger and Tatas a very close No 3.
The bad news is that there have been significant exits in the form of General Motors and Ford while Honda has shut down one plant and is churning out modest numbers from the other. In this challenging era of electrification and new competencies, companies have wisely joined hands as in the case of Skoda-Volkswagen, Toyota-Suzuki, Groupe PSA-Fiat Chrysler Automobiles and, of course, Renault-Nissan whose alliance is over two decades old now.
Two heads are clearly better than one and this also puts in context why Hyundai and Kia, though operating as different entities, will have a lot of key synergies at the backend. Consolidation is the only way out for automakers and this is true for India as well as a host of other global markets.
One could argue that the car numbers are little to write home about for a country that is in its 75th year of Independence. However, that reference point is purely mathematical since the real action kicked off only during the last three decades. The worry is the future especially with countries at war with each other and throwing supply chains out of gear.
India's policymakers will need to ensure that the road ahead for the auto industry is smooth and without ad hoc regulations as has been the case in recent times. By the time its 80th anniversary comes along in 2027, the country should hopefully see a lot of its initiatives on infrastructure yield the required benefits.
This edit has been published in the August 15, 2022 issue of Autocar Professional
RELATED ARTICLES