Can Tesla really build 500,000 cars a year?
All-electric car maker says it can cope with rocketing demand, but doubts are cast over how suppliers will prop up parts supply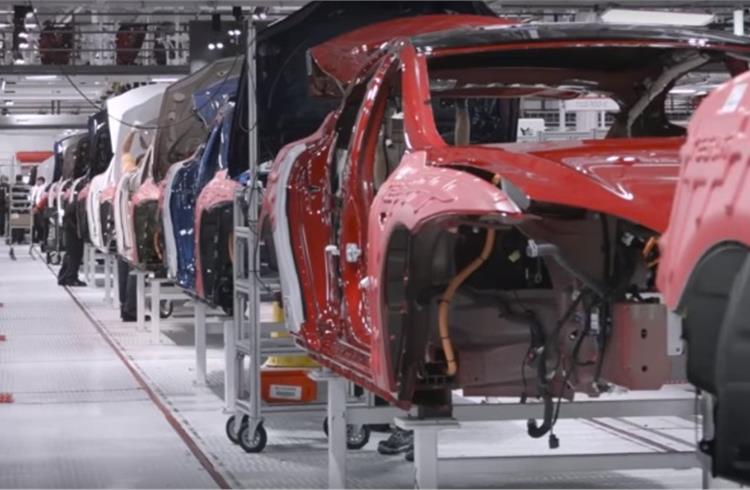 Tesla Motors confounded its critics last week, pulling forward by two years its ambitious production plan to build 500,000 cars a year.
The announcement, made at the same time as Tesla revealed a quarterly loss of US$ 282 million (Rs 1,880 crore), was also accompanied by the departure of its head of production Greg Reichow and head of manufacturing John Ensign.
In the world of Tesla, it was just an average week in which the highs and lows of the automotive industry are compressed into a few days of hectic business.
Typically, Tesla's announcement of its enormous production hike, based around the mindboggling 400,000 pre-orders for the US$ 35,000 (Rs 22.10 lakh) Model 3, was a surprise to most industry observers.
Although Tesla's press release on the subject made it all sound very matter of fact. "Increasing production fivefold over the next two years will be challenging and will likely require some additional capital, but this is our goal and we will be working hard to achieve it," company CEO, Elon Musk said nonchalantly.
It is difficult to think of an auto industry production ramp-up as rapid as this. Although Cardiff Business School professor Paul Niewenhuis reckons it can be done "especially with money in the bank".
Tesla's accounts show it has a reasonable reserve of cash of US$ 1.44 billion (Rs 9,600 crore) in the bank (not including Model 3 deposits), although bigger car companies typically have at least 10 times this amount of cash at hand.
Questions hang over the production ramp-up because Tesla is an industry minnow building 50,000 Model S vehicles a year and ramping up output with the addition of the X SUV to "between 80,000 – 90,000" a year by the end of 2016.
The new plan calls for the smaller Model 3 to go into production in mid-2017 with first deliveries in late 2017, with the first full year's production in 2018 in the region of 300,000 units.
"We plan to incorporate our best technology into Model 3, yet keep it relatively simple to build at high volume and with high quality," Tesla said in its quarterly report.
Like many Tesla announcements, it prompted more questions than answers – particularly the key one of how it will persuade suppliers to gear-up production for such a huge number of cars when long-term demand is a big unknown.
Tesla has a list of high-quality suppliers for the Model S and X, which share the same aluminium skateboard chassis, battery and motors.
Bosch/ZF supplies power steering, Magna the front and rear subframes, ThyssenKrupp the front and rear anti-roll bars, SKF the wheel bearings and Novem the interior trim – among a roster of at least 50 major Tier 1 suppliers. The battery and electric motor are supplied by Tesla.
All of the suppliers will be required to invest in tooling for the higher volume and price according to the ambitious Model 3 forecast.
However, many will have had fingers burnt in the past when they agreed prices at a high volume, but actual orders were much lower – a sure-fire method for a supplier to lose money fast.
Winning over suppliers will be a big part of the job for the incoming new factory bosses, who will also have to ramp-up production despite a company reputation for quality problems and delays, like those suffered by the X SUV, which took 18 months longer to get into production than planned. Online rumours suggest that warranty costs alone may be as high as US$ 4,000 per car on some models.
Many senior manufacturing engineers will no doubt be fascinated by the prospect of working in the boiler-room at Tesla, but the challenge ahead is immense.
Recommended: Can Tesla meet demand for the Model 3?
Source: Autocar UK
RELATED ARTICLES