Toyota Hilux BEV, IMV0 concepts unveiled by Akio Toyoda
The green concept pick up trucks which have been showcased in Bangkok are one year away from production.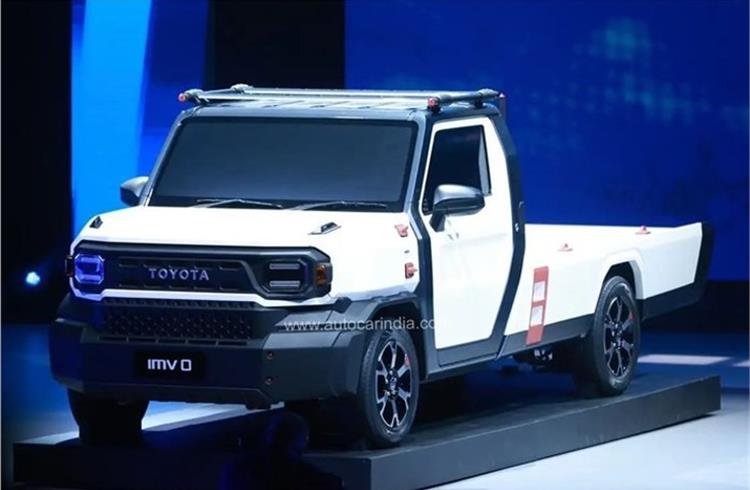 Toyota has showcased the IMV0 (emission) concept and Hilux Revo BEV concept in Bangkok. Developed to celebrate 60 years of Toyota in Thailand, these pick-up truck concepts use the Hilux as a base and look to provide a greener alternative when compared to more traditional powertrains. While no details of the EV or for that matter the alternate energy vehicle (IMV0) have been shared, both technologies could in future logically be used on other cars that are built on the IMV platform like the Innova Crysta and the Fortuner. The IMV0 concept could use content from products like agricultural waste.
The green project was actually initiated by President Akio Toyoda. Chosen to lead the IMV project back in 2002, the one that spawned the Hilux Vigo, Innova and Fortuner, Toyoda fought against the odds to engineer the truck right and get it out on time. It was a tough task, but in the end he and the team in Thailand succeeded and the IMV platform today has spawned more than 7 Million vehicles.
Toyota Motor Corp President Akio Toyoda unveiled the two concepts in Bangkok as the company celebrated 60 years of Toyota Motor Thailand.
"I was quite young for such a position at the time," he said "and I also happened to have the last name Toyoda. As you can imagine there were plenty of people in Japan placing bets on whether the project would fail." The Vigo remains one of the fondest memories of my career and it shaped my leadership style more than anything else. So as a way of saying thank you, I decided to challenge our engineering and design teams to create a brand new IMV pick-up truck for Thailand, something truly affordable and truly innovative."
Toyota's President also spoke on his love of cars, sustainability and carbon neutrality. "As you may have figured, I don't just like cars... I LOVE them!," he said endearing himself to the audience. Then he spoke about future propulsion systems. "I am often criticized in the press because I won't declare that the automotive industry should commit 100% to BEV. Frankly, BEV's are not the only way to achieve the world's carbon neutrality goals. Personally, I would rather pursue every option not just one option. Emission-free synthetic fuels, hydrogen, hybrid electric vehicles, plug-in electric vehicles and full, battery electric cars like our new bZ4X." "But we're not stopping there," he elaborated. "We've introduced fuel cell vehicles like our Toyota Mirai and are pursuing hydrogen fuel options for the GR-Yaris.
Toyoda also said he believes a holistic approach to carbon neutrality is much needed. How we source materials, how we manufacture cars, what powertrains we put in them, and how we dispose of them. And it must be a group effort and include other industries beyond automotive.
RELATED ARTICLES