Sona Comstar inaugurates second largest manufacturing plant in Chakan
This is Sona Comstar's second-largest plant in India and is an environmentally sustainable industrial unit.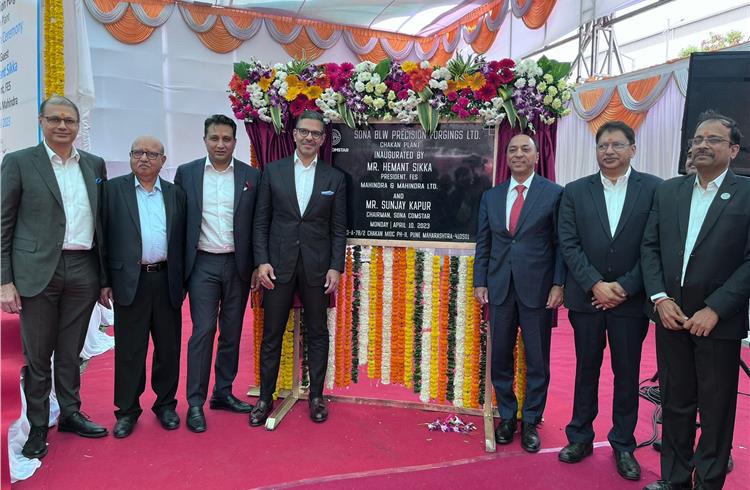 Auto component manufacturer Sona BLW Precision Forgings (Sona Comstar), has inaugurated its second-largest manufacturing plant in Chakan, Pune. With a production capacity of roughly 11.8 million gears, and an estimated investment of Rs 231 crores, the new plant will manufacture driveline products for electric vehicle (EV) and non-EV applications.
The plant will be critical in scaling up capacities to fulfill the company's large and growing net order book of Rs 238 bn, as per a company release.
Sona Comstar was formed by the merger of Sona BLW and Comstar Automotive in 2019. Since then, the company has invested significantly in technology, software, capex, and people, focused on the Electric Vehicle (EV) segment, completed technological partnerships and strategic acquisitions, and went on to become one of India's largest EV component suppliers.
India's component industry has grown to become the world's third-largest component player the company is looking to gain the second position. India will need to consistently invest in technology to become number two, Sunjay Kapur, Chairman of Sona Comstar stated. Currently, North America and China hold the number one and two positions respectively. He further added that the company which caters to both domestic and global markets, "plans to increase 3 to 6 percent of our total turnover in R&D making Sona Comstar on the roadmap to technology and move from China+1 for global OEMs to India+1 basis the increasing capacity addition that India is making for both EV & ICE".
As per Ricardo's data, Sona Comstar's global market share of differential gears increased to 7.2 percent in 2022 from 5.0 percent in 2020. The company continues to dominate the Indian market for differential gears with a 60-90 percent market share across vehicle categories, the press release added.
Hemant Sikka, President of the Farm Equipment Sector and Member of The Group Executive Board, Mahindra & Mahindra, was the chief guest and inaugurated the plant along with Sunjay Kapur, Chairman and Vivek Vikram Singh, MD and Group CEO, Sona Comstar.
"This is Sona Comstar's second-largest plant in India and is an environmentally sustainable industrial unit. The plant will have almost one megawatt of solar capacity and also treat 100 percent of its used water. Sona Comstar has a long-standing relationship with Mahindra & Mahindra, and we are pleased to see the Company's commitment to innovation, sustainability, and manufacturing excellence", Hemant Sikka stated.
From its plants in India, today, Sona Comstar serves seven of the world's top-10 PV OEMs, three of the world's top-10 CV OEMs, seven of the world's top-10 tractor OEMs, five of the world's top-15 EV OEMs and four of the top-15 Indian e2Ws OEMs.
In March this year, Blackstone sold its remaining 20.5 percent stake in Sona Comstar for Rs 4,917 crore. Prior to this transaction, Aureus Investment and Blackstone held 33 percent and 20.5 percent, respectively of Sona Comstar, as the auto technology company's co-promoters.
RELATED ARTICLES