Skoda sells 585,000 units in H1 2017, up 2.8%
Skoda was able to record a positive result in India, where the manufacturer increased deliveries in June by 42.7 per cent to 1,400 vehicles (June 2016: 1,000 vehicles). In the first half of the year Skoda saw double-digit growth of 21.7 per cent to 7,900 vehicles (2016: 6,500 vehicles).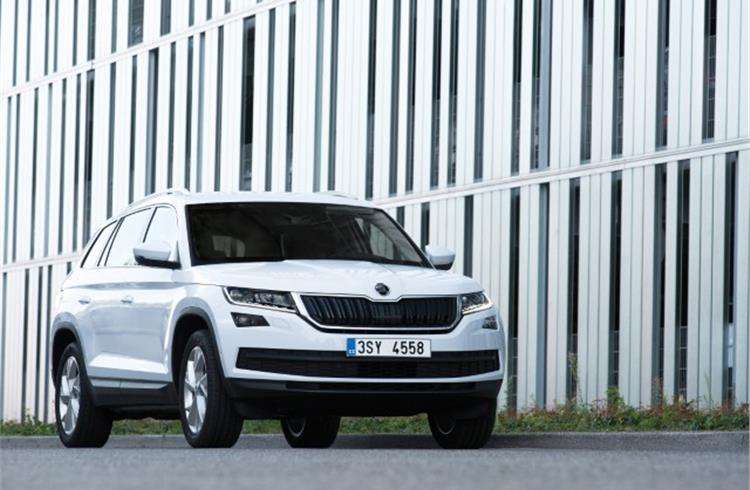 The long-established Czech brand has reported global sales of 585,000 vehicles in the first six months – thus surpassing last year's record result by 2.8 percent (January to June 2016: 569,400 vehicles). Delivered 105,200 units in June (June 2016: 98,800 vehicles). Positive development in the core market, Europe, and a two-digit rise in deliveries in Russia contribute to the record result, as do the increases in deliveries for the Skoda Fabia and Superb model ranges. With 27,100 deliveries since February, the new Skoda Kodiaq SUV is having a good start in markets worldwide.
Skoda CEO Bernhard Maier, said "Having delivered well over half a million cars, we have achieved the strongest half-year in Skoda's history. Our SUV campaign is proving effective. We will continue to strengthen our position in this crucial segment with the new Skoda Karoq compact SUV."
With 45,900 deliveries to customers in June, Skoda recorded an increase of 2.1 percent in Western Europe (June 2016: 45,000 vehicles). In the first half of the year, the brand improved deliveries by 4.1 percent to 252,300 vehicles (January to June 2016: 242,500 vehicles). In Germany, Skoda's strongest individual European market, deliveries increased in June by 0.7 percent to 17,300 vehicles (June 2016: 17,200 vehicles). In the first six months, deliveries in Germany rose by 1.8 percent to 88,000 units (2016: 86,500 vehicles). Skoda achieved double-digit growth from January to June in Italy (13,600 vehicles; +18.4%) and Austria (12,900 vehicles; +13.7%). Deliveries also increased in the United Kingdom (43,500 vehicles; +3.1%), Spain (13,500 vehicles; +2.5%), France (13,400 vehicles; +8.9%), Belgium (11,400 vehicles; +6.7%), Sweden (8,900 vehicles; +8.4%), and the Netherlands (7,700 vehicles; +1.7%).

In Central Europe, Skoda delivered 19,200 vehicles in June, an increase of 11.4 percent (June 2016: 17,200 vehicles). In the first half of the year Skoda recorded double-digit growth of 14.0 percent to 109,800 vehicles (2016: 96,300 vehicles). In its home market of the Czech Republic, the manufacturer increased deliveries in June by 8.3 percent to 8,900 vehicles (June 2016: 8,200 vehicles) and in the first six months of the year by 10.9 percent to 51,200 vehicles (2016: 46,200 vehicles). From January to June, deliveries also grew in Poland (34,600 vehicles; +17.2%), Hungary (6,200 vehicles; +10.0%), Slovenia (3,900 vehicles; +16.2%), Croatia (3,200 vehicles; +59.9%) and Slovakia (10,700 vehicles; +11.1%).

With 3,800 vehicles in Eastern Europe, excluding Russia, Skoda surpasses last year's level by 14.9 percent (June 2016: 3,300 vehicles). In the entire first half of the year, growth is similarly strong with 13.0 per cent. Skoda delivered 19,300 vehicles in this period (2016: 17,000 vehicles). Contributing to this positive result were the developments in Romania (5,200 vehicles; +8.0%), Serbia (3,200 vehicles; +6.3%), Ukraine (2,600 vehicles; +65.9%) and the Baltics (3,900 vehicles; +23.0%).

In Russia, Skoda recorded a two-digit increase of 17.9 percent (5,700 vehicles) compared to the same month last year (June 2016: 4,800 vehicles). In the first half of the year the manufacturer achieved growth of 6.7 percent to 28,700 vehicles (2016: 26,900 vehicles).

In China, the biggest individual market worldwide, the long-established Czech brand was able to improve deliveries in June by 5.3 percent to 23,500 vehicles (June 2016: 22,400 vehicles). This rise meets the manufacturer's expectations. Tax increases at the beginning of the year for various vehicle segments that Skoda is represented in had led to a decrease in deliveries. In the first half of the year, Skoda delivered 134,000 vehicles (January to June 2016: 145,800 vehicles; -8.1%).

Skoda was able to record a positive result in India, where the manufacturer increased deliveries in June by 42.7 percent to 1,400 vehicles (June 2016: 1,000 vehicles). In the first half of the year Skoda saw double-digit growth of 21.7 percent to 7,900 vehicles (2016: 6,500 vehicles).

In Israel, Skoda made significant gains. 2,200 delivered vehicles stand for an increase of 41.8 percent compared to the same month last year (June 2016: 1,500 vehicles). In the first half of the year, the manufacturer recorded a growth of 11.6 percent to 14,000 vehicles (January to June 2016: 12,500 vehicles). In Australia, the traditional Czech brand performed well in June with growth of 23.8 percent to 600 vehicles (June 2016: 500 vehicles). The deliveries increased from January to June by 5.8 percent to 9,700 units (January to June 2016: 9,200 vehicles). With 400 deliveries to customers in June, Skoda recorded a growth of 4.0 percent in Taiwan (June 2016: 400 vehicles). In the first half of the year, the brand improved its turnover by 8.2 percent to 2,400 vehicles (January to June 2016: 2,300 vehicles).

Deliveries of the Skoda brand to customers in the first half of 2017 (in units, rounded, by model; +/- in percent compared to last year):

Deliveries of the Skoda brand to customers in June 2017 (in units, rounded, by model; +/- in percent compared to same month last year):


RELATED ARTICLES