Renault Small EV may hit the Indian roads by 2024-2025 to challenge Tata Tiago
The French car maker has lined up 6-9 product interventions between 2024-2026.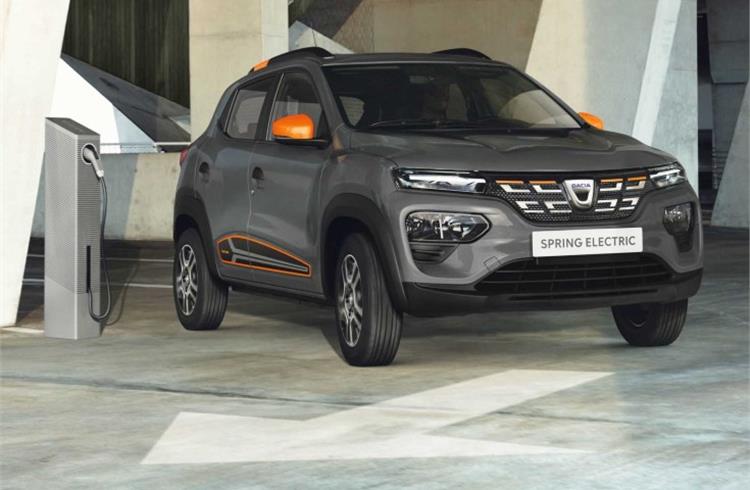 French car maker Renault India is working overtime to bring in the sub Rs 10 lakh electric vehicles to target a market launch within 12-24 months - having committed Rs 5300 crore with its alliance partner Nissan Motor in India.
Once launched, Renault's small EV will challenge Tata Motors Tiago EV and MG Motor's compact car. The electric vehicle is based on the Dacia Spring – which has the Kwid's underpinnings. For reference, the Spring has a single electric motor producing 45hp and 125Nm of torque and a 26.8kWh lithium-ion battery that has a range of 225km (WLTP). The Tiago EV, on the other hand, is offered in two versions – Medium Range (MR) and Long Range (LR). The former gets a 61hp, 110Nm electric motor and a 19.2kWh battery with a range of up to 250km (MIDC). The Long Range gets a 75hp, 114Nm electric motor with a 24kWh battery and a range of up to 315km (MIDC).
A senior company executive said the company is looking at introducing an altered version of the new Dacia Spring planned for 2024 in India.
Venkatram Mamillapalle, MD of Renault India told Autocar, that the company is looking at 6-9 product interventions in the next few years, which includes mid-cycle action of the existing portfolio in 2024, followed by B segment SUVs and new variants of the existing products.
"We are going ahead with our EV plans, the EV explored for India is on the CMF-A platform, you may see it in 2024 or 2025, we are trying our best to bring it at the earliest, but the exact timeline is not yet firmed up. Eventually you will see our platforms will have petrol, e20 and EV options," added Mamillapalle.
The EVs are likely to come with a localisation level of 55-60% to begin with, however the company is very keen on sourcing batteries and cells locally to bring down the cost to ensure higher penetration for EVs in the future.
Mamillapalle says the company is in talks with several Indian vendors for sourcing of EVs and he is hopeful of finalising localisation of cells in the coming years, with an intention of having localisation of over 85-90 percent.
With a predominant portfolio of Renault India positioned in Rs sub-10 lakh market, the brand has had to face slowdown in the entry segment.
In a market that grew over 25% in FY-23, Renault India sales dipped over 10-15% with sales of 78000 units, Mamillapalle is candid and says this year too the brand is likely to witness a drop of over 10% in its sales. He expects to export abut 20000 units in the current financial year, thereby helping improve the capacity utilization at the factory.
But the brand is trying hard to connect with consumers on ground zero with mobile showrooms in places where it does not have a retail presence.
Mamillapalle says he expects the monthly sales should improve from 4500 units per month at present to 5500 to 6000 units per annum, with new retail strategy with a renewed marketing push.
While the sales and marketing initiatives will gather pace in the upcoming festive season, the company is working overtime to ensure that it remains profitable in the country.
In FY22, Renault India had posted profits for the first time in a decade and Mamillapalle says, the company has retained the profitable operation even in FY23 and despite the volume correction he expects to remain profitable in the current financial year too.
The head of Renault India is aware that the current portfolio has seen some fatigue and they need some refreshment infused and the upcoming mid-cycle action planned on Kwid, Triber and Kiger will witness some significant design changes.
Renault is also upping the ante on safety with 6 airbags alternatives on existing products. While the implementation date is still not finalised, Mamillapalle says the products from Renault will have this safety equipment ahead of the mandated date from the ministry.
RELATED ARTICLES