Record first half for Mercedes Benz India in 2023, sales grow 13%
Record Q2 sales of 3831 units drives Mercedes Benz India to its best ever first half performance. It was an all round performance of significant growth in the core segment, EVs and top end vehicles.
Santosh Iyer, MD of Mercedes Benz India
Highest selling model in H1-2023: E-Class LWB
Highest selling SUV in H1-2023: GLE
Battery EVs (BEVs) grow 10x in H1-2023
Top-end-vehicles (TEV) recorded a growth of 54% in H1-2023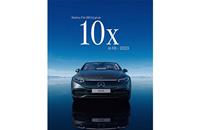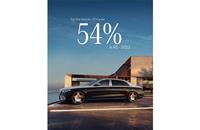 Mercedes Benz India has posted its best-ever half-yearly sales at 8528 units from January to June of 2023, posting a growth of 13% over last year on the back of sustained demand for its vehicles.
Carrying on the strong momentum of the January to March quarter in 2023, the order book flow continued in Q2, with bookings crossing over 3500 units, as the company continues to ramp up to cater to high demand. The sales in Q2 - i.e. April to June 2023 were the best ever at 3831 units - growing 8% over Q2 of 2022.
This growth has been achieved sans its most popular model the GLC SUV which will be launched in the Q3 of 2022.
Reviewing the H1 sales performance, Santosh Iyer, MD of Mercedes Benz India said, "This record sales performance is driven by the high desirability of the brand, an attractive portfolio, increased availability of cars and successful implementation of the 'Retail of the Future' business model. Our focus remains on elevating the customer experience and continuing to grow the Top-End Vehicles which outpaces other segments. We are excited about the remaining quarters, having lined up some of the most awaited luxury vehicles for our customers, starting with the New Generation GLC."
It was all around strong performance with the battery electric vehicle sales growing 10 times, albeit on a low base with the addition of new models like EQB and EQS, whereas the top end vehicle segment, which is priced above Rs 1.5 crore, grew over 50% in the first six months of this calendar year.
The key highlights for January to June 2023 for Mercedes Benz were that it continues to witness very high demand for the GLS, S-Class, S-Class Maybach, GLS Maybach and AMG G 63 in particular. The LWB E-Class remained the single highest-selling model for the company, with GLE being the highest-selling SUV and the New C-Class continues to drive demand and contribute significant volumes to Mercedes Benz's overall performance.
RELATED ARTICLES