MHI calls for closed door meeting to address standardisation of swappable batteries
The meeting will aim to re-examine the deadlock between various charge-point operators and vehicle manufacturers to streamline the requirements for battery-swapping technology.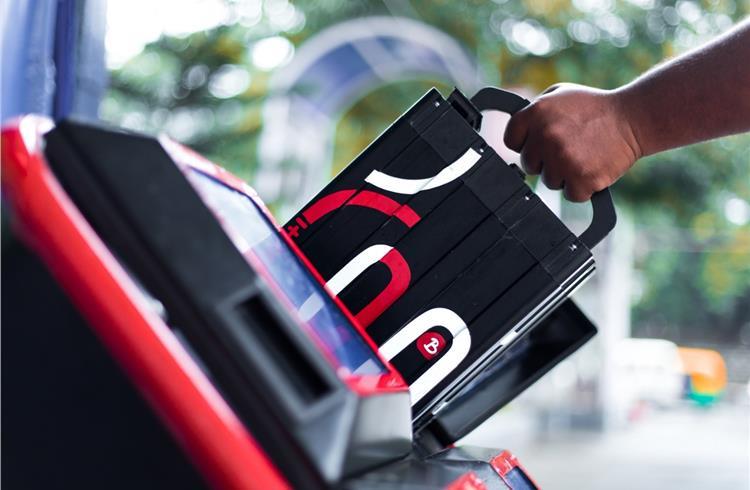 With previous discussions on battery swapping stuck on the issue of standardisation, the Ministry of Heavy Industries (MHI) has scheduled a closed-door meeting with industry organisations on the future of battery swapping on 29 September, to address the impasse between parties.

The meeting will aim to re-examine the deadlock between various charge-point operators and vehicle manufacturers to streamline the requirements for battery-swapping technology, ensuring interoperability across different EV models and charging stations.

The decision to invite key stakeholders gains credibility, as more than 18 months have passed since Finance Minister Nirmala Sitharaman released the draft policy on battery swapping to ensure compatibility across various EV models and charging stations.

The battery-swapping policy announced by the Finance Minister aims to address urban space shortages while also reducing vehicle charging downtime.
The high-level meeting the day after tomorrow will discuss the differences and iron out various issues that are impeding the creation of a stable policy, which has been stalled, despite several rounds of stakeholder consultations involving battery-swapping charge-point operators and vehicle manufacturers.

Senior MHI officials, including Joint Secretary Dr Hanif Quershi and MHI Secretary Kamran Rizvi, will lead this important meeting with industry representatives from IESA, the India Battery Swapping Association (IBSA), the Society of Indian Automobile Manufacturers (SIAM), Invest India, Niti Aayog, the Ministry of Power, and the Ministry of Consumer Affairs.
Understanding industry opposition to standardisation of battery swapping

Chetan Maini, Co-Founder and Vice Chairman of battery swapping firm SUN Mobility, had previously told Autocar Professional that standardisation of EV batteries will impact innovation. This is important from a safety standpoint in adapting to Indian temperatures and road conditions, which require a high level of customisation.

Battery Smart, based in Noida, will be present on the 29th to discuss the difficulties associated with battery swapping.

Pulkit Khurana, Co-founder of Battery Smart, which will be present at the meeting on 29 September, told Autocar Professional that the growth of battery swapping services has presented complex challenges.

"The desire for battery swapping to resemble a fuel station network with strict standardisation may potentially stifle innovation and overlook challenges associated with the exchange of assets (batteries) among different service providers."

He finds it encouraging to see government and industry leaders working together to find creative solutions. "This open dialogue not only builds trust but also ensures that policies are grounded in real-world observations," Khurana said.

Nikhil Bhatia, Co-founder of Jaipur-based Hop Electric, one of the OEMs invited to this meeting, told Autocar Professional that the government recognises the industry's challenges. "The goal of stakeholder consultation is to get everyone on the same page and even agree on no-go issues so that other areas that can be addressed collectively can be looked in Bhatia said

Dr. Rahul Walwalkar, Founder and Executive Director, India Energy Storage Alliance (IESA), who is driving the industry's concerns about battery swapping, also stated that the industry is eager to work with the government to develop common protocols and told Autocar Professional that "We plan to engage constructively regarding the establishment of uniform platforms so consumers can benefit from the standards."
Solutions to the complexities of battery swapping

A different approach inspired by India's telecom system, according to Battery Smart's Khurana, would enable multiple players to coexist and innovate. "With this approach, consumers can select the best provider while maintaining network portability."

Aside from the GST and FAME 2 subsidy inclusion, the main topic of discussion at the meeting will be how to technically create standardised batteries, keeping in mind that they must be wired to a vehicle and have unique dimensions, hardware, and software.
Vikrant Singh, Co-founder and CTO of BatX Energies, a leading battery recycler, shared his solution to the standardisation problem.
According to him, battery OEMs and battery-as-a-service operators can agree to install specific software in each battery that all users can access.

"A common protocol of only authorised individuals or organisations having access to run this software should be discussed and agreed upon."

Vikrant adds that the software should be held to a standard (KPI), particularly for batteries used in swapping. This is important because it ensures that a user can charge the battery safely at any swapping station that has the necessary authorisation and meets the necessary standards. "In this manner, any battery can be effectively charged at any charging station," he explained.

He further says that when consumers are exchanging an older battery at the swapping station, they can be at a disadvantage as the older battery deteriorates over time and has a lower range.

Khurana has suggested as a solution that the issue can be effectively addressed with a smart battery management system (BMS).
"This system should have a chip-based design that stores critical data and securely communicates with the charger." When you charge your battery anywhere, the system can monitor its status. If it deteriorates or is used improperly, the battery OEM and battery as a service provider can detect it and take action." He further added.
RELATED ARTICLES