Jayant  Davar is Autocar Professional's Man of the Year 2018
Every year, Autocar Professional honours a business leader who has led his company to new heights as its 'Man of the Year'. This year, it's an engineer with a passion for excellence – Jayant Davar, founder, co-chairman and MD, Sandhar Technologies.
Every year, Autocar Professional honours a business leader who has led his company to new heights. This year, it's Jayant Davar, founder, co-chairman and MD, Sandhar Technologies.
Jayant Davar was around 24 years old, armed with an engineering degree, when he decided to turn entrepreneur.
With over 100,000 lock sets produced every day, Sandhar Technologies is the world's largest vehicle lock maker. And it's the largest seatbelt spoolmaker too.
Sandhar has been built through a total of 15 inorganic moves/technical collaborations over the past 31 years.
Jayant Davar is the first-generation entrepreneur. He started Sandhar Locking Devices with loans of Rs 30,000 from his father and Rs 400,000 from State Bank of India.
As 2018 comes to a close, it's time to take stock of a year that's seen the automotive industry, both in India and globally, buffeted by megatrends, regulations, new mobility solutions and changing consumer preferences. An era of disruptions – positive and negative – has begun and constant change is the name of the game.
Some major changes over the next 5 to 10 years will throw up good number of opportunities for component suppliers. However, they need to identify the right avenues and invest for good returns and sustainable growth. Standing out among the many world-class Indian suppliers is Sandhar Technologies, which has taken new steps to take its 31-year-old growth story forward. The company, which is the 17th largest component manufacturer in India, has inked 6 JVs in the past two years, some of them aimed at tapping the megatrends of electric mobility, autonomous driving and connected vehicles.
2018 has been a milestone year for the home-grown company as it took multiple inorganic steps to tap new opportunities and also turned into a listed company to achieve the next level of growth. For leading his venture successfully over the years and mainly for the new moves, some of which are aimed at tapping megatrends and also plugging into electric mobility, Jayant Davar, founder, co-chairman and managing director, Sandhar Technologies and a first-generation entrepreneur is Autocar Professional's Man of the Year 2018.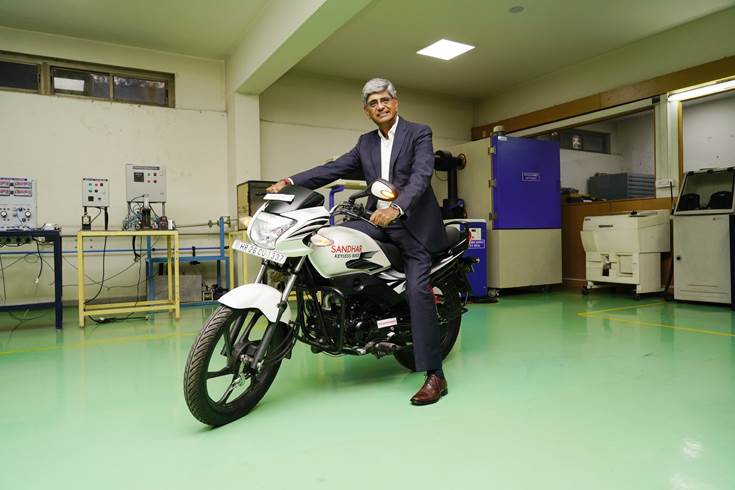 When the Sandhar Technologies journey started as Sandhar Locking Devices on October 19, 1987, 24-year-old Jayant Davar had one big dream – to achieve a turnover of Rs 1 crore. While that was realised in barely three years, the company is now cruising towards the Rs 2,500 crore mark with a CAGR of 32 percent over 30 years.
Sandhar Technologies been a good case study of the Indian entrepreneurial spirit. At that rate, a Rs 10,000 crore turnover shouldn't be too far away. "I am not at liberty to answer that question, but suffice it to say that we have grown faster than the industry," says Davar.
2019 will see Sandhar Technologies step on the pedal to accelerate growth. From helmets to fuel pumps, filters, starter motors and EV components, a battery of new products are lined up for launch in the new year. It will also debut in the aftermarket and like its locks and seatbelt spools business, Sandhar Technologies wants to be the leading volume player in every segment it operates in.
We'd love to tell you more but for that, pick up Autocar Professional's biggest-ever issue – the 226-page 14th Anniversary Edition. Here are some glimpses into this cracker of a special issue.
CAPTAINS OF INDUSTRY ON INDIA AUTO INC'S DYNAMIC EVOLUTION
Like its global automotive industry, India Auto Inc and the entire automotive value chain faces challenges aplenty but can also seize new opportunities. What better than to get the top heads of the apex industry bodies – SIAM, ACMA, SMEV and FADA – to share their views on current market trends, comment on what lies ahead and how India can take the next leap forward.
So, find out what Rajan Wadhera, president of the Society of Indian Automobile Manufacturers (SIAM), has to say on axle load norm-related challenges, the liquidity crunch, the recent Global NCAP crash test results involving Indian cars, transition from BS IV to BS VI, IC engines to electric mobility and lots more.
Meanwhile, Ram Venkataramani, president of the Automotive Manufacturers Association of India (ACMA), reveals the strides the domestic component industry has taken, how suppliers are already readying for megatrends, new emission and safety norms, the need to enhance localisation to reduce imports, and the strategic plan to bring up quality management across the value chain.
To espouse the cause of electric mobility, we've got Sohinder Singh Gill, director - Corporate Affairs of the Society of Manufacturers of Electric Vehicles (SMEV). He details the strategies that can create demand for EVs, why an EV policy and governmental clarity are vital if suppliers are to step up their game on the vehicle electrification front.
An automobile, howsoever smashing looking, technologically brilliant or frugal will not succeed if the consumer does not buy into it. That's where the art of selling comes into focus. To tell us more about in the Indian perspective is Ashish H Kale, president, Federation of Automobile Dealers Associations (FADA). He also speaks on the shift in the business model, the impact of e-commerce, why he foresees big-sized global dealerships partnering Indian dealers and also buyouts happening, and his top priorities as FADA's new president.
We also speak to DK Sharma, executive VP & business head, Godrej Tooling and president of the Tool & Gauge Manufacturers Association of India, on the opportunities and challenges for toolrooms.
EXPERT OPINION
This anniversary edition is rather special. Why? Because we've got a number of industry leaders exclusively writing for us. Here's who:
- Ravi Pandit, Chairman and Group CEO, KPIT Technologies
- Andy Palmer, Chairman and CEO, Aston Martin Lagonda
- Dharmesh Arora, President and CEO, Schaeffler India
- Raman Nanda, Country Head & President, Gestamp India
- Binoy Paul, Director - Engineering, Visteon Corporation
- Sugato Sen, Deputy Director General, SIAM
- Ravishankar Rajaraman, Technical Director & Chairman, RASSI Technical Steering Committee, JP Research India
- Anup Bandivadekar, Program Director, International Council on Clean Transportation
- Akshaye Barbuddhe, Business Head - EV Charging Solutions, Delta Electronics India
COMPONENTS INDUSTRY TO THE FORE
Leading the charge of component-related features in this cracker of an issue is the inside story of how the Chennai-based Sundram Fasteners won the coveted Deming Prize for not one, two or three but all of 17 manufacturing plants! Managing director Arathi Krishna speaks to AutocarPro.
We've also got the first-ever media interview with the new managing director Tata AutoComp – Arvind Goel. He tells how the company, with its 44 plants and 13 business units, is developing frugal, robust and reliable solutions for Indian and global OEMs, its readiness to tap megatrends, developing ADAS solutions for India, openness to new alliances and enhancing worker skills.
The Valeo Group, one of the world's largest suppliers, is reaping dividends from its glocal strategy in India. In a detailed interview, Ashok Belani, Group president and MD, Valeo India, speaks on how the company is emerging as a global R&D hub for Valeo, how it is investing in start-up and academic institutions to accelerate India-specific innovations, and lots more.
In another exclusive, Dr Harald Marquardt, CEO of Marquardt GmbH, who was in Pune recently for the groundbreaking ceremony of the upcoming R&D Centre, underlines how critical the growing business and engineering capabilities in India are in his company's global scheme of things.
Indian component players are going places. Pune-based Sedemac is one. This supplier of control systems for small engines and powertrains has developed the world's first sensorless integrated starter generator, which eliminates the need for a starter motor. Our story reveals all.
India's component suppliers today are the bulwark of the automotive sector, both domestic and increasingly global. We reveal the findings of the latest ACMA-McKinsey study about trends that are impacting growth and the recommended strategies to pave the way for a progressive future.
EV-OLUTION OF THE SPECIES
Suppliers, despite the lack of a proper EV policy from the government's side, are already investing in future tech – read electric mobility. Chennai-based Lucas TVS is among the early Tier 1 suppliers leveraging its knowhow to gain a competitive advantage.
As is known, Autocar Professional, in association with IIT Guwahati, hosted a conclave 'Building a Nationwide EV Ecosystem: Opportunities in the North East' in end-November 2018. Our comprehensive report details all the presentations of industry experts, along with an exclusive guest column from Karthick Atmanathan, Head - EV & eMobility Solutions, Ashok Leyland on 'An efficient electric mobility strategy for the North East'.
In a world that's battling for green air, OEMs, suppliers and governments the world over continue to exchange notes and fire over the journey from trying-to-be-clean fossil fuel technologies to green electric mobility. Can 48V mild hybrid technology play peace maker? Find out in this interesting feature that starts on page 108.
COMMERCIAL VEHICLES SPECIAL
There's been considerable action in the commercial vehicle industry in the past 12 months, both in the medium and heavy CV segment and the LCV market. In a comprehensive interview, Dr Seshu Bhagavathula, Chief Technology Officer, Ashok Leyland, tells us why he is bullish on the future, armed as the company is with a prtfolio that covers everything from 3 to 55 tonnes, engines from 60hp to 350hp, an EV business unit and a battery of engineers working on a clutch of emerging and disruptive technologies.
Echoing a similar, confident note is Vinod Aggawal, MD and CEO of VE Commercial Vehicles. He reveals what keeps the JV with Volvo Trucks ticking, why the company's transition to BS VI will be a smooth one, and what is the future growth and product roadmap.
India remains an attractive market for global CV makers. Ask Volvo Trucks which has carved a niche for itself in the small but pricey premium trucks segment. Having established a stranglehold on the mining truck market, it is now eyeing similar traction in the fast-growing construction trucks segment.
And with HCV players scrambling for growth, one of their biggest suppliers – Setco Automotive – which makes clutches is working on a multi-pronged strategy to double its turnover to Rs 1,000 crore by 2020. Find out just how.
Meanwhile, Tata Motors and Mahindra & Mahindra are engaged in a no-holds-barred battle for honours in the LCV goods carrier market with the Ace and Bolero families respectively. This even as the Ashok Leyland Dost and Maruti Super Carry make smart gains in a booming market. A four-page report, replete with data charts, packs a mean punch.
ON TWO WHEELS ONLY
India's two-wheeler industry has been abuzz with action aplenty, both in the motorcycle and scooter segments. But do you know that Bajaj Auto, which has suddenly accelerated into a zone of its own, is going after Hero and Honda in the 125cc motorcycle market with a vengeance? Our analysis reveals how Bajaj's dynamic product strategy is helping it grab market share in the commuter motorcycle market.
125cc scooters is also where OEMs are putting sharper focus. Having doubled in size in the past three years, this premium scooter category is set to hit a million units in FY2019. Come along for the ride in this data-mined story.
And, can one not revel surging wave of demand for midsized motorcycles? Do you know that there were more than 30 new midsize bikes launched or re-launched in the past 12 months? This four-page feature has enough to keep you rooted to your seat, even as it is followed by the latest developments at Motoroyale which has begun CKD assembly of Italy's FB Mondial motorcycles.
Need more reading material? You got it.
START-UPS SCRAMBLE FOR TRACTION
2018 has been a year where start-ups made news and how! Be it Bangalore-based Sun Mobility, which is developing a host of sustainable solutions for e-mobility, Ather Energy which has raised the bar for electric scooters with its 340and 450 models, Mumbai's AutoNXT with its autonomous electric tractor, the app-based bus aggregator Shuttl, Netradyne with its ADAS solution or Horus Intellisys with its collision avoidance system which can be integrated into both two- and four-wheelers, we have the latest updates on them.
We also report on Log 9 Materials, an IIT Roorkee spin-off working in the area of nano technology, which has reinvented the typical EV battery concept with its metal-air battery. There's also Gurgaon-based Greenfuel Energy Solutions which has developed a lithium-ion battery pack claimed to be tailor-made for Indian conditions. Also find out how automobile engineer Venu Donepudi and IT professional Vijay Gummadi have engineereda start-up and serviced a dream in the form of a multi-brand car servicing business called Carz.
This is Autocar Professional's biggest issue of the year – and the biggest-ever edition too – at 226 pages! Other than all the exciting features, exclusive interviews and industry analysis detailed above, we've got still more to whet your appetite for quality reading that will stretch well into 2019. We'd love to tell more about this simply unputdownable issue but the thrill is in reading it, from cover to cover. All in line with our credo – to deliver content that's essential reading for the automotive industry.
WHERE TO BUY THIS COLLECTOR'S EDITION?
Autocar Professional magazine is available through select newsagents and for digital download from Magzster.

You can also buy one-off copies of Autocar Professional magazine – contact Ganesh at ganesh@haymarket.co.in
AJIT DALVI
RELATED ARTICLES