Eicher improves uptime for its connected trucks and buses by up to 98%
In 2020, the company's assistance could reach the vehicles within four hours of informing them, with an 80–82% success rate. It has now been reduced to about three hours in more than 92% of the cases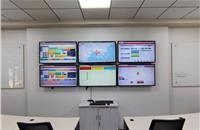 Volvo Eicher Commercial Vehicles (VECV), a joint venture between the Volvo Group and Eicher Motors has announced that its Uptime Centre has improved uptime for its connected trucks and buses by up to 98%, resulting in 7–10% savings for fleet operators.
VECV's Executive Vice President and Head of Customer Services and Network Strategy, Ramesh Rajagopalan said, "The Uptime Centre is a valuable asset for VECV. It has helped us to improve uptime and efficiency for our connected trucks and buses, and it has also helped to improve customer satisfaction." As the automotive industry becomes more data-driven, one can expect to see more fleet operators implement similar uptime management systems, as it allows for improvements in the uptime and efficiency of their vehicles, he added.
The Uptime Centre is a system for making decisions based on data. It keeps track of how well vehicles are working, identifies potential problems, and offers preventive maintenance, technical, service, and spare part help as soon as possible. It also keeps track of how long it takes to service and maintain vehicles. If it takes longer than expected to fix a vehicle, the Uptime Centre will talk to the mechanics about it. The process is managed online by around 200 engineers and call centre executives, round the clock, by tapping into data from a variety of sources, including vehicle telematics, service records, and driver reports.
It is seamlessly integrated with Eicher's rapidly expanding nationwide dealership and workshop network, which comprises over 800 touchpoints and includes sales and service outlets on-site, support locations, parts retailers, and trained technicians across all the major highways of the country. The company has also so far been able to map at least 4,400 odd technicians, classifying them as learners, performers, experts, and masters based on the levels of their skills and experiences. At any given point in time, about 70% of them fall under the performer, expert, and master categories, with the remaining 30–35% falling into the learner category." We know whom to assign a specific task to, Rajagopalan added.
He claims the results are imminent. In 2020, the company's assistance could reach the vehicles within four hours of informing them, with an 80–82% success rate. It has now been reduced to about three hours in more than 92% of the cases. Secondly, the recovery period, which began with 36 hours around three years ago, was later reduced to 24 hours and is now in the range of 12–18 hours, depending upon the type of vehicle.
Also, as Eicher believes, there shouldn't be any complaints that come up more than once within the time frame given; therefore, it also keeps track of how many vehicles have come back after three months, or 15,000 km. Whether it's for the same problem or something else If it's the same problem, it means the repair job wasn't done well. If another problem comes up, it means that the technician could have done a better job if they had figured out what was wrong with the vehicle when it got there. Rajagopalan continues, "We don't want to waste the customer's time by making them come back again and again."
Huge potential for growth
The development needs to be seen in the context of growing demand for reliable and efficient commercial vehicles in the market in the wake of an improving national highway network, tax reforms like GST, the introduction of globally contemporary BS VI emission standards, and the government's focus on modernising logistics through the Gati Shakti and National Logistics Programmes. These factors have resulted in an increasing demand for efficient vehicle utilisation and maintenance to improve productivity in the long haul, construction, and mining segments, making uptime the number one priority for customers. Currently, almost every OEM worth its salt, including Tata Motors, Ashok Leyland, among others, and third-party service providers such as Fleetmatics, Trimble, and Geotab are operating a similar system for their vehicles. The market size of the commercial vehicle uptime business in India is estimated to be US$ 2.5 billion in 2023 and is projected to grow at a CAGR of 12% to reach US$ 5.5 billion by 2028, as per industry estimates.
For Eicher, the uptime monitoring mechanism, which had existed in various forms, finally took a structured shape in 2020, when a central system was installed within its Pithampur, Indore, plant premises. It quickly became the nerve centre of the company's operations. Previously, the customer support team was primarily responsible for 24x7 breakdown assistance as well as technical support for dealerships. The 1.0 version was all about remote diagnostics, parts assistance, and breakdown assistance, for instance such as fuel injections, tyres, and batteries. It was extremely useful during the pandemic because dealerships were closed but all of our vehicles were connected. "That was a trying period. The only things that were moving were trucks. The problem was that we couldn't open our dealerships, even though we had trucks running there. There would be failures. But telematics came in handy because we knew exactly where the vehicles were," recalls Rajagopalan.
Reducing complexities for large fleet operators
With a large fleet, the fleet operators face a significant challenge because they must manage a large number of drivers. And the drivers work for several fleets. There are also alternate routes. And when it comes to drivers, the fuel efficiency difference can range from minus 10% to 10–30% variation within the same fleet.
Rajagopalan elaborated more about the problems by talking about how one of his customers had worries about its fleet's overall fuel efficiency. An Eicher team dedicated to the task sat down with the customer and showed them data from the business's last six months. They chose a route that would use the least amount of fuel, and then they sorted the stops along that route by the name of the driver. When this driver took his regular route, he always ended up with a maximum mileage of 4.6 kilometres. On the same route, however, another driver only got about 3.6 kilometres of mileage, which shows a big difference. With the help of Eicher's expert drivers, who are also called "profitability champions," the company took steps to improve the drivers' driving. As a result, the company became more efficient.
Furthermore, in another example, Eicher helped several of its customers choose the right type and model of vehicle depending on their applications. For example, in the e-commerce segment, there are specific high-speed routes that require vehicles that are both efficient and reliable. However, there are also other routes that require vehicles that are better suited for overloaded applications or for carrying small loads of volume goods. If the wrong vehicle is used for a particular application, it can lead to decreased efficiency, increased costs, and even safety hazards.
As the conversation drifts towards the emergence of new interactive technologies such as ChatGPT, Rajagopalan emphasises that it is just a culmination of the developments in artificial intelligence (AI) and machine learning (ML) that already exist. He explained that the vehicles are already communicating with one another and others in the ecosystem through the use of various technologies.
While Uptime 2.0 continues to improve at a steady pace, about 90% of Eicher's big customers have turned into repeat subscribers of their service. The challenge, however, is in converting the smaller ones to continue the subscriptions, which at present is at just about 30–35%. Eicher's task remains cut out.
RELATED ARTICLES