CEAT unveils the CrossDrive, its latest all-terrain tyre range for large SUVs in India
With the new arrival, the tyre maker has set sights on securing 20 percent plus market share in large SUV tyres.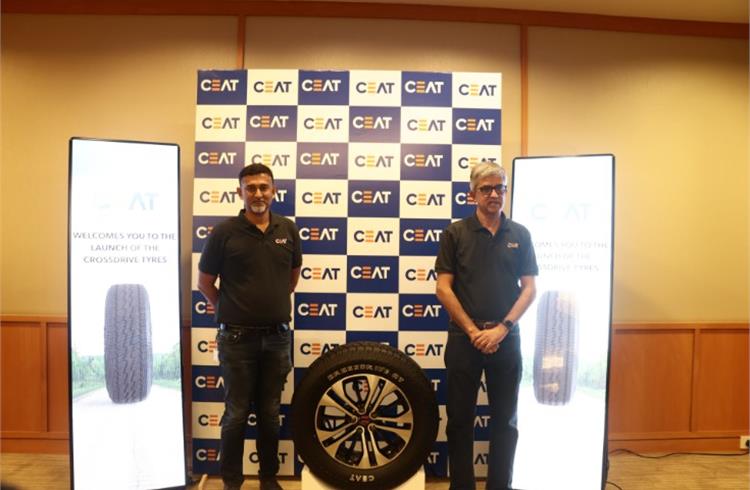 Tyre maker CEAT has unveiled its latest product, the CrossDrive. This latest offering is the result of an extensive research and development programme, the company has said. The CrossDrive, has been designed to be the most capable large sized off-road tyre.
Arnab Banerjee, the company's Chief Operating Officer says that with the new product, the company plans to secure at least a 20 percent market share in the given segment in India within the short to medium term. The company is further looking to export it to international markets, particularly to European countries where there is a significant demand for such products. "We have extensively tested CrossDrive for off-roading capabilities and city use and it provides an experience which is the best of both worlds," Banerjee said.

According to the manufacturer, CrossDrive combines carbon black tread compounds with 3D spine technology that enhances the tyre's ability to adapt to all-terrain driving conditions. The tyres also help with an improved efficiency have undergone thorough testing on the cutting-edge auto testing track "NATRAX" in Indore as well as light off-roading close to Indore.
CrossDrive tyres created specifically for use on all 4x2 and 4x4 SUV models have already been ordered for Mahindra & Mahindra's highly popular Thar SUV. CrossDrive will be available from rim sizes 15 inch to 18 inch.
During the unveiling of the CrossDrive SUV tyre, the tyre maker said that the forecast for domestic demand seemed stable moving forward. Given the fact the country had a good monsoon, the Rabi season is anticipated to be fruitful and help rural buyer sentiments as evidenced by two-wheeler, automobile and other consumption data.
However, exports have been impacted, given the geopolitical concerns and declining macroeconomic scenario around inflation and recession fears across geographies. Export demand may continue to be erratic for a few more quarters.
CEAT says it has adequate production capabilities across all product categories, with the exception of the off-highway tyre category and will therefore maintain its FY23 guidance of Rs 750 crore, which will be reassessed during Q3FY23.
RELATED ARTICLES