Ather forays into first international market with Nepal's Vaidya Energy
The Bengaluru-based e-two-wheeler start-up will set up its first experience centre in Kathmandu in November, and plans to understand product performance and acceptance in a new market before shifting gears in its export strategy.
Everything is official about it now: India's EV two-wheeler start-up Ather Energy has officially announced its plans to enter international markets, with the first exports of its flagship Ather 450X scooter to Nepal, commencing soon. On September 19, Autocar Professional had first reported about the company's closer-to-materialising plans to go global, with strong likelihood of neighbouring markets such as Nepal and Bangladesh, being the first on its radar.
Ather Energy has revealed that it will establish its first global footprint in Nepal by partnering with Vaidya Energy, a subsidiary of Vaidya's Organization of Industries and Trading Houses (VOITH), a leading industrial conglomerate in Nepal. The partnership will see the establishment of the first Ather Experience Centre in Kathmandu next month.
The company says that the collaboration with Vaidya Energy will redefine the electric two-wheeler market in Nepal by making high-performance EV scooters more accessible to Nepalese customers. As part of the association, Vaidya Energy will facilitate the sales and service of Ather Energy products in Nepal. Vaidya Energy will also set up fast-charging stations – Ather Grids – as part of the tie-up to alleviate range anxiety among EV owners.
According to Ravneet Singh Phokela, Chief Business Officer, Ather Energy, "Ather has pioneered the electric scooter segment in India and while we continue growing domestically, we are really excited about expanding our business footprint to international markets. We have had incredible in-bound demand from multiple markets, and Nepal is the first step in our journey of going international."
The company says that its foray into Nepal comes at a time when the country is switching towards cleaner mobility solutions, and being a relatively small market, offers an opportunity to understand a new market in terms of product performance and acceptability. In a recent interaction with Autocar Professional, Phokela had said, "For the longest time, we have been getting inbound demand from strong markets such as Latin America, South East Asia, and Europe, and we have been warding it off a bit for a while because the domestic opportunity has been so huge."
"With finite resources and energy, we prioritised the domestic market. But, our firefighting days in our domestic operations are now over, and today we have the bandwidth to look at international markets," he added.
"The idea is to dip our toes in a market which is not a huge departure from India. If we directly go to Europe, it is a very different market, not only from a consumer, but a product point of view as well. Homologation, for instance, is like a year-long exercise there," said Ather's Chief Business Officer.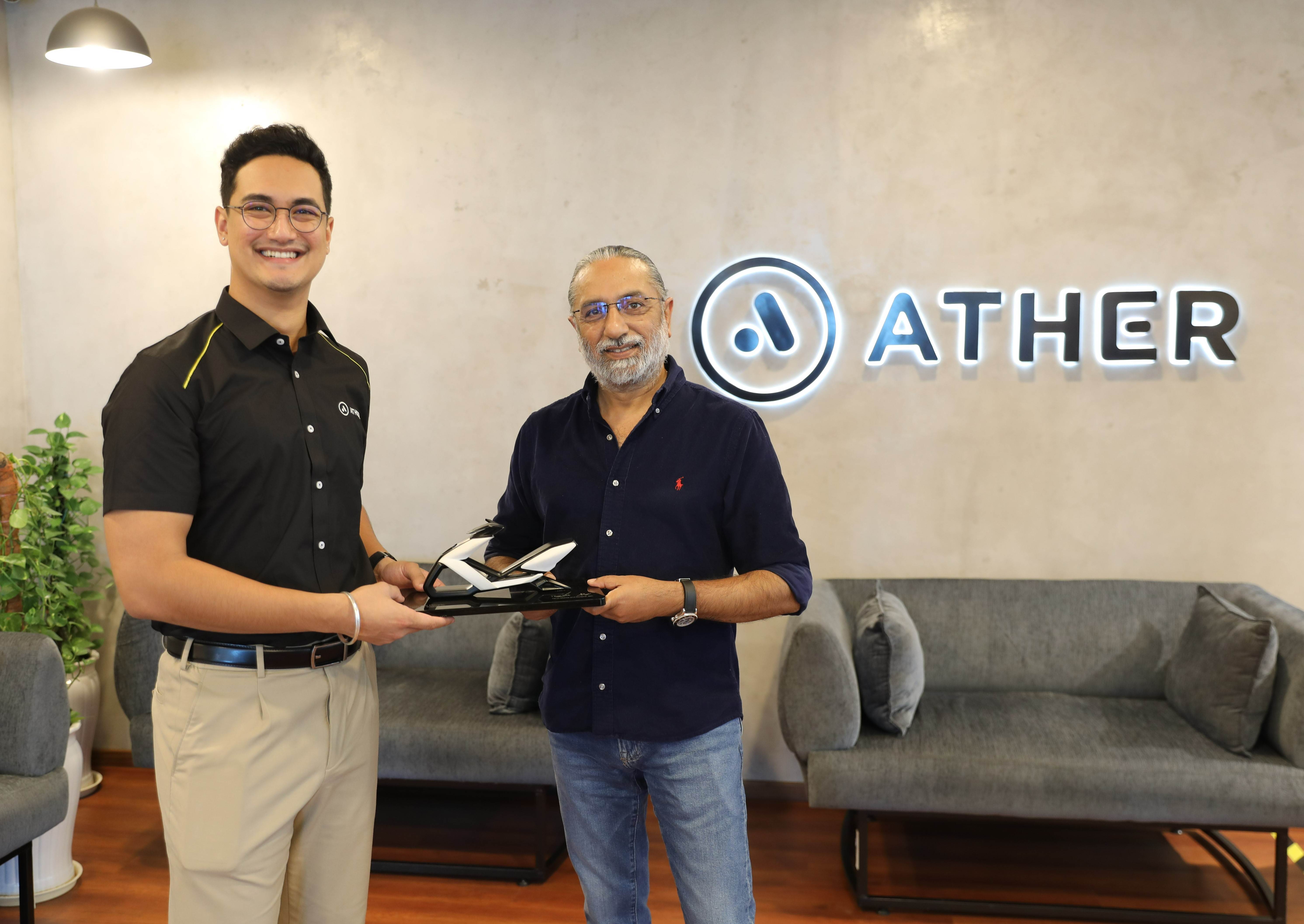 Suryansh Vaidya, CEO, Vaidya Energy and Ravneet Singh Phokela, Chief Business Officer, Ather Energy at the signing of the partnership agreement.
Ather Energy views the Nepalese automobile market as a microcosm of the rising global consciousness over switching to cleaner mobility choices, and in line with its ecosystem approach of market creation, it will deploy its public fast charging infrastructure, which, it says has has proven to be a huge differentiator for brand Ather in India. "We are delighted to partner with Vaidya Group as we enter the Nepal market. Their extensive experience and established expertise in the automotive retail sector will complement our efforts in creating an exceptional experience for our fans and customers," Phokela said.
The company will produce these made-in-India zero-emission electric scooters at its 420,000-unit annual capacity plant in Hosur, Tamil Nadu, and while its export plans have been over three years in the making, being equipped with ample manufacturing capacity gives it a confidence to finally tap into these opportunities.
"We want to launch as a brand, and that is always more difficult. For us, it will not be a short-term volume game, we will build a brand for a long-term play," pointed out Phokela about the company's international market strategy.
According to Suryansh Vaidya, CEO, Vaidya Energy, "We believe that mobility should transcend the mundane; it should be an experience that brings joy and thrill to people's lives. Through our collaboration with Ather Energy, we are fusing our expertise in premium mobility solutions with their cutting-edge electric vehicle technology, setting the stage for an entirely new level of excitement in the realm of mobility. Importantly, our vehicles not only offer a thrilling experience but also contribute significantly to cost savings, added convenience, and reduced commute times. We pledge to develop the whole ecosystem and focus on the customer experience, whether it comes to the product itself, its services and the infrastructure."
RELATED ARTICLES