Apollo Tyres wheeling towards a sustainable future
Tyre manufacturer, Apollo Tyres, has announced further commitments in the ESG (Environment, Social and Governance) space.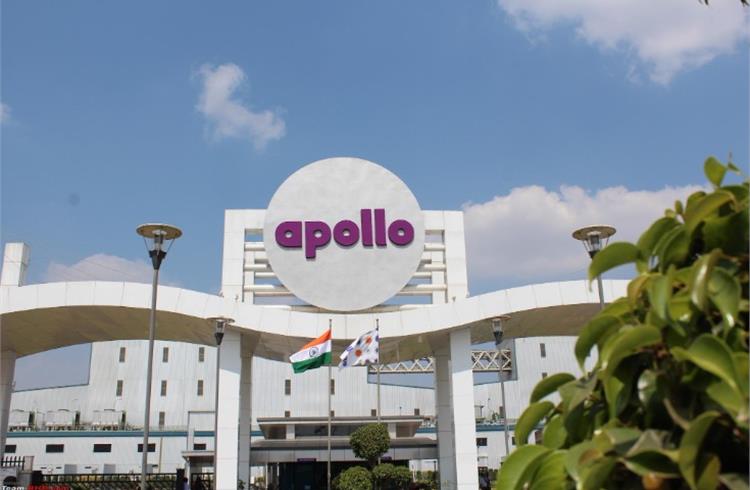 Apollo Tyres Chennai Unit
Apollo Tyres' solar plant
It's no secret that climate change and greenhouse gas (GHG) emissions have been posing significant challenges for companies, governments, and society at large. India has ambitious renewable energy plans and as of September 2022, the country has reached a cumulative installed capacity of renewables (excluding large hydro) of more than 118 GW. India ranked third in renewable energy installations in 2021, after China and USA.

Neeraj Kanwar, Vice Chairman and MD, Apollo Tyres
While speaking about the defined targets Neeraj Kanwar, Vice Chairman and MD, Apollo Tyres , said: "With an aspiration to be carbon neutral by 2050, we are working towards creating climate-resilient operations. Dedicated teams and investments are being made in energy-saving initiatives and towards renewable energy to be prepared for the future and to contribute towards a decarbonised tomorrow."
From the technical side, Apollo Tyres has several systems in place to monitor and analyse its greenhouse emissions that are independently verified and reported annually in its Sustainability disclosures. The company says it has also undergone climate risk assessment as per the Taskforce on Climate Related Financial Disclosure (TCFD) framework. Based on the identified areas, mitigation strategies have been formulated and action plan drawn, to put them into action.
For instance, the Andhra Pradesh facility of Apollo Tyres is using energy derived from biomass applications. Renewable energy usage is also in vogue at the Chennai plant which has guaranteed a supply of 40 million units of power from solar power panels. The Vadodara facility of the tyremaker has captive capacities for solar and wind energy.
As Europe braces for an imminent energy crisis due the disruption in supplies as a result of the Ukraine-Russia conflict, the European operations of Apollo Tyres has been working on systems to help improving upon its energy efficiency.
Aa a result, at an overall organisation level, nearly 10 percent of power requirement in FY22 was met by renewable sources, and the company is committed to increase this to 25 percent by 2026.
In line with international tyre manufacturers, Apollo Tyres, has taken an ambitious goal of achieving 40% sustainable material in its tyre compounds by the year 2030. The split up of sustainable materials will be 30% biomaterial and 10% recycled material. The company is investing in R&D and manufacturing to achieve the above target by conducting LCA (life cycle assessment) for its products.
Judicious use of water is also an important consideration at Apollo Tyres and the tyremaker says that it has taken several steps within the organisation to ensure reuse and recycling of water wherever possible. The company monitors the specific water withdrawn per tonne of product and has a roadmap to reduce it over a period. This water footprint is independently assured by a 3rd party and reported in Sustainability disclosures.
The company understands the importance of harnessing the power of Diversity and Inclusion (D&I) amongst its workforce and has been bringing in changes in policies and practices, undertaking targeted recruiting and building global cross-cultural teams.
Commitment to be carbon neutral by 2050
Improving Scope-1 and Scope-2 emission intensity by 25% by 2026 against baseline year of 2020.

Increase in renewable power in total power share to 25% by 2026.

Improve water withdrawal intensity by 25% by 2026 against baseline year of 2019.

Commitment to improve its D&I (Diversity and Inclusion) to 12% globally by 2026.

Increase usage of sustainable raw material to 40% by 2030.
RELATED ARTICLES