"PLASTINDIA 2023" opens at Pragati Maidan, New Delhi
The 11th edition of the World's largest international plastics exhibition also brings together the industry's brightest minds who can use the opportunity to network, explore and learn more about the industry. It will introduce and familiarise various businesses with state governments and city councils.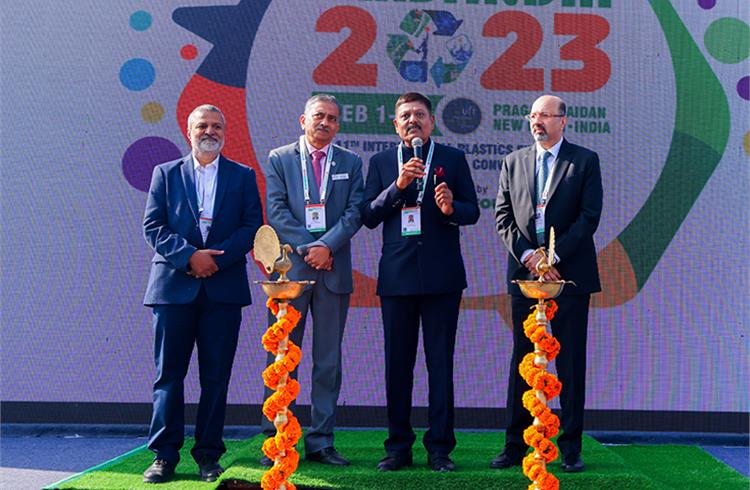 The 11th edition of the world's largest International Plastics Exhibition, Conference, and Convention - PLASTINDIA 2023 is being held at Pragati Maidan, New Delhi from February 1-5, 2023.
The five-day exhibition promises to be action-packed with conferences, B2B partner meetings and collaborations, and interactions with over 200,000 + visitors footfall.
The event brings together Government departments, raw material, and plastic product manufacturers, machinery and auxiliary equipment producers, the recycling industry, Automation and IoT technology providers and consultants to enable exchange of ideas and technologies.
Jigish Doshi, President - Plastindia Foundation, said, "We are delighted to host this exhibition. It feels great to see various stakeholders across plastic industries coming together to pave a path for a technology-enabled sustainable future. The industry can immensely contribute to realizing the vision of our honorable Prime Minister, Shri Modi, of making India a 10 trillion economy. The main aim of the exhibition is to facilitate export-led growth of the Indian plastics industry and help boost exports both in volume and revenues. Indian Plastics Industry is capable enough to compete in cost and quality to our neighboring countries like China."
A high-powered CEO Conclave presided over by the Hon'ble Minister of Chemicals & Fertilizers and Health & Family Welfare Dr Mansukh Bhai Mandaviya ji, will take place today at the exhibition venue.
Industry leaders will deliberate on how the Indian Plastic Industry can reach its full potential and garner more participation from across the world to emerge as the global, servicing, manufacturing and technology innovation hub. The policymakers of India including Hon'ble Minister Dr Mandaviya ji, and Arun Baroka, Joint Secretary, Dept. of Chemicals, Ministry of Chemicals and Fertilizers, Govt. of India, will listen to the views of the industry leaders so that the nation's policies can be aligned to foster the industry's growth.
The CEO Conclave, to be attended by over 90 industry leaders and CEOs, aims at congregating world leaders and CEOs from the industry under one roof. Leading voices from the industry like Shri M P Taparia, MD Supreme Industries; Shri R K Lohia, Chairman Lohia Group; Shri Helmet Huber, COO Bruckner Group; Shri Avinash Verma, CEO – Polymers, Reliance Industries; Shri Anil Jain, CEO, Jain Irrigation will be part of the Conclave. The Plastindia CEO Conclave has been curated by Ms. Nidhi Verma, NEC Chairman, CEO Conclave.
The main focus of PLASTINDIA 2023 is to innovate, sustain and grow and facilitate modern techniques that will help to maintain the development of the plastics industry in India and to work towards developing India as a preferred sourcing hub for plastics globally. The five-day event will provide an excellent opportunity for exhibitors to showcase their new innovations in the entire plastics value chain.
Plastindia represents the largest plastics exhibition in the world that is organised by industry associations. In the exhibition, around 1,800 exhibitors are showcasing their latest world-standard processing machinery, raw materials, recycling technology, and latest automation technologies for the plastics Industry. The exhibition has participation from 79 countries.
During the Exhibition, RBSM meetings have been arranged in association with PLEXCONCIL, where 300 plus buyers from various countries are attending to source their requirements from India. This RBSM aims to bring potential overseas buyers of plastic products/machinery & mold to India.
The key highlight of the expo is an all-star line-up of senior government representatives, CEOs from large corporates and young tech start-ups, along with a mix of entrepreneurs, accelerators, incubators, and academia.
Ajay Shah - Chairman, National Executive Council, Plastindia 2023 said, "This has been a great start to the PlastIndia 2023 edition. We see the value that technology is bringing for a better future. The innovations, discussions, and milestones set for the upcoming years are critical. It will be interesting to see how we can improve the industry standard and outcomes in efficient ways".
Launched in 1990, the Plastindia series of exhibitions under the aegis of the Plastindia Foundation is closely followed in the industry and retains a permanent date in the corporate calendars globally. It provides investors and industrialists with a compelling doorway to global markets of commerce and success. This exhibition is supported by Ministry of Chemicals & Fertilizers, Department of Chemicals & Petrochemicals, Government of India.
RELATED ARTICLES