Yamaha's new 15hp Aerox 155 is India's most powerful scooter  
The new Yamaha uses the 155cc, VVA, single-cylinder engine that's based on the one that the R15 uses
Yamaha's new 15hp Aerox 155 is India's most powerful scooter  
Yamaha's new 15hp Aerox 155 is India's most powerful scooter  
Yamaha's new 15hp Aerox 155 is India's most powerful scooter  
Yamaha's new 15hp Aerox 155 is India's most powerful scooter  
Yamaha's new 15hp Aerox 155 is India's most powerful scooter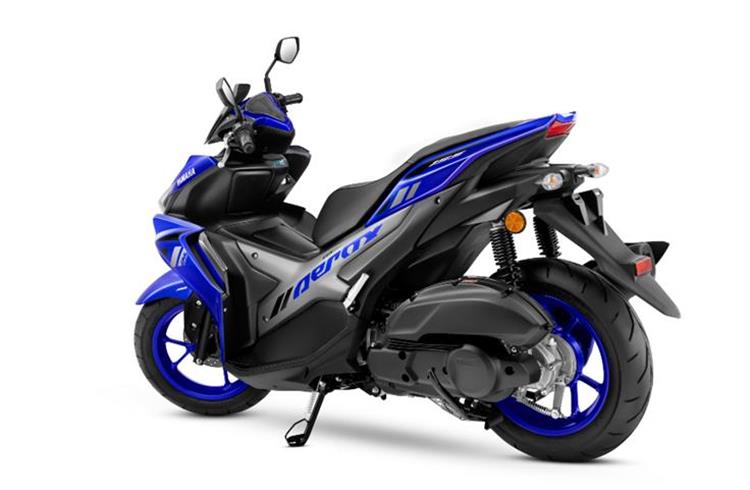 Yamaha's new 15hp Aerox 155 is India's most powerful scooter  
Yamaha's new 15hp Aerox 155 is India's most powerful scooter  
India Yamaha Motor has launched the new Aerox 155, which is the most powerful scooter in the Indian market at present. As its name suggests, the new Yamaha uses the 155cc, VVA, single-cylinder engine that's based on the one that the R15 uses. In global markets, the Aerox develops 15.36hp and 13.9 Nm, while the Indian version produces 15hp and 13.9 Nm.
While these figures are less than those of the R15, they are much higher than any other scooter on sale in India. Combined with a CVT drivetrain, this should make for a rather sprightly scooter. At 126kg, the Yamaha Aerox 155 also has quite a competitive kerb weight.
The Aerox 155 has an underbone design with a prominent spine section. As far as features go, it has a large 25-litre underseat storage space. Other features include digital instrumentation, start-stop tech, LED lighting, a charging socket and Bluetooth connectivity. It also comes equipped with large 14-inch wheels at both ends, and a wide 140-section rear tyre.
At Rs 129,000, the Aerox 155 is quite well priced. The limited-edition MotoGP edition is priced at Rs 130,000. The pricing puts it below the Vespa Racing Sixties (Rs 137,000) and Vespa Elegante 150 (Rs 139,000), which are far less powerful and feature lower equipment levels too. For reference, the Aprilia SXR 160 costs Rs 127,000 lakh.
All prices, ex-showroom, Delhi.
RELATED ARTICLES