Yamaha ready to play waiting game in India's premium arena
Company expects opportunities to expand sales of its products will continue for the next 10 years.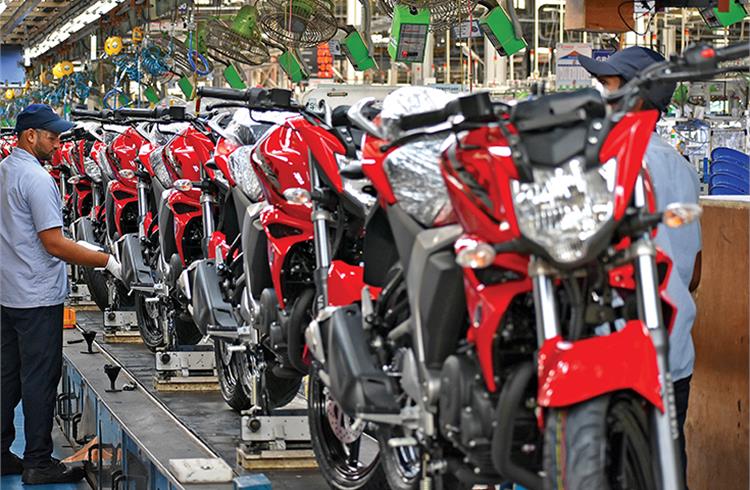 Yamaha's leadership team is focusing on premium segment products which not only reflect its core DNA but also assure higher margins.
India Yamaha Motor achieved a production milestone of 10 million units in May 2019.
Yamaha Motor Corporation believes that the Indian market is "continuing to mature" with premium segment sales increasing "among other developments". The Japanese two-wheeler maker expects "things to peak around 2027".
These observations were made at a recent Q&A session between the Yamaha leadership team and analysts in Japan some days after the annual results for CY2020 were declared. Whilst on the subject of India, the company said coronavirus cases have dropped significantly and total demand has mostly returned.
"Over the next 10 years, we anticipate the number of households with a disposable income equivalent to 1.5 to 3 million yen to grow by 250 percent compared to today, and for motorcycles to shift from essential items to recreational purchases," noted the Yamaha management. (When converted, this works out to Rs 10-20 lakh disposable income annually or roughly Rs 85,000-170,000 per month).
This, in turn, would work to the company's strengths in premium-priced products for the "upper-middle class". It is also its conviction that opportunities to expand sales of its products will continue for the next 10 years.
These observations from the Yamaha leadership team are in sync with its strategy of focusing on premium segment products which not only reflect its core DNA but also assure higher margins. The key objective in India is to ensure profitability in order to be able to invest in the future and this is precisely what the company has chosen to do.
In the years gone by, Yamaha has constantly followed the market which meant getting into the commuter segment which really was not its forte. It is only in recent times that it has chosen to break away from the past and stick to the premium segment even if it means that the exercise of building market share will take longer.
The comments made in the recent analysts' session also indicate that Yamaha is willing to wait for the tide to turn even if it means a good decade from now. It has indicated that there will be a peaking of sorts in the premium segment around 2027 which will include both motorcycles and scooters.
It is also getting increasingly clear that this is going to be a decade of disruption in the two-wheeler space especially with electric leading the charge. Ola is a case in point where it has earmarked substantial investments for an electric scooter project in Tamil Nadu. While Ather and Ampere are the other aspiring players in this space, traditional ICE (internal combustion engine) makers like Bajaj Auto and TVS Motor are already revving up their presence in electric mobility.
It is in this competitive arena that Yamaha will have to do its balancing act where part of the premium play will definitely include electric. In all likelihood, there will be a serious play in scooters first where a top selling brand like Fascino could be the first to don the mantle. The company is already into electric bicycles with Hero Cycles and, to that extent, already has a strategy drawn up for offering diverse mobility options in India.
In this backdrop, it will be interesting to see if Yamaha's global tie-up with Honda will intensify in the coming years to include an alliance in electric. The former foes-turned-friends have already decided to join hands for producing a small segment of 50cc scooters in Japan but there is no reason why the partnership will not expand to include electric mobility too. Should that happen, there could be some interesting dynamics panning out in India too.
RELATED ARTICLES