Volvo India clocks 30 percent sales growth in 2018
Brand's latest SUVs, the XC40 and XC60, lead sales growth for the Swedish carmaker.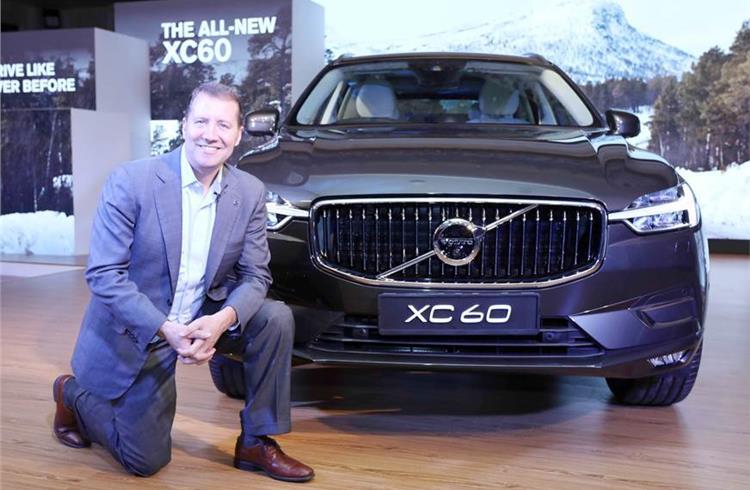 Volvo India has announced that it has sold a record 2,638 units in calendar year 2018, registering year-on-year growth of 30 percent (CY2017: 2,029). The Swedish carmaker's sales were led by the XC60 and the new XC40 SUVs.
Interestingly, Volvo India surpassed the number of vehicles sold in 2017 in the first 10 months of 2018, notching sales of 2,194 units (up 40 percent) during the same period.
While 2018's significant increase in growth has come on a small base, Volvo continues to remain a niche player in India's luxury car market that is led by its German rival, Mercedes-Benz. However, it is also a luxury brand to watch out for due to its immense focus on safety and the ability to price its vehicles competitively, despite some being full imports, among other factors.
Moreover, the carmaker has bucked the trend as its German rival is expected to close the year with flat growth in sales. Factors such as rising interest rates, depreciation of the rupee and rising import costs have weighed on volumes.
The Swedish carmaker is expected to launch the all-new S60, which will take on the new BMW 3 Series, Audi A4 and Mercedes-Benz C-class, by end-2019. It recently announced plans to locally assemble the plug-in hybrid variants of its flagship SUV, the XC90, at its plant in Bangalore by end of 2019.
Additionally, the company also said that plans are underway to introduce four new plug-in hybrids over the next three years, along with a new all-electric model soon after its international launch.
Commenting on the company's 2018 sales, Charles Frump, managing director, Volvo Car India said, "2018 has been a fantastic year for Volvo Car India as we ended the year with yet another record sales. Volvo is on a roll here and I am very positive about the performance of our brand in this market. I would like to take this opportunity to thank our customers, dealer partners and my entire team that made 2018 a grand success. I am confident that 2019 will be a great year for Volvo Car India when we will turn our focus on company and dealer profitability."
RELATED ARTICLES