Varroc Engineering posts Rs 100.9 crore profit in Q2 FY2019, up 9%
The Tier 1 supplier has reported an increase in domestic revenue by 27.4 percent with consolidated total revenue at Rs 2,974.4 crore.
Global Tier 1 component supplier Varroc Engineering has released its financial results for H1 and Q2 FY2019 amidst the phasing out of the interior plastics business in North America, the impact of the Indian accounting standard and extra cost due to rapid volume ramp up.
The company reported Rs 5,928.1 crore in revenue from operations in H1 FY2019, a growth of 22.1 percent (Rs 4,853.4 crore in H1 FY2018). The reported EBITDA in the same period was Rs 561.3 crore, up 26.2 percent. The EBITDA in percentage was 8.7 percent as against 8.9 percent in FY2018. The company has reported a profit of Rs 201.3 crore which is Rs 10.3 crore (5.4%) more than FY2018 figures.
For Q2 FY19, Varroc has reported a revenue of Rs 3,001.1 crore, 24.1 percent (Rs 581.9 crore) more than its Q2 FY18 numbers. The EBITDA for Q2 FY19 has been Rs 320.2 crore, a gain of 43 percent from FY18. The company has reported a rise in profit of 9 percent with Rs 100.9 crore in Q2 FY19 over Rs 92.6 crore in Q2 FY18.
Varroc has revealed that the profits in Q2 were impacted by the reduction of its share of China JV profit to Rs 7.3 crore due to s drop in revenue, caused by lower volumes of key customers as well as decline in the overall market. Furthermore, it had to endure higher effective tax rate in Q2 FY2019 due to higher share of profits from India business but availed additional tax credits in Czech Republic in Q2 FY2018. On the whole, the adoption of new accounting standard (Ind AS 115) was reported to have a positive impact of Rs 10.9 crore on the profits for the quarter.
The Tier-1 supplier has reported that its domestic revenue rose by 27.4 percent, while the global lighting business (VLS) increased by 24.1 percent in Q2 FY19.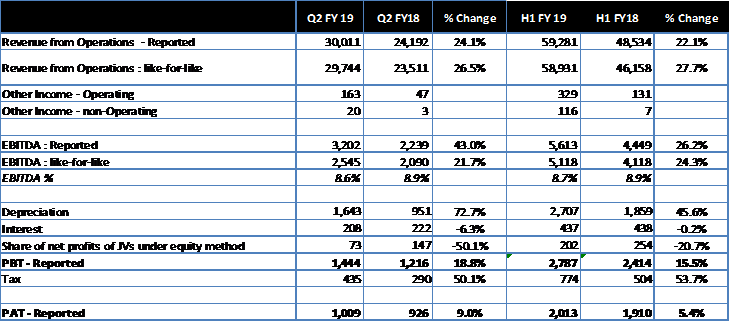 Speaking on the financial performance, Tarang Jain, managing director, Varroc Engineering, said, "During the quarter we faced a challenging macroeconomic environment caused by Brexit uncertainty, US-China trade sanctions, increase in fuel costs and regulatory changes in Europe and India. This impacted industry growth in India and abroad. Against this background, we have managed to maintain our growth momentum and deliver satisfactory results for the quarter. We are focused on improving operational efficiencies in the VLS business, the results of which should be visible in the later part of the year."
Varroc has reported that its Bulgaria plant (part of Turkey acquisition) is expected to start production in this month. The first SOP date of their Morocco plant has now been advanced from April 2019 to February 2019. The company has also announced that the construction of the Halol, Gujarat plant is now complete and production is expected to start later this month.
Also read: Varroc reports revenue of Rs 2,927 crore in Q1 FY2019, up by 20.2%
Tarang Jain: 'We foresee huge growth in the global lighting segment.'
Varroc Engineering's Tarang Jain | Interview | Autocar Professional
Varroc set to acquire Turkish lighting equipment supplier, also partner Italian co for EFI
Varroc plans JV with Elba for new electronics plant in Romania
RELATED ARTICLES