Tata Motors showcases nine M&HCVs at Excon 2021
Tata Motors exhibits high-performance trucks including Surface Tipper Zone, Mining and Quarry Zone, and Ready Mix Concrete Zone.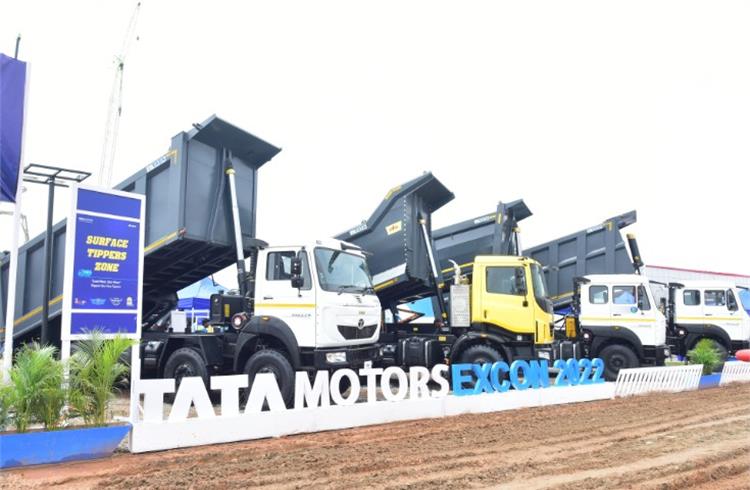 Tata Motors showcased nine high-performance M&HCVs at the Excon 2021 across diverse operations. Tata Motors' also showcases the Tata Yodha pick-up, built to fit across multiple applications and the Tata Ace HT+.
The M&HCV range comes with the standard fitment of Fleet Edge – Tata Motors' next-gen digital solution for optimal fleet management. The vehicles are developed with superior technology, which boosts performance while ensuring utmost safety, which are further strengthened by innovative value-added services through the vehicle lifecycle.
Commenting on the occasion, V Seethapathi, Vice President, M&HCV Product Line, Tata Motors said, "As a mobility solutions provider, the vehicles deliver state-of-the-art technology, offering maximum uptime and higher profitability with optimal cost of ownership for fleet owners."
Tata Motors also offers its flagship initiative, Sampoorna Seva, a bouquet of service offerings including Fleet Management Solutions, On-site support, Breakdown Assistance, Insurance and Accidental Repair, Extended Warranty and other add-on services for vehicle maintenance and lifecycle management.
Also read
Excon set to kick off in Bengaluru on May 17
Over 1000 participants expected at Excon
Ashok Leyland showcases 'CNG engine H series' at Excon 2021
EXCON signals winds of change
RELATED ARTICLES