Tata Motors Q3 under pressure, net loss at Rs 1451 crore
High commodity costs and semiconductor shortages dented Tata Motors' profitability.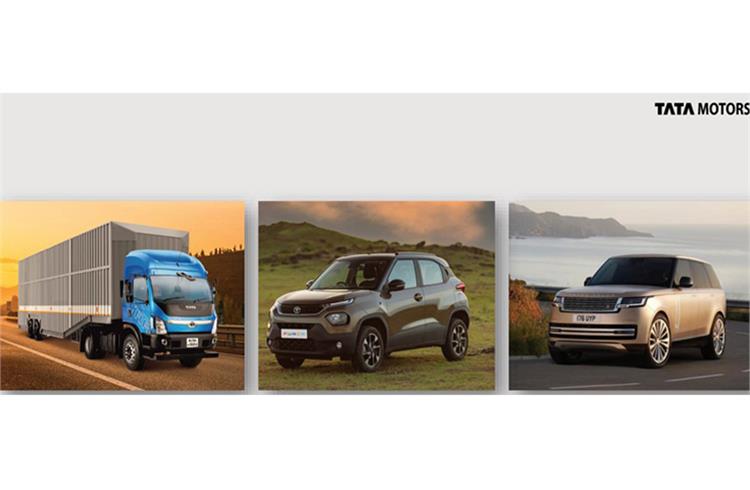 Tata Motors' posted a loss of Rs 1451 crore in Q3FY2022 compared to profit of Rs 2941.48 crore in the same period in the previous fiscal. High commodity costs and semiconductor shortages dented the profitability. The consolidated Q3FY2022 revenues from operations stood at Rs 72,229 crore, sliding by 4.52 percent compared to Rs 75,653.79 crore in Q3FY2021.
On a standalone basis, Tata Motors reported a net profit of Rs 176 crore in Q3FY2022 against a net loss of Rs 638 crore in the third quarter of FY2021.Revenue from operations stood at Rs 12,352.78 crore in the third quarter of FY2022 as compared with Rs 9,635.78 crore in the same period previous fiscal. Girish Wagh, Executive Director Tata Motors said, "The auto industry continued to witness rising demand in most segments even as the supply of semiconductors remained restricted resulting in adverse impact on production."
He however added that, "Looking ahead, we expect the demand for commercial, passenger and electric vehicles to sustain even as concerns related to supply of semiconductors, high input costs and rising instances of covid keep the overall situation fluid."
In an investor presentation, the company stated that, during the Q3FY2022 dispatches rose 30 percent YoY at 2,00,212 units including exports over Q3FY2021 wholesales. Within the segments, Commercial Vehicles (CV) saw a 19 percent YoY growth led by recovery in SCVs and had a simultaneous launch of 21 new products during the quarter. PB Balaji, Group CFO, Tata Motors highlighted that though the demand recovery in the CV segment is slower than what was anticipated, it is improving with each passing quarter.
The passenger vehicles (PV) on the other hand grew by 44 percent registering its highest ever quarterly retail at 109,000 units in Q3 FY2022 over Q3FY2021, thereby becoming the number one SUV manufacturer in the country. Likewise, during Q3FY2022, the EV sales crossed 5,500 units claiming 93 percent market share. The company's EV penetration as part of its overall product portfolio stands at about 6 percent, the company executives added.
Offering a perspective on the rising commodity prices, Balaji revealed that the cost of vehicles has increased by about 26 percent since March last year when BS VI emission norms were introduced apart from the inflationary aspects. However, things seem to be getting better, especially with cooling down of steel prices. "Hopefully, the pricing pressure is likely to get a bit relaxed in coming quarters" continued Balaji.
It's UK arm, JLR posted a pre-tax loss of 9 million pounds while its revenue came down by nearly 21 percent to 4.7 billion pounds logging retail sales of 80,126 units. Sales have declined nearly 38 percent as compared to Q3FY2021. Commenting on the lower sales, Thierry Bollore, CEO, JLR said that whilst semiconductor supplies have continued to constrain sales this quarter, the company continues to see very strong demand. Further, Bollore added that the global order book of JLR is at record levels and has grown to 30,000 units for the New Range Rover before deliveries start this quarter. "We continue to execute our Reimagine strategy to realise the full potential of the business and create the next generation of the most desirable luxury vehicles for the most discerning of customers." he continued.
RELATED ARTICLES