Tata Motors EVs have up to six-month waiting due to chip crisis
Tata Motors' says EVs account for 3% of its overall PV sales.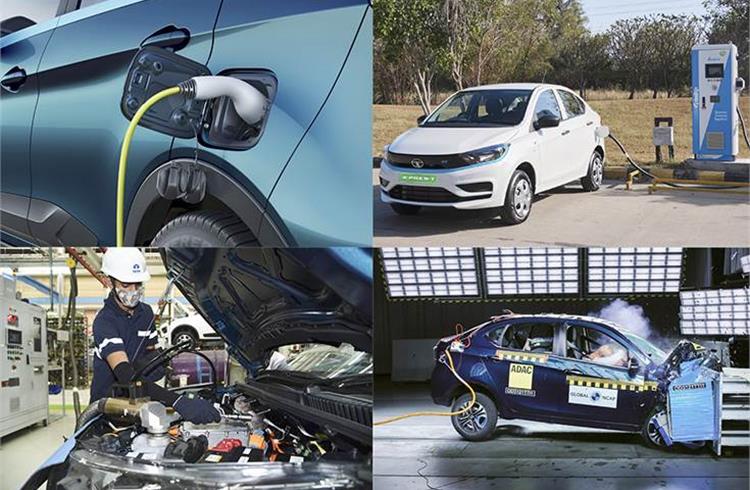 Tata Motors has a problem of plenty, particularly when it comes to its high performing passenger vehicle division. The carmaker is riding a strong wave of demand for its products and is currently third in the PV market share rankings with a 10.78% share, after Maruti Suzuki and Hyundai Motor India.
In October 2021, Tata registered handsome 43.6% YoY growth with sales of 33,925 units (23,617). Of this, 1,586 units (or 4.67% of total sales) comprised full-electric models – the Tata Nexon EV, Tigor EV and Xpres-T EV. These EVs registered notable 276 percent YoY growth as well (October 2020: 1,078). At present, the company has an overwhelming share of the electric PV market, albeit it is also a fact that there is barely any competition around.
However, despite having many tailwinds in its favour including high petrol and diesel prices which are driving consumers to transition to electric as well as favourable state government policies, Tata Motors' speedy EV sales could just about slow down. Blame it on the global semiconductor supply crisis which is plaguing the automotive world. Tata Motors too could be impacted.
Given the delays due to the semiconductor shortage and also the steep rise in commodity prices, demand for its PVs has far outstripped supply. Speaking at a media meet today, PB Balaji, CFO, Tata Motors said: "The average waiting time for most passenger vehicles is around 6-8 weeks. For the more popular models, it is around 9-10 weeks and for electric vehicles, it is upto 6 months waiting time."
The carmaker has expanded its portfolio with the addition of the Tigor EV which was launched on August 31 at an aggressive Rs 11.99 lakh. Also, recognising the growing demand from the fleet users, Tata introduced the Xpres-T EV in mid-September. On October 29, the company bagged a supply order from Delhi-NCR electric fleet operator BluSmart for 350 Xpres-T EVs.
According to Balaji, in an ideal situation, a customer can wait for "a maximum of 30 days". What has further helped the growing demand for EVs is the constant rise in fuel prices. In fact, in October the cost of diesel has risen sharply by Rs 8.78 a litre or 8.97 percent and petrol in Mumbai became costlier by Rs 7.55 a litre or 6.99 percentlast month. The price differential between the two fuel variants is now just Rs 8.88.
Tata Motors says it has sold 4,419 EVs in the first half of FY2022 compared to 4,218 EVs in FY2021. EVs now account for 3 percent of Tata Motors' PV sales, diesel and petrol account for 23 percent and 74 percent respectively. The company claims it has a 71 percent market share in the electric passenger vehicle segment.
In fact, the company is looking to further accelerate EV push with its new subsidiary, which will see TPG Rise Climate along with co-investors will invest Rs 7,500 crore in compulsory convertible instruments to secure between 11 to 15 percent stake in this company, translating to an equity valuation of up to $9.1 billion (Rs 67,349 crore)
RELATED ARTICLES