Tata Altroz's Romanian connection revealed
The name for Tata Motors' new premium hatchback, which was globally premiered at Geneva Motor Show 2019, was conceived by Romanian naming agency Namzya which aims to find the perfect name that matches a company's vision, business objectives and consumer expectations.
What's in a name? Plenty, considering the recently-revealed-in-Geneva Tata Altroz hatchback has a fascinating story as to how it got its name. In today's globalised world, companies, products and services not only compete against each other but also look to carve out a distinct identity to achieve speedy brand recall in the mind of the consumer. And how far do companies go to connect with their target audience? Very far, even right down to searching for names that help resonate their brand to a global audience.
Tata Motors, which is riding a wave of success with its new-generation passenger vehicles like the Tiago, Tigor, Hexa, Nexon and Harrier, will be looking to achieve the same with the premium Altroz. Conceptualised under the Impact 2.0 design language, the Altroz is the first product to be engineered on the new ALFA (Agile Light Flexible Advanced) architecture. Apart from inputs from Tata Motors' global design centre, the car, interestingly, has a Romanian connection.
Yes, Tata Motors' latest product has been named by two women entrepreneurs — Andra Gutui and Marcela Sarmasan — who founded the company Namzya, a specialised naming agency based in Romania. Its tagline 'We name The Name' is the main promise of the agency, which creates powerful brand names that are able to raise emotions, connections and trust for the audience.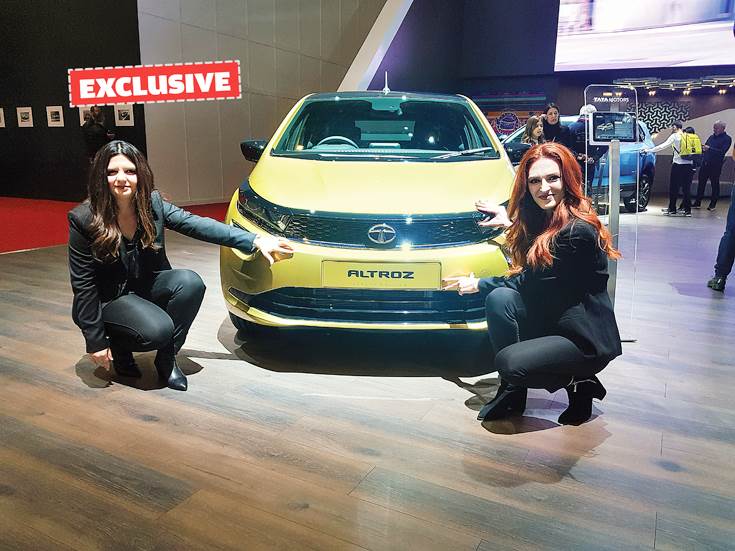 For Namzya's Andra Gutui (left) and Marcela Sarmasan, the Tata Altroz is their first major automotive project.
Describing Namzya's journey to Autocar Professional, Gutui says the founders, who share the same vision, ambitions and hopes, met seven years ago. "That's why we started to work together mostly on branding and marketing projects. Two years ago, we started noticing that some of our clients were frequently requesting naming services from us. At the time, naming was only a small part from a bigger branding project. We enjoyed a lot working on different naming projects and we discovered that our naming process is unique globally. So, we decided to make a huge change: we stopped doing any other type of projects by risking everything and specialised only in naming."
Explaining the traditional method of naming a new product/organisation/project, Gutui says that in the past the most common thing was limited to brainstorming with family, friends, employees and neighbours.
"All the people were choosing some options, usually related to their own life and experiences. Names like their own last name, the name of the husband/wife/child/dog, the name of the birthplace and many other options strictly related to their own experience and past. Usually, these names meant nothing for their target audience, and nobody cared too much about this fact. Fortunately, things have started to change now. More and more companies are interested in creating names connected to the end user; the company's general vision and mostly names that really mean something for future clients, for their employees and for their business mission. People care about the names and the companies have started to care too," says Gutui.
The science of naming
Explaining the naming process, Gutui says that the main challenge in their industry is to convince people that "naming is not an art". She adds that the process is "not all about creativity. Most people believe that anyone can find a name. And that's true. But naming is not an art. Naming is more a science than an art. Not anyone can create naming architectures, naming processes and methods to connect the new name with the business and emotional vision of the company. A name may be read by anyone. A perfect name will be remembered by everyone."
In the automotive industry, she says the current trends they see are about "suggestive names with strong stories behind, good sound and capable of making the buyer to identify his/her personality with the new car model."
In terms of projects for coming out with a name for a client, Gutui says the complex process lasts anywhere between four to eight weeks for Namzya. It involves identifying all the facts about the new brand: history, long-term vision, sales objectives, desired clients, brand positioning, full profile of the target audience, and desired perception upon the brand. This is followed by full analysis of the competition related to their names and positioning; finding the best naming directions; discovering or creating the story behind the name; finding the most suitable insights that make the new brand to identify with certain naming criteria and creating the perfect names empowered by strong story-telling and future naming perspectives.
How the Tata Altroz got its name
For the young company, working with a global automotive player has been a dream. "We knew that someday we will create names that people will see on the streets every day. Fortunately, we managed to accomplish this dream earlier that we thought. Our first international revealed name is for a vehicle produced by Tata Motors. This project was a very challenging one. We cannot unveil the strategy behind it, but for sure it was not an easy project. We had to create the perfect name for a sophisticated car, full of personality which, as the tagline 'Urban Car Redefined' says, is changing the way an urban car is produced and looks like. This is what Altroz is about: agility, performance, efficiency and futurism. Altroz is a name inspired by the magnificent albatross, an agile seabird that soars for hours and miles with minimum effort," reveals Gutui.
Sharing some anecdotes from their recent work, Gutui says, "As an European agency, the cultural aspect and the language were the biggest challenges. While working on this project (Tata Altroz), we had to read a lot about Indian culture and the Hindi language. We had to create the perfect name that doesn't have negative connotations and which sounds well in Hindi. The process took almost two months."
"Working with Indian brands is something we enjoy. During this project, we noticed that Indian people are quite flexible and open to new ideas, which helps us a lot in the creative process. They are also very prompt towards communication and dedicated people who do not give up until the final result is perfect. This working approach is very similar to ours, so it makes the collaboration much easier, when both parties are following a common goal," shares Gutui.
The entrepreneurs say that for the project with Tata Motors, they researched and studied a lot on the automotive industry. "The general trend is to name the products based on codes or generic words. We truly believe that the companies which start to have a different approach regarding naming architecture and naming strategy of their product portfolio will gain a great competitive advantage. Names, compared to codes, have the power to create emotional engagement with clients, employees and other stakeholders, even in technical field. These days, if you do not create a connection with people around your brand, you lose," explains Gutui.
While Namzya has made its first stride in the automotive world, it is eager to work with the global industry. "We have presented our insights to some global players which will launch electric vehicles in the next few years and we have been chosen to name most of them. The best thing of being specialised only in naming and choosing some industries to work for, like the automotive industry in this case, is the fact that we gain so much knowledge that we can finish successfully any project in that industry, from classic vehicles, to electric vehicles, hypercars, components and so on," signs off Gutui.
RELATED ARTICLES