Successful E20 program can save India Rs 30,000 crore each year: SIAM
SIAM hosts Master Class in ethanol usage where industry experts urge enhanced consumer education drive to clear misconceptions around ethanol-blended fuels.
India is moving speedily and smartly towards its ethanol roadmap but widespread awareness is vital to clear myths around ethanol and accelerate the drive to E20 (20% ethanol blend in fuel). And, a successful E20 program can save the country US $4 billion (over Rs 30,000 crore) per annum. However, consumer education is the key to clear misconceptions around ethanol-blended fuels and this, will eventually help India in moving forward on the E20 roadmap.
This was what a number of experts were in consensus about at the Society of Indian Automobile Manufacturers' (SIAM) first Master Class on 'US Experience on Usage of Higher Blends of Ethanol in Transportation' held on August 26. The event was in line with SIAM's vision to promote ethanol as a viable transportation fuel. The Master Class was conducted by expert speaker Brian H West, Academic Researcher, Oak Ridge National Laboratory (ORNL), and was supported by the US Grain Council.
The global transportation sector is facing three major challenges – depletion of fossil fuels, volatility in crude oil prices and stringent environmental regulations. Alternative fuels specific to geographies can address these issues. Ethanol is considered to be one of most suitable alternative blending, transportation fuels due to its better fuel quality (ethanol has a higher-octane number) and environmental benefit.
In a meeting held in December 2020, the government has targeted 20% ethanol blending under the Ethanol Blended Petrol (EBP) Programme by 2025, essentially to reduce the huge crude oil import bill as well as reduce vehicular pollution levels. Currently petrol with 10% ethanol blend (E10) is being retailed by various Oil Marketing Companies (OMCs) in India, wherever it is available. The phased rollout of E20 (20% ethanol blend) is expected to happen from April 2023 to April 2025.
The Master Class initiative focussed on pedagogy and coaching style by mentoring stakeholders on various advancements in the automotive technology-related subjects and processes in the field. The session gave an overview of vehicle performance, drivability and durability database information to highlight customer experience on usage of higher blends of ethanol on existing vehicles. The program witnessed participation from several experts, academia, and other stakeholder associations.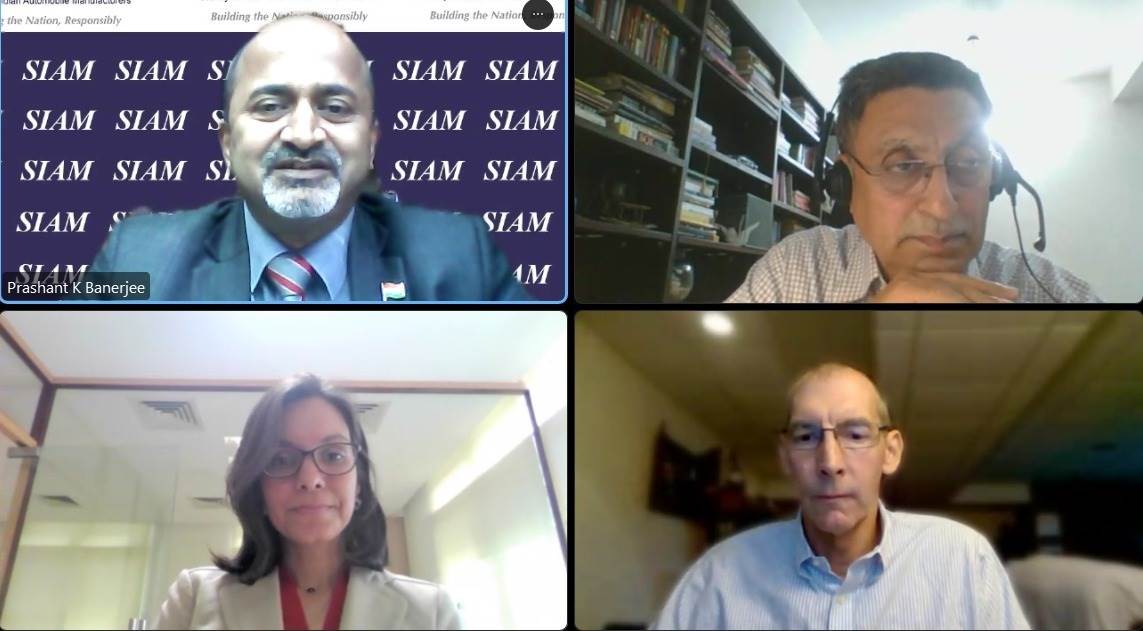 Brian H. West retired from the Oak Ridge National Laboratory in 2019 after working for 31 years as an automotive engineer. He served two years as Group Leader for Fuels and Engines Research, after serving nine years as Deputy Director of Fuels. His research at ORNL involved vehicles, fuels, engines, and emissions control technologies. He led portions of the Department of Energy's Mid-Level Ethanol Blends Program, enabling EPA's approval of the waiver allowing E15 in 2001 and newer vehicles (2010).
He presented his views on the ethanol blending program, vehicle real-life testing, materials testing, benefits of ethanol blending, and challenges that the US faced in the journey of ethanol. He stated, "Consumer education is the key in clearing misconceptions around ethanol-blended fuels and this, will eventually help India in moving forward on the E20 roadmap."
Prashant K Banerjee, Executive Director, SIAM, said, "India embarks upon new priorities in the decarbonisation of mobility, and in its endeavour, ethanol finds a prominent place in the country's transportation decarbonisation initiative. NITI Aayog and a group of secretaries from different ministries, under NITI Aayog, mandated SIAM for promoting ethanol, starting from debunking myths around ethanol."
Mrs Alejandra Danielson Castillo, Regional Director – South Asia, US Grains Council said, "We foresee a natural collaboration between the USA and India. Our goal is to provide the right technical expertise and tools, and partner with organisations to support India in moving forward with its ethanol plans. India is aggressively moving along with their ethanol roadmap and towards their journey towards the E-20 program."
The session was moderated by Harjeet Singh, Chairman, SIAM Two-wheeler Technical Committee & Executive Advisor, Hero MotoCorp. Talking about the Indian perspective on ethanol, he said, "India imported 185 million tonnes of petroleum at a whopping cost of $551 billion (Rs 4,401,388 crore) in 2021 which constituted about 85% of oil imports. A 20% blending of ethanol has the potential to save foreign exchange of Rs 30,000 crore or $4 billion per year. It will not only reduce greenhouse emissions but will also improve farmers' income. Ethanol will also enhance the life of ICE engines. Vehicle manufacturers are moving forward in obtaining the design of E20-compatible vehicles by 2023 and fully compatible E20 vehicles by 2025. Support and incentives from the government will be necessary to make India's journey along the ethanol roadmap successful."
What E20 means for vehicles and manufacturers
When using E20, there is an estimated loss of 6-7% fuel efficiency for four-wheelers which are originally designed for E0 and calibrated for E10, 3-4% for two-wheelers designed for E0 and calibrated for E10 and 1-2% for four-wheelers designed for E10 and calibrated for E20. It is understood that with modifications in engines (hardware and tuning), the loss in efficiency due to blended fuel can be reduced.
As per the report of the expert committee in 'The Roadmap for Ethanol Blending in India 2020-2025', "E20 material compliant and E10 engine-tuned vehicles may be rolled out all across the country from April 2023. These vehicles can tolerate 10% to 20% of ethanol-blended gasoline and also give optimal performance with E10 fuel. Vehicles with E20 tuned engines can be rolled out all across the country from April 2025. These vehicles would run on E20 only and will provide high performance.
Some challenges that vehicle manufacturers need to overcome in order to facilitate roll out of compatible vehicles for higher ethanol blended gasoline include the need to handhold vendors to develop ethanol-compatible parts, optimisation of engine for higher ethanol blends and conduct durability studies on engines and field trials before introducing E20-compliant vehicles
The vehicle population in the country is around 22 crore two- and three-wheelers and around 3.6 crore four-wheelers (SIAM). The 2 wheelers account for 74% and passenger cars around 12% of the total vehicle population on the road. The two-three wheelers consume 2/3rd of the gasoline by volume, while 4 wheelers consume balance 1/3rd by volume. The growth rate of vehicles in this segment is pegged at around 8-10% per annum. An estimate of year-wise addition of gasoline-based vehicles in the country is given below as per the June 2021 report
Globally, vehicles compliant with higher ethanol blends are provided with tax benefits. It is likely a similar approach may be followed so that the cost increase due to E20 compatible design may be absorbed to a certain extent, as is being done in a number of states for promoting electric vehicles.
The Master class was driven under the banner of the Ministry of Heavy Industries (MHI), Govt of India - SIAM Ethanol Awareness Campaign for the Promotion of Ethanol as a viable Transportation Fuel. India's ethanol blending program is being monitored at the highest level of the Government and the PMO is directly monitoring the progress towards the E-20 goal of 2025.
All images courtesy: TransformingIndia.mygov.in & SIAM
RELATED ARTICLES