SIAM lauds government move to open 166 CNG stations in 14 states
Commissioned at a cost of Rs 400 crore across 41 locations, they will help ease the use of the eco-friendly fuel and also drive demand for CNG vehicles. CNG network in India now stands at 4,500 and plans are to expand to 8,000 in the next two years.
Hardeep Singh Puri: "In 2014 the country had only about 900 CNG stations- today we have 4,500 CNG stations with plans to take this number to 8,000 in the next 2 years."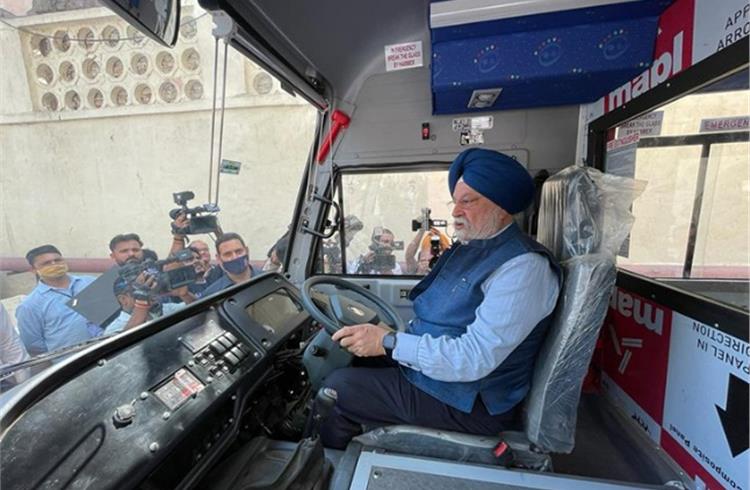 Union Minister of Petroleum & Natural Gas, Hardeep Singh Puri gets a feel of a school bus at the SIAM-organised CNG & LNG-based Clean Technology Vehicles exhibition. (Image: Hardeep Singh Puri/Twitter)
One of the challenges to speedier adoption of CNG-powered vehicles is the not-so-wide CNG filling network. The government of India is now addressing the issue speedily. Earlier today, the Union Minister of Petroleum & Natural Gas, Hardeep Singh Puri inaugurated 166 CNG stations. This is in addition to 1,332 CNG stations, the highest ever, in the single financial year 2021-22.
In a series of tweets, the Union minister said: "Towards India's target of net zero by 2070. Another positive step to meet the ambitious target set by PM Sh @narendramodiJi to expand the share of Natural Gas in primary energy mix to 15% to usher a gas-based economy. Dedicated 166 CNG stations across 41 locations in 14 states. Commissioned at the cost of ₹400 cr, these stations will further strengthen the gas based infrastructure & availability of cleaner fuel in the country & have been set up by @gailindia& 9 of its CGD partners."
In another tweet, Mr Puri said: "In 2014 the country had only about 900 CNG stations- today we have 4,500 CNG stations with plans to take this number to 8,000 in the next 2 years."
Apex industry body Society of Indian Automobile Manufacturers (SIAM), on behalf of the automobile industry, had lauded the government for its rapid and continuous focus on the expansion and promotion of CNG as a transport fuel. The association said, "It is a key step in expanding availability of environment-friendly CNG to the transport sector, households and industry in the country. It will incentivise the market for CNG vehicles and will have exponential impact in terms of manufacturing, skill development & employment generation. The Indian automobile Industry is dedicated to manufacturing factory fitted CNG vehicles that would reduce air pollution and carbon emissions and support the economy by reducing the oil import burden."
Congratulating the government, Director General of SIAM, Rajesh Menon said, "It is commendable to have a collaborative approach of the government and industry for fostering and nurturing the national goals of reducing oil import and cleaner environment. The automobile industry is committed to complementing and supporting the government's efforts of promoting CNG and expanding the network, by continuously increasing volume and expanding the product portfolio of CNG vehicles."
Commenting on the recent prices hikes in CNG, he added: "Also, over the last few months, there has been a major challenge regarding an exponential increase in CNG prices. The industry is keenly looking forward to the right kind of interventions and support from the government for moderating the CNG prices for the benefit of the society, economy, and country's environment for overall achieving sustainable mobility and SDG 2030."
Fast-growing demand for CNG vehicles
The smart year-on-year uptick in demand for CNG vehicles across the passenger vehicle and three-wheeler segments has been amply seen in FY2022 (see data table below). The PV segment, where car owners are looking to get maximum mileage for their money, saw CNG-powered sales clock near-55% YoY growth with sales of 265,383 units, which comprises 8.64% of the total PV sales of 3,069,499 units vs 6.30% in FY2021.

Like their PV brethren, demand is up for CNG-powered CVs, particularly three-wheelers. FY2022 saw 128,238 CNG three-wheelers being sold, marking 165% YoY growth Importantly, the share of CNG three-wheelers has grown three-fold across the fuel mix of petrol, diesel, LPG and electric – to 49.10% from 22.10% in FY2021. While demand for petrol 3Ws has dropped to 3% from 5.4%, that for diesel has slid to 28% from 60% two years ago. In contrast, demand for LPG 3Ws has grown to 11% and that for electrics has more than doubled to 8.8% from 3.1 percent.
What has drawn car and small CV buyers to CNG are that the running costs are significantly lower compared to either of the fossil fuels as a vehicle inherently gives better fuel economy when driven on CNG.
All images courtesy Hardeep Singh Puri/Twitter
RELATED ARTICLES