Road accidents in India claimed 405 lives, injured 1,290 each day in 2017
Even though they are a slight reduction over the past two years, the statistics continue to shock -- 16 people are killed and another 53 injured every hour on Indian roads.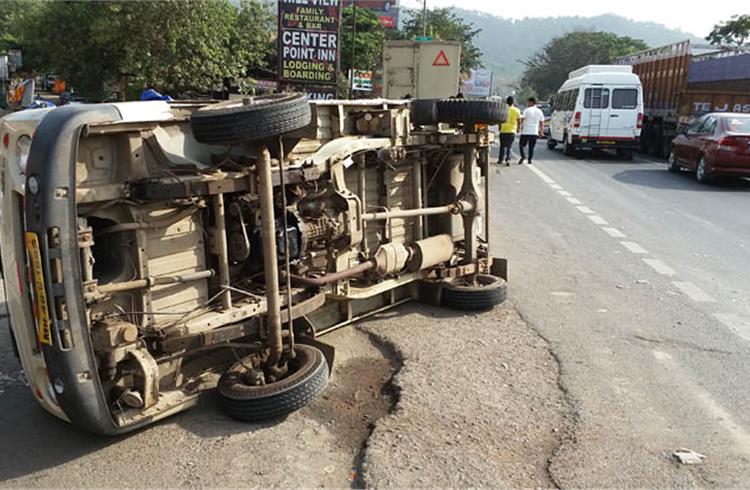 Road accidents in India claimed 405 lives, injured 1,290 each day in 2017
Road accidents in India claimed 405 lives, injured 1,290 each day in 2017
Road accidents in India claimed 405 lives, injured 1,290 each day in 2017
Road accidents in India claimed 405 lives, injured 1,290 each day in 2017
Road accidents in India claimed 405 lives, injured 1,290 each day in 2017
Road accidents in India claimed 405 lives, injured 1,290 each day in 2017
Road accidents in India claimed 405 lives, injured 1,290 each day in 2017
Road accidents in India claimed 405 lives, injured 1,290 each day in 2017
Road accidents in India claimed 405 lives, injured 1,290 each day in 2017
Road accidents in India claimed 405 lives, injured 1,290 each day in 2017
Road accidents in India claimed 405 lives, injured 1,290 each day in 2017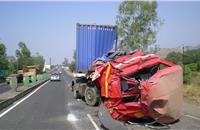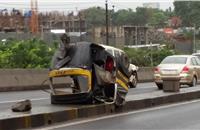 The official Indian government statistics of road accidents, injuries and fatalities for the year 2017 are out and the news continues to be bad. As per the latest data, in 2017, a total of 464,910 road accidents were reported in the country, claiming 147,913 lives and causing injuries to 470,975 persons, which translates into 405 deaths and 1,290 injuries each day from 1,274 accidents. This also means 16 killed and another 53 injured every hour on Indian roads. And these are the officially reported accidents. And there must be a fair number that go unreported across the length and breadth of India.
Shocking as they are, the 2017 figures are a marginal improvement over 2016, which saw 413 deaths and 1,317 accidents on each day of the year. Also, for the second consecutive year, the number of road accidents in India has declined in 2017 over the previous year.
The number of road accidents has seen a decline from the peak of 501,423 in 2015 to 480,652 in 2016 and further to 464,910 in 2017. The number of persons injured has been on the decline since 2015; in percentage terms, the number of accidents in 2017 went down by 3.3 percent and injuries by 4.8 percent compared to 2016. But on the other hand, the number of lives lost due to road fatalities reduced by just 1.9 percent.
The government report further states that there has also been a decline in the number of fatal accidents (accident involving at least one death), with a total of 134,796 fatal accidents reported in 2017, (-0.9%). On the other hand the road accident severity (measured by the number of persons killed per 100 accidents) saw a marginal increase of 0.4 percentage points in 2017 over the previous year.
While there can be debate on the (marginal) reduction in terms of fatalities, the loss of human lives and severe injuries cannot be easily measured in complete totality. In a report released earlier this year, the World Bank estimated that if road accident deaths and injuries were halved, it could add 7 to 22 percent to GDP per capita over the 24 years in select countries. This would roughly translate to welfare benefits equivalent to 6 to 32 percent of GDP per capita, which could be realised over the same period. For a country like India, where there is no formal social welfare support, and a vast majority of the population belonging to the lower- and middle-class families, a reduction in road fatalities would give rise to a progressive phenomenon.
The World Bank had said that "Road safety goes beyond the transport sector, with a direct impact on public health, societies, and economies. Likewise, because road safety is an inherently cross-sectoral issue, real progress can only happen if all relevant stakeholders unite their efforts."
As mobility plays a crucial role in the development of any country, India has seen tremendous improvement in creation of new roads, highway and bridges among others. Unfortunately, road safety rules and vehicle safety (safety equipment standards) have not been able to match this fast pace of infrastructure development or with the same commitment.
National Highways take a big toll, 2-wheelers most involved in accidents
The report reveals that the National Highways, which constitute approximately 2 percent of India's total road network of over 56 lakh kilometres, accounted for 30.4 percent of total road accidents and 36.0 percent of deaths in 2017, while accidents on State Highways and other roads constituted 25 percent and 44.6 percent respectively. In case of fatality, State Highways and other roads accounted for 26.9 percent and 37.1 percent, respectively.
A fair number of two-wheeler riders in India resort to using their smartphone while riding, which is extremely dangerous and a big contributory factory to accidents.
What continues to be a huge concern is that among the vehicle categories involved in road accidents, two-wheelers, which is the most preferred and affordable mode of personal transport, account for the highest share (33.9%) in total accidents and fatalities (29.8%) in 2017. Additionally, in terms of road-user categories, the share of two-wheeler riders in total fatalities has been the highest (33%) in 2017, while pedestrian road-users comprise 13.8 percent of people killed in road accidents during 2017
Light vehicles comprising cars, jeeps and taxis as a category comes a distant second with a share of 24.5 percent in total accidents and 21.1 percent in total fatalities. Unfortunately, a vast majority of the people involved in fatal road accidents largely constituted the young population in the productive age groups: young adults between 18 and 45 years old accounted for 72.1 percent of victims during 2017. And people in the working age group of 18 to 60 years accounted for 87.2 percent in the total road accident fatalities.
Tamil Nadu, MP and Karnataka record highest number of accidents
The report further reveals that the Tamil Nadu in south India recorded the highest number of road accidents in 2017, but the number of persons killed in road accident was the highest in the northern state of Uttar Pradesh. Major states that achieved significant reduction in road accidents and fatalities in 2017 were Tamil Nadu, Maharashtra, Gujarat and West Bengal. While Uttar Pradesh and Bihar were the worst performers recording large increase in the number of road accidents and fatalities in 2017 as compared to 2016.
Over-speeding No. 1 cause for road fatalities
The father of the nation Mahatma Gandhi once said, "There is more to life than simply increasing its speed." The statement still holds true today, maybe more than ever before.
In terms of the main factors behind road accidents, over-speeding topped the list and contributed to 70.4 percent of all the accidents, which accounts for 66.7 percent lives lost and 72.8 percent individuals being injured.
Clearly, it will be some time before those at the steering wheel turn more responsible in India, which points for the need for driver training testing to be far more stringent than it is now and the need for plenty more driver training institutes to be set up across the country, both by the central and state governments and the private sector. A number of OEMs across vehicle segments including Maruti Suzuki India, Ashiok Leyland, Honda Motorcycle & Scooter India and Suzuki Motorcycle India are doing their bit to develop skilled and responsible drivers/riders but a lot more needs to be done by all stakeholders.
The way forward to a safer India
The government has already undertaken a number of steps and is putting in efforts to reduce road accidents, injuries and fatalities in the country. It has implemented measures that was outlined in the National Road Safety Policy, and has formulated a multi-pronged road safety strategy based on 4 Es: Education, Engineering (both of roads and vehicles), Enforcement and Emergency Care.
The Road Transport Ministry has said it has made road safety an integral part of road design at planning stage and safety audit of selected stretches of National Highways. And it has also given high priority to rectification of black spots on national highways.
At the state level, model driving training institutes are being set up that will also provide refresher training to drivers of Heavy Motor Vehicles (CVs) in the unorganised sector. Advocacy/publicity campaigns on road safety through the electronic and print media have been sustained and broadened. It has also included road safety activities in Schedule (vii) of the Companies Act, 2013 to enable corporates to undertake road safety related activities under CSR (Corporate Social Responsibility).
In terms of vehicular safety mandated standards for vehicles like seatbelts and anti-lock braking system among others has been tightened. Under the National Highway Accident Relief Service Scheme, the states are provided with cranes and ambulances and the National Highways Authority of India (NHAI) also provides ambulances at a distance of every 50km on its completed stretches of NHs under its operation and maintenance contracts.
StopTheCrash safety initiative debuts in India
As the country moves ahead as a global automotive hub, the Global New Car Assessment Programme (NCAP), the automotive safety watchdog, debuted its 'StopTheCrash' safety campaign in India on September 26.
Led by Global NCAP, the StopTheCrash is a multi-stakeholder partnership and a consortium of not-for-profit organisations including Germany's ADAC, UK's Consumers International, and the Towards Zero Foundation. Alongside, it also includes global Tier 1 majors of the likes of Bosch, Continental, Denso, ITT, Thatcham Research, Veoneer and ZF, all united in their shared commitment to promote advanced vehicle safety technologies in support of the UN's Global Goals and the Decade of Action for Road Safety, which aims to minimise road accidents around the world by 2020.
The event saw participation from key representatives of all global NCAPs was designed to showcase live demonstrations of crash avoidance technologies at the Buddh International Circuit in Greater Noida, followed by a two-day World Congress at the Institute of Road Traffic Education (IRTE) in Faridabad, driving awareness about the benefits of equipping cars and two-wheelers with active safety systems which can prevent lethal crashes in the real-world.
Hopefully, given the growing road safety sensitising efforts and initiatives by the government, automobile manufacturers across segments, industry bodies SIAM and ACMA, the message of staying safe on the road and being responsible motorists and pedestrians is reaching the populace at large. And that the fatalities and accidents on Indian roads will be far fewer than they have been in previous years.
Every life lost, every injury is one too many. It is imperative that all stakeholders including the government, local authorities, vehicle manufacturers, component suppliers, NGOs and also pedestrians continue to increase their effort at keeping India safe.
RECOMMENDED READING:
StopTheCrash campaign launched in India, pedestrian safety feature in cars kicks in from October, AEB and ESC by 2022
Global NCAP's David Ward on 'Democratising safety'
SaveLife Foundation's Piyush Tewari: 'On the road to zero crash fatalities'
PV airbags and 2W ABS as a big business opportunity in India
Continental showcases 2-wheeler safety tech at StopTheCrash initiative
ZF gears up to localise ESC in India​
European Union lists safety features mandate for 2021
Autocar Professional's webinar on safety
North India tops the chart in rampant use of cellphones while driving: Survey
First India distracted driving study reveals high level of cellphone use
Data: Ministry of Road Transport & Highways
Photography: Subhash Simhudu
RELATED ARTICLES