Ride Vision's ARAS tech to make two-wheelers safer in India
Israeli Advanced Rider Assistance Systems solutions provider inks pact with  Spark Minda to introduce AI-enabled collision avoidance  products  in India.
Using Ride Vision's 360deg wide-angle camera footage, a Predictive Vision algorithm analyses visual data within the system's ECU to identify only critical threats to the rider. This selective alert system eliminates the need for expensive and cumbersome hardware.
Ride Vision is hardwired directly to the vehicle's battery, and draws less charge than a standard cellphone
. Two IP69K-rated video units begin recording the moment the motorcycle is turned on, and feature 2-hour looped footage that is uploaded to the Ride Vision app.
Wide-angle cameras and LED alerts with Ride Vision technology mean riders can stop accidents before they happen.
Riders get crucial seconds back when reacting to roadway threats, which could mean the difference between a collision, and coming home safe after every ride.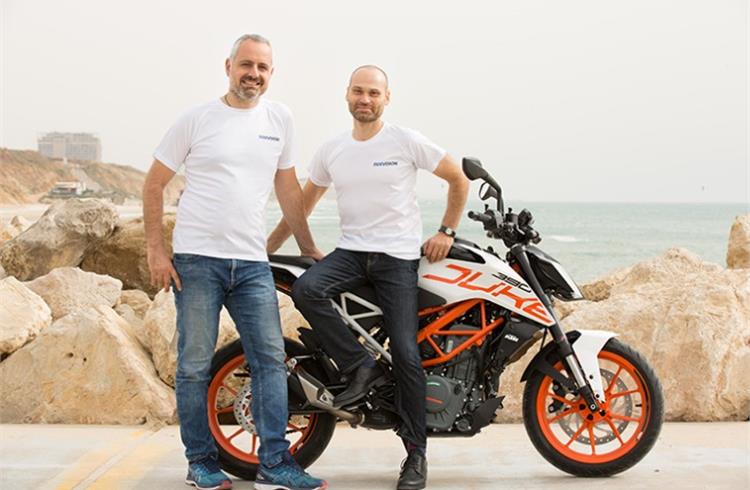 L-R: Lior Cohen, CTO and co-founder with Uri Lavi, CEO and co-founder, Ride Vision.
A typical set-up includes a front-and-rear camera, LED lights on the mirror and an ECU.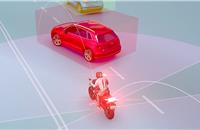 India, which is the world's largest motorised two-wheeler market, also ranks high amongst the number of road users who lose their lives in road crashes. Nearly one-third of all road crash fatalities in the country involve a two-wheeler.
India witnessed 55,336 two-wheeler rider/pillion fatalities in 2018 and 56,136 in 2019, accounting for 36.5 percent and 37.1 percent respectively of the total number of road deaths. This is as per the latest data by the Ministry of Road Transport & Highways (MoRTH).
When it comes to riding a two-wheeler, the aspect of active and passive safety is completely determined by the sheer experience and ability of the rider. In the right hands, a motorcycle or a scooter can be a perfect combination of speed, precision and stability, but unlike its bigger siblings — four-wheelers and commercial vehicles — the introduction of ADAS (Advanced Driver Assistance System) has still not made much headway in the mass market segment.
Now, things could get better on the two-wheeler safety front. On April 8, India's Spark Minda announced its partnership with Ride Vision to bring its AI-enabled Collision Avoidance Technology (CAT) products for the domestic two-wheeler market. The Israel-based Ride Vision was founded by Uri Lavi (CEO) and Lior Cohen (CTO) to bridge the "big gap between the technology that was needed to be developed for two-wheelers and the other technologies that existed for four-wheelers."
How does Ride Vision work?
Ride Vision uses a combination of image-recognition and AI technologies to power its solution, the first of its kind. The company's patented human-machine warning interface (HMI) and predictive vision algorithms help riders make critical life-saving decisions in real time. The hardware includes two wide-angle cameras mounted on both the front and rear of the vehicle, unique alert indicators placed on the mirrors, and an onboard main computing unit that stores Ride Vision's patented algorithms. Together, they deliver:
- 360-enhanced safety: Riders are given forward collision, distance-keeping (proximity), blindspot, and dangerous overtake alerts via the indicators located on their mirrors, saving precious seconds that make a difference between an accident and arriving safe to their destination. Ride Vision's distance-keeping alert makes sure riders maintain a safe distance from the vehicle in front of them, regardless of the speed of travel, while collision alerts account for road conditions, time to impact, and vehicle speed.
- Ride data recording: Within the Ride Vision app, users can access ride summaries, which contain cumulative reports, including total distance, total alerts, and max speed data. This data can be exported for personal use, such as fuel-consumption calculations or even insurance-rate reduction inquiries. The data is stored on the riders' mobile device.
- Product roadmap: Since Ride Vision is a technology platform, periodical upgrades are made available with new safety alerts and features like the Emergency Call (eCall) following an accident, Forward-Side Collision, Rear Collision Alerts, and even creating fun videos with embedded riding stats to share with friends. The level of features used depends on the OEM.
At present, the company serves four segments globally — OEMs, aftermarket, insurance companies and fleet operators. "The aim is to provide multiple features, depending on the client needs. For the OEMs, it is about introducing new features in their model line-up. In the aftermarket, it is about providing new safety features directly to the end-user; insurance companies can utilise the data to charge lower premiums to safe riders; while fleet owners can track the riding behaviour of its employees," reveals Lavi.
RELATED ARTICLES