Recoveri Microdot looks to keep vehicle thieves at bay in India
The company, which produces polymer-based anti-theft microdots, which can be traced under UV light, aims to deter vehicle theft by up to 40 percent. 
South Africa-based company, which produces polymer-based anti-theft microdots that can be traced under UV light, aims to deter vehicle theft by up to 40 percent in India.
As India, like many developing as well as developed countries, grapples with a challenging situation of vehicle theft and later, component pilferage, its car- and two-wheeler owners are never fully sure of their vehicle's safety.
Statistics from the Ministry of Road Transport and Highways (MoRTH) point out that country's capital New Delhi alone saw 214,000 vehicles getting stolen in 2016, hinting at 100 vehicles being at the lawbreakers' radar every day.
Taking cue from its success to tackle similar situation at its home turf, South Africa-based Recoveri Microdot, has ventured into India, and is bullish on cutting down on vehicle theft with its unique, low-cost anti-theft technology.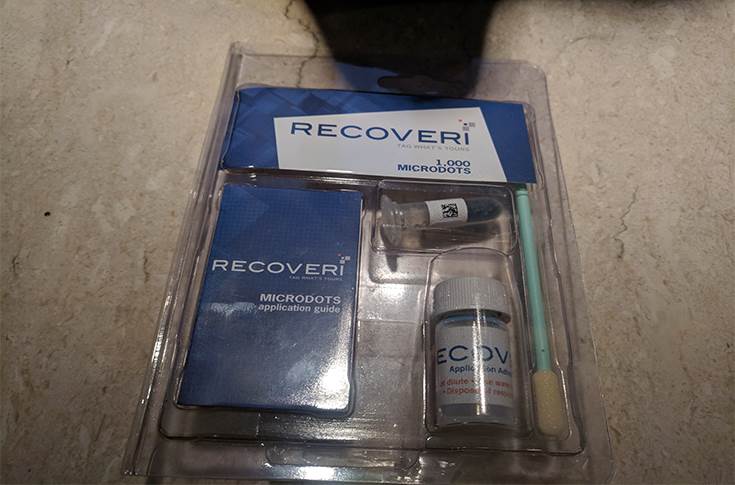 Recoveri will offer its Recoveri Dot Asset (RDA) and Recoveri Dot Vehicle (RDV) micro-polymers, which are water-based and non-toxic, and can be sprayed in the invisible areas of a vehicle such as the engine compartment, wheel arches, underbody and spare wheel housing, and will enable lineage traceability with a vehicle, in case of a theft attempt.
The micro-polymers, close to 3,000 in number, all inscribed with a unique 13-digit alpha-numeric code, will be validated against the VIN number of a particular vehicle, and law enforcement agencies such as state police and crime branch departments can verify a component's relation to a vehicle, in case of a car being stolen, scrapped and then its parts being sold as individual entities.
The microdots have been tested to sustain major bomb blasts and can be easily viewed under UV light of short-wavelength (250nm).
A brain-child of law enforcement official, Philip Opperman, CEO, Recoveri, the company started operations in 2000 in South Africa and has driven legislations in the country, which mandated every vehicle with a VIN to be sprayed with microdots at the OE and aftermarket fitment levels in the country.
Recoveri has had successful stints in the US and Latin American markets, especially Chile, where in spite of not being a defined regulation for the same, the police has given fuel to the technology, as it significantly aids crime investigation in cases of vehicle theft. The company also sells its products in Australia, New Zealand, Malaysia and the UK.
Recoveri is now entering the Indian market through a local business partner - Falcon - and aims to spawn a legislation reform for such a technology to be made mandatory in the country.
The company has been in talks with MoRTH for the last three months and has co-authored a policy draft for such a regulation, which it believes could be cleared in the winter session of the parliament.
Through its arm Recoveri India, the company then aims to sell the technology at the OE level, as well as in the aftermarket, through accredited fitment centres by next year. It will locally manufacture the product, which will be inexpensively priced under Rs 1,000, and will set up a local server to store the VIN details and also link it with VAHAN, government's national e-register for vehicle registration details.
"We aim to invest US$ 10 million into the project within this fiscal and set up a manufacturing facility in Manesar. Since the technology is fairly low-cost, we do not need a space more than 500 square meters," revealed Opperman at a press interaction in New Delhi. It will start producing the products by middle of 2019.
In South Africa, the company is a major supplier to Volkswagen and Ford, and is already in talks with both companies to adopt the same in India as well. Vehicle manufacturers in South Africa spray their cars, two-wheelers, CVs and construction equipment at the PDI yard before despatch, and "it takes 3 minutes per vehicle when done following a proper standard of operation," Opperman explained.
The company is also eyeing Mahindra & Mahindra (leveraging its South African presence), as well as two-wheeler manufacturers next to strike ties at the OEM level in India.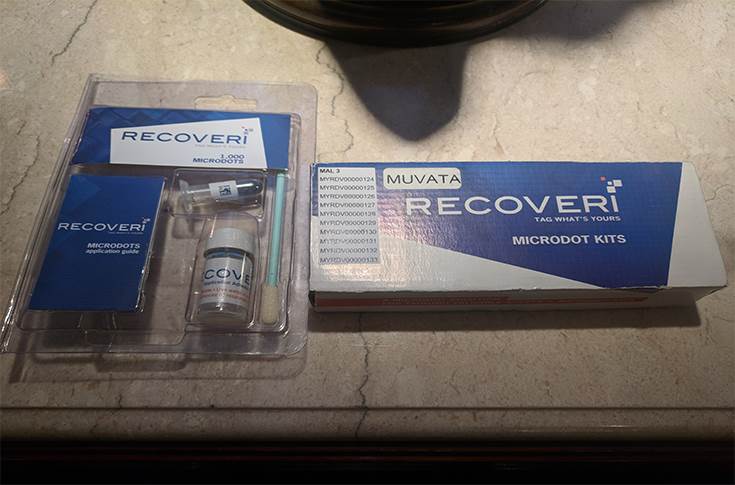 Where the company has protocols in place for data handling, it registers the vehicle's VIN, make, variant, engine, and colour against every unique microdot number generated. The unique 13-character alpha-numeric code starts with a country's abbreviation, for instance, ZARD, for New Zealand, followed by a 9-digit reference sequence.
Supporting ACMA's Asli-Naqli campaign
As ACMA, the apex body of component suppliers in India, tackles the menace of spurious and fake parts, Recoveri has collaborated with the body to drive a pilot project, starting the coming fortnight.
The company will see few component manufacturers tagging their end products with microdots, and encourage their dealers and customers in the aftermarket to scan for the presence of such dots, verify the manufacturing details online using the 13-digit code, and only then buy a component. As the traceability of a code on a microdot remains fool-proof even over a hologram, the industry body is hopeful of finally having found a unique solution to a menace it has been facing for long.
While Recoveri aims to ensure genuineness of spare parts, reduce vehicle theft and also cannibalisation of components in a highly insecure environment, it would need to be seen how the company is able to drive a policy reform in a country which is slow to respond in political matters.
Stay tuned for more updates on this issue.
RELATED ARTICLES