Rajesh Jejurikar named Autocar Professional's Man of the Year 2022
Behind every company is at least one special person who has made a marked difference. Mahindra & Mahindra's dynamic Executive Director wins top honours for driving through a challenging year with aplomb while also unveiling a future-growth story.  
As 2022 comes to a close, it also heralds the naming of one of the most prestigious of awards in the India automotive industry. Every year, Autocar Professional honours a business leader who has made a marked difference to his company and to industry. This year, it's Rajesh Jejurikar, Executive Director – Auto & Farm Sectors, Mahindra Group, who drives away with Autocar Professional's premier end-of-year accolade.
The dynamic and laser-focussed Jejurikar has had a remarkably successful year which saw him redefine the Mahindra brand, script a dynamic sales turnaround and also reveal an ambitious electrification plan designed to future-proof growth for the 77-year-old Mumbai-headquartered company.
In a highly competitive SUV market teeming with rivals, he has been able to fashion a turnaround for Brand Mahindra and helped make it a force to reckon with by grabbing revenue leadership. Mahindra & Mahindra (M&M) has significantly outpaced the market on value terms with a bevy of new-age premium SUVs, which have become the preferred choice in vehicles priced above Rs 15 lakh.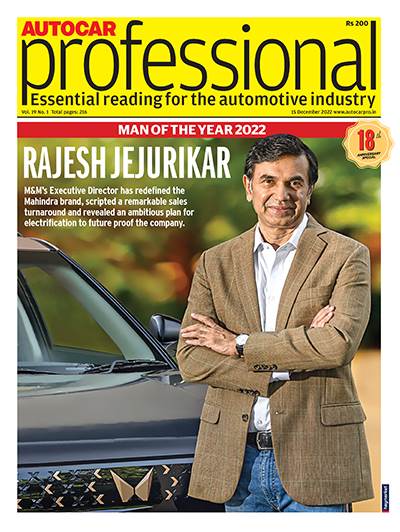 Expert reader of consumers and the market pulse
Flashback to two decades ago in 2002. At the time, M&M was conceptualising, designing and building a new SUV intended not just for the domestic but global market too. Amidst the core team working on this bold new project and also crafting the marketing plan was a young man in his 30s, exuding quiet self-confidence but already distinguishing himself with his perceptiveness and an ability to get the job done.
That Mahindra model was the iconic first-generation Scorpio, which went on to establish the company as a serious player in a fledgling Indian car market. In the process, it was also the catalyst for the fast-rising marketing professional from S P Jain Institute of Management & Research, Mumbai and the Wharton School of the University of Pennsylvania. To put it briefly, Jejurikar has gone on to play a critical role in reinventing M&M many times over. His unflagging effort has seen M&M reward him with the position of director on the boards of a number of Mahindra Group companies, both in India and overseas.
Fast forward to 2022. The fifth-generation Scorpio N, launched in July 2022 is a thumping success – the SUV clocked 100,000 bookings in just 30 minutes of orders opening online and the surge of sales continues as it does for some equally popular Mahindra models like the XUV700, XUV300, Thar and that ageless warhorse, the Bolero. In a scant five-odd months, the humungous demand for the Scorpio N and the Scorpio Classic has helped M&M power its way to No. 1 SUV manufacturer position in India in terms of revenues.
Interestingly, between these two major milestones, India has matured into the world's fourth largest car market albeit an extremely complex and competitive one where only the fittest can survive.
Jejurikar's finesse and expertise at brand and product management has seen the Scorpio, Bolero, XUV and Thar become key pillars of M&M's automotive business and they are all riding the surging wave of SUV demand. Jejurikar's astuteness is also seen in M&M farming strong growth in its tractor business, a sector in which it is the market leader.
People who work closely with him say that Jejurikar's ability to 'read' the consumer's mind as well as the market dynamics has turned out to be a key differentiator. And the proof lies in the company's fast-rising sales graph in 2022.
Seeing tomorrow today
Twenty-two years after he joined M&M as Vice-President of Marketing, Automotive Sector, Jejurikar has been part of several landmark events in the company's history. In 2020, just as it did at the start of the millennium, M&M found itself in a downcycle and a tight spot.
It was trial by fire for Jejurikar as he took charge as Executive Director at the height of Covid-19 lockdown, starting his new innings with zero revenues for almost 45 days. "We were at the crossroads again. We had to dial back 20 years to ask the team 'What does Mahindra stand for and what is our right to win?'" he recalls.
At the time, M&M was slipping from the mind space of the burgeoning Indian middle class which had multiple personal mobility choices. Since then, in just two-and-a-half years, the marketing maverick has transformed the Mahindra brand to a new, sharper one that has made it the preferred choice in the midsize SUV segment. Not only has Jejurikar redefined the brand direction for the company but he has also introduced a sharper focus.
Jejurikar was instrumental in the launch of three successful products, establishing a new corporate brand identity and restructuring the organisation to remain nimble and agile to tackle future disruptions in industry.
All these moves have paid off in spades – quarterly volumes and revenues have more than doubled, profitability quadrupled and the company's performance cheered by investors too, with M&M's share price zooming by 350 percent since Jejurikar took charge. M&M's market share by revenue, which hit a low of 10-12 percent, has now almost doubled to 20 percent. With structural cost reduction, higher operating leverage and commodity cycles softening, Mahindra's bottom line is also set to get a boost.
A two-year-long effort to bring Mahindra back into the EV race is also paying dividends. M&M has announced a billion-dollar investment into the EV business. It has inked a global sourcing arrangement with the Volkswagen Group and the company has been able to bring on board an investor who will participate in its future EV vision.
Behind this string of achievements and M&M's sterling market performance this year, there were a series of strategic calls taken swiftly – something which Jejurikar apparently revels in.
We'd love to tell you more about how he sized up all the many challenges this year and went beyond but to know more, it's best you pick up the must-read mega issue – Autocar Professional's 18th Anniversary Issue. Click here to get your very own copy.
RELATED ARTICLES